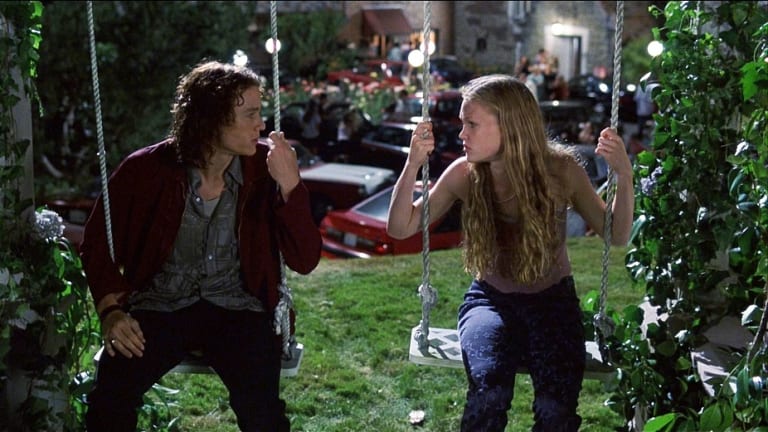 6 Throwback Romcoms to Accompany All Your Summer Plans
Ready for a summer movie night?
A romantic comedy is the perfect thing for a lazy summer day—or any day, really. The perfect romcom is heartwarming and lighthearted with just a dash of realism in the mix.
Despite some attempts—and a couple rare successes—romcoms of late have not lived up to their old-school counterparts. The late eighties and nineties were the golden age for tales of comedic love, and we never tire of re-watching these feel-good flicks.
No matter what your plans are this summer (wedding, beach week, family vacation), there's a romcom depicting just that—with a little added hysteria, of course.
Family Vacation
My Big Fat Greek Wedding
No family is perfect, and the Portokalos family is no exception. There's a reason this movie doesn't fit your standard expectations for the genre: This romcom is less couple-centered and all about family. Though the recent sequel provided some laughs, nothing compares to the original.
Whether it makes you laugh out loud or cringe from its all-too-relatable situations, this movie truly shows that there's no stronger bond than family—something to remember as you head off to a week at the beach with your own dysfunctional, lovable brood.
Best Scene: Spray some Windex on it. Enough said.
Summer Wedding
My Best Friend's Wedding
As wedding season is upon us, there's no better way to celebrate with your soon-to-be-married and still-single friends than with a true classic. Julia Roberts is a queen of the genre (Pretty Woman, Runaway Bride, Notting Hill . . . need I go on?), and this film is great because it's not so much a love story as it is a why-don't-you-love-me story. With a love triangle of Roberts, Dermot Mulroney, and Cameron Diaz, it's romcom gold. It may not have your classic happy ending, but My Best Friend's Wedding is definitely the film to show how complicated—and hilarious—relationships can be.
Best Scene: When the wedding party spontaneously breaks into song, singing "I Say a Little Prayer." I mean, who doesn't want that to happen during their own wedding festivities?
A Trip Abroad
Leap Year
Headed across the pond or to some other remote locale? This quirky little love story about a woman who goes to Ireland to propose to her boyfriend on leap day will bring you some pre-travel smiles. Like all abroad travels encounter, Amy Adams' character's plans don't quite work out as she thought. Nevertheless, an Irishman played by Matthew Goode swoops in to add some adventure (and a charming smile) to the plot. Even if you can't take a trip abroad this summer, this movie is a great way to get a look at the Irish countryside while watching the always-charming Adams fall in love.
Best Scene: When Anna (Adams) somehow manages to trash her room at the quaint inn and creates a blackout in the entire town—all within a matter of minutes. The driving scenes bring no shortage of laughs as well.
Christmas in July
While You Were Sleeping
As someone who wholeheartedly believes that it's never too early to start listening to Christmas music, I fully support watching holiday films in the dead of summer. On a rainy July Saturday, why not? While You Were Sleeping, like MBFGW, isn't just about romance—it's also about family. Sandra Bullock's character is completely alone until she claims to be in a relationship with an attractive comatose man she's hardly even met. This simple plot goes a long way to show the power of love as well as the power of family. In the midst of a sweltering summer, sometimes it does a person good to be transported to a wintry wonderland on the silver screen.
Best Scene: When Bill Pullman and Bullock slip over an icy patch while trying to help each other up. I could say it's symbolic of love and relationships or something, but really it's just super-cute.
Weekend in the City
When Harry Met Sally
Lots of films have been made in the Big Apple, but few meet the level of fame that this one does. There's no doubt that When Harry Met Sally is the quintessential romantic comedy. If you've ever wondered whether men and women really can be friends, then this movie is for you. Watching Meg Ryan and Billy Crystal traverse the complicated road of relationship "what ifs" is something we can all relate to. Whether you're heading out to New York City for the weekend or just wishing you were, Harry and Sally are the funniest tour guides you're going to get. For more Meg Ryan meets New York City romcom bliss, You've Got Mail is a never-fail option as well.
Best Scene: Everyone will tell you it's the infamous diner scene, but we're partial to the little clips of older couples sharing their love stories that are strewn throughout the movie. These documentary-style snippets are based on true love stories. All the feels.
Back to School
10 Things I Hate About You
This nostalgia-inducing nineties throwback is a must-see (and a must-repeat-over-and-over-again) for any romcom fan. If you're interested in seeing a young Joseph Gordon-Levitt and Heath Ledger, queue it up. If you like a little (read: a lot) of sarcastic wit, this is for you. Or, if you like a romcom with a little backstory, 10 Things has some literary cred that will impress you: The plot is a modern take on Shakespeare's The Taming of the Shrew. As with the source material, 10 Things is full of rich irony concerning all things love, relationships, and high school. This movie will get you in the back-to-school spirit, whether you're gearing up for classes or just getting back to work post-vacation.
Best Scene: Ledger serenading Julia Stiles to the beat of the marching band—while simultaneously running away from the police.