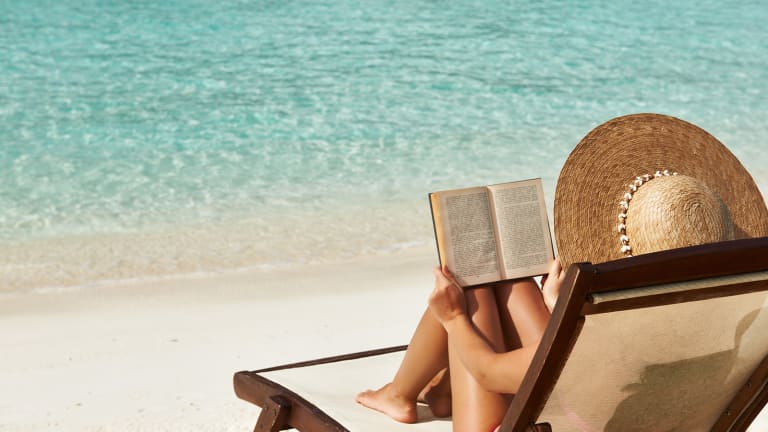 The Top 10 Books to Pack in Your Beach Bag This Summer
Nothing beats a great vacation read, and we've collected the best for every kind of reader.
Beach reads are as much of a staple in my sandy tote bag as sunscreen and a big floppy hat. But finding the perfect summer read is a personal process. I have a good friend who routinely brings large archeological text books down to the water's edge, while another often uses the beach as an opportunity to revisit her favorite chapter books from her pre-teen years (Babysitters Club, anyone?). As for myself, I tend to gravitate to books that quickly grab my attention but don't require a huge amount of focus, because who knows when a seagull, sand castle, or huge wave is going to distract you from your reading reverie?
The following picks range from thrillers to romance, offering a fairly large variety to pique the interest of all kinds of beach-bound bibliophiles. 
Some Favorites from 2016
I Let You Go by Clare Mackintosh
If Gone Girl and The Girl on the Train were your favorite beach reads in summers past, look no further than I Let You Go, a thriller that centers on a hit and run car accident that leaves a young boy dead and spurs those involved to desperate measures. The book's plot twist threw me for a serious loop and kept me reading deep into the night. This is one of those books that make you jealous of all the people who haven't read it yet, because each chapter brings a new discovery.
The Swans of Fifth Avenue by Melanie Benjamin
If the upper crust of Manhattan society has always fascinated you, this fictional account of Truman Capote's friendships with the leading ladies of New York will hit the spot. Lush with petty scandal and over-the-top displays of wealth, the novel is based on the real-life relationship between the notorious author and socialite Babe Paley, and the story is as absorbing now, half a century later, as it must have been when the characters were generating headlines.
Here's To Us by Elin Hilderbrand
If your summer trips tend to bring out a bit of family dysfunction, this is the book for you! The family of chef Deacon Thorpe will make your family dynamics seem idyllic by comparison as his current and former wives and the children from all three marriages come to their former vacation home on Nantucket to say goodbye to the recently deceased patriarch. Despite the weighty subject matter, the book flies by, drawing you in with its portraits of the very different women loved by a difficult man.
Books from Summers Past Worth Revisiting
Where'd You Go, Bernadette by Maria Semple (2012)
If you are the kind of reader who prefers the book to the movie, and you somehow haven't discovered this delightful novel, now's your moment! Cate Blanchett is expected to star in a movie adaptation as the quirky, lovable, and frustrating Bernadette Fox, whose outsized personality impresses those around her in wildly different ways. Set in Seattle, the novel unpacks the mysterious disappearance of Bernadette right before she was scheduled to go on a family trip with her husband and 15-year-old daughter to Antarctica. If it sounds weird, it is, but in the absolute best way. This has been a book club staple since its release, so you'll have plenty of people to talk about it with when you're done.
The Little Paris Bookshop by Nina George (2013)
If you prefer your summer reads more quiet and refined, and you haven't yet had the opportunity to get lost in this beautiful story, I can't recommend this book enough. It follows the story of Jean Perdu, a bookseller on a barge in Paris who can cure anyone with literature—except his own heartache from a long-lost love. Evoking old-world, European romance, Perdu's tale almost demands to be read while sipping wine and nibbling on cheese. And who says you can't do that with some ocean waves in the background?
Astonish Me by Maggie Shipstead (2014)
I quit ballet when I was in first grade (probably a good thing considering my inevitable growth spurt), but the rarefied world of professional ballerinas has always captured my imagination. The story of Joan, once a professional dancer in the corps de ballet in New York, and now a suburban dance teacher on the West Coast, examines the passion required to pursue such a demanding art form, what happens when you make it, and what happens when you don't. Joan's story is threaded together by two great loves and the juxtaposition of a passionate love affair with the quiet, steady love that she ultimately chooses.
The Latest and Greatest for This Summer
The Girls by Emma Cline (June 2016)
This debut novel has been on every summer book list I have looked at, and I can't wait to dive into it. Set in the 1960s, it centers on a group of young, teenage girls drawn into a Manson-esque cult. I have a feeling that reading this in the bright sunshine will be necessary to even out the creepy factor of the subject matter, but that it might also cause me to completely ignore the friends I vacation with. Sorry in advance, ladies!
First Comes Love by Emily Giffin (July 2016)
Giffin has hoards of loyal followers. Perhaps you read (or saw the movie adaption of) her famed title Something Borrowed. Her latest is about two sisters overcoming distance and tragedy to try and forge a new and stronger relationship. If you have any experience with sisters or friends who are very different from you yet you couldn't imagine your life without them, this book will definitely strike a chord with you. This is the definition of an easy read with characters that suck you in from page one—perfect for a quick weekend beach trip!
A Certain Age by Beatriz Williams (July 2016)
Vacation is all about getting away, and novels that sweep you into another time period are just one more way to escape everyday life. If you want a little Gatsby allure in your life, this is the perfect book for you. The novel is a retelling of the Strauss comic opera Der Rosenkavalier, setting the story of "intrigue, romance, and scandal" involving society matron Theresa Marshall and ingénue Sophie Fortescue in Jazz Age New York City. 
Feature Photo: Adobe Stock