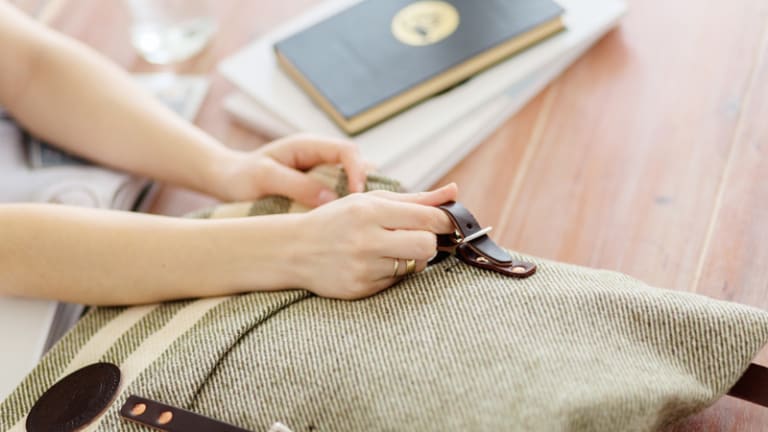 Why You Need an Amazing Portfolio—Even More Than a Resume
Land your next promotion or job with this tool.
When I started my career, I decided that I didn't want to forget any of the many opportunities I had, lessons I learned, and projects I accomplished in that formative first year, so I started a list. Soon enough that list turned into a folder, which then expanded into a full-fledged collection of the skills, accomplishments, projects, and opportunities I had seized. I discovered a lot about myself and my professional aspirations in the process.
Turns out that what I had done has a formal name: making a portfolio. We usually think of portfolios as collections of work for creative roles, but really anyone in any industry can make one. In fact, you should: A recent article from Forbes pointed to the misconception that "people think they should talk in general terms about career successes." In reality, "You build trust with interviewers by talking about specifics...by showcasing stories about business problems you have solved that are relevant to the organization." What better way to build trust with an interviewer than to bring along specific evidence that backs up your achievement or skill?
I spoke with Gina Glover, a professional career consultant with Right Management, an organization of global career experts that serves 80 percent of Fortune 500 companies and 70 percent of the Global 500 companies. She coaches hundreds of candidates through their job searching process and is an expert in how to make yourself marketable. Whether you're job hunting, interviewing, or looking to make a career change, secure a promotion, or take on a new project, Glover says you should put "make a portfolio" at the top of your to-do list.
01. It's the classy and concrete way to 'humblebrag.'
For many of us, talking about our accomplishments or praising our work is difficult even when the situation calls for it. Yet it's a necessary skill that requires practice. "Especially among young women," Glover says, "[there is the] tendency to minimize their abilities and achievements." A portfolio exhibits your achievements without feeling like you're bragging.
"People are visual, so to have something for the hiring manager or whoever is your first point of contact, for them to see something that is easily distinguishable from the next candidate and stands apart, is exceptional," she says. "It definitely makes a difference."
A portfolio serves to help answer questions during an interview or to network with others. If a question arises about your experience in training, for instance, you can refer to the training manual you created for a mentee. Or if a potential employer or partner asks for details about a certain project you worked on, you can show them the plans and the outcome of the project.
It helps you feel more comfortable in explaining your work and more confident that you will be able to share your accomplishments in an organized, detailed, and ultimately helpful manner. Having evidence of your previous work engages the other person and provides hard data to back up any statements you make about your skills or expertise.
02. As JT sings, 'It's like you're my mirror.'
A professional portfolio of your resumes, letters of recommendation, client feedback, awards, trainings, work samples, project write-ups, and key accomplishments serves as a reminder to yourself that you've done cool stuff.
Creating one forces you to go through career history and decide what to showcase or leave out. "The process of creating a portfolio automatically helps by refreshing your memory of all those wonderful positive things you did, bringing your past successes to the front of your mind," Glover says.
What were your greatest achievements in your former and current roles? What could you have done differently to improve? What are you most proud of? Good or bad, the constructive and introspective process of creating a portfolio is an opportunity to pat yourself on the back and consider next steps. Try spotting gaps in your skills or work experience. You may find that you're great at taking the lead on projects, but your technical skills could use a refresher. Seeking areas for growth will help you stay relevant in the ever-changing job market. Overall, it's a productive confidence boost.
03. It'll tell you what's (probably) up next.
Something to ask yourself while putting your portfolio together for a new venture is: "Does this align with my overall goals?" Consider not only personal goals but also for your career as a whole and specific to your current company.
Glover shares, "Something I help people with a lot is discovering what it is they really love and want to continue doing for their career." Start there.
Other questions to consider include: Do my goals align with my current position? Am I thinking outside the box and offering creative solutions? Am I proving myself to be competent, capable, and creative?
Questions to consider on a personal level could be: Is this work I feel good about showing off? Is this the type of project that I want to continue doing long term? Creating my career portfolio opened my eyes to projects I loved and the type of work environment where I thrived.
With site builders like Squarespace and professional profiles like LinkedIn, a portfolio is no longer a bunch of papers shoved into a yellowing manila folder. It's a visual representation of your growing knowledge and experience; a portable tool that allows you to keep track of and demonstrate your skills and recent work. It shows your initiative in communicating your goals and how you can provide your expertise to others.
If you find it difficult to recall or talk about your achievements, a portfolio will be a game changer for you. Your work can then speak for itself, subtly reminding others and yourself of your contributions. It could land you a dream job, more responsibility, a new project, or even a pay raise.
Photo Credit: Sara Kiesling