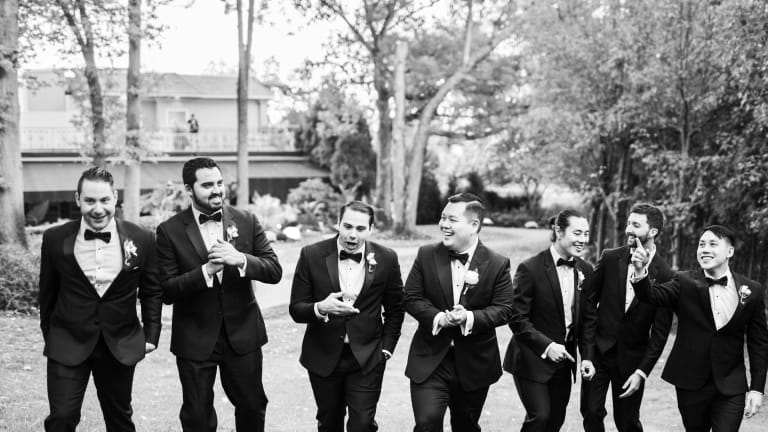 6 Newlywed Guys Share Their Favorite Parts of Marriage (No, It's Not What You Think)
What's it really like to be a husband?
For many people, the best part of attending a wedding ceremony is watching the groom's face when he sees his future wife walk down the aisle. It's awesome to see him overcome with joy, moved to tears, beaming with pride. It's clear to see that he is ready to put his bachelor days behind him and become a new, improved—and married—man.
So, I wonder, what do these men, who were standing there beaming, crying, moved with joy at the altar, think about being a married man now?
In an informal poll and with the help of a male insider (Isaac Huss), I asked six newlywed men what the best thing about being a married man is, and this is what they said.
You've Got a Friend in Me
This response was far and away the most popular amongst the responses from men. Four out of the six men I polled said that companionship was the absolute best thing about married life.
"It's about having someone next to you who's vowed to face anything and everything life can throw at you and support you every step of the way," Chris says.
"I love having the companionship," Joe says, "[and] always being able to have your best friend to hang out with."
I have to say, I was surprised that so many of these newlywed guys listed companionship as the best thing about being married. I mean, didn't they have that before marriage, too?
But I probed a little more and finally landed on what the difference was. Unlike dating, or even engagement, marriage gives the gift of permanence, which is the foundation for a kind of trust and intimacy that many people have never experienced.
"The best part of marriage is that she helps me see my shortcomings, and she still loves me and isn't going to walk away," Jason explains.
These men are totally digging the combination of emotional vulnerability and security that only marriage can bring.
"The best part of being a married guy is knowing that I have a partner for life, someone to journey through all the ups and downs with," Greg says. "I love having someone that truly supports me in everything I do."
The Better Half That Betters Them
Far from discovering that marriage to the right woman completes them, like the cherry on top of life's sundae, the guys I spoke to found that marriage actually challenges them—and they love that.
"Perhaps the best part about being married is thinking about how much worse off I would be without my wife," Jake says. "The sacrifice and self-giving of marriage, the intense friendship, the pains and struggles, the ability to share your life with just one person—these have all made me a better person."
But it's not necessarily that in marriage, men are constantly given the opportunity to sweep their wives off their feet in some awe-inspiring gesture of heroism. These guys are saying they love that marriage requires them to be humble heroes, doing small acts of service that may go unnoticed most of the time.
"Being married has been such a source of inspiration and an opportunity for me to be called into greatness," Rob says. "Not in changing the world, but in changing diapers! There are so many ways to be a hero every day."
I have to admit, I was surprised by the lack of diversity in responses from these six men. When asked about the best thing about being a married man, nobody said "the food," and only a few joked about "the sex" (they couldn't help themselves). No—whether it came as a surprise to them after their wedding or not, these guys found that the best thing about married life was the friendship and sacrifice. I don't know about you, but this makes me even more excited for the new batch of husbands-to-be waiting for their brides in front of altars everywhere this summer.
Photo Credit: Bom Photography