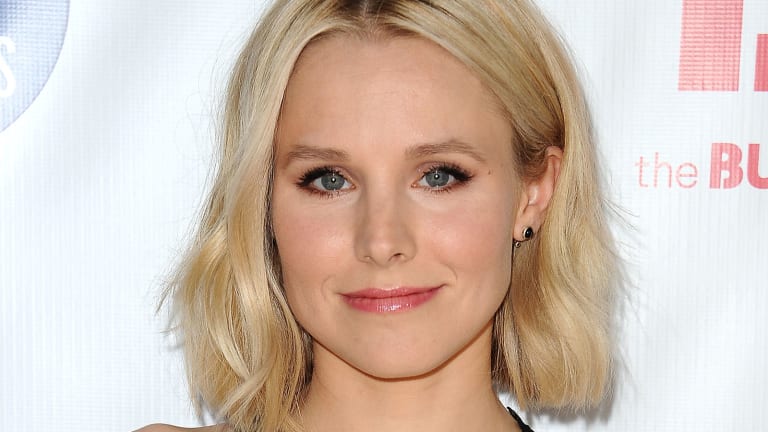 Kristen Bell's Wise Words On Depression Are So Refreshing
"You know what? I'm over it."
In an interview with Time, Inc. offshoot Motto this week, Kristen Bell became the latest actress to share her personal struggle with mental health. She opened up to the publication about seeking help for depression while she was in college. "I felt plagued with a negative attitude and a sense that I was permanently in the shade," she says. "I'm normally such a bubbly, positive person, and all of a sudden I stopped feeling like myself. There was no logical reason for me to feel this way. I was at New York University, I was paying my bills on time, I had friends and ambition—but for some reason, there was something intangible dragging me down."
Bell is not alone, of course. About one in five adults in the United States experience mental health issues every year, and, as Bell states, "anxiety and depression are impervious to accolades or achievements. Anyone can be affected, despite their level of success or their place on the food chain."
Case in point: The myriad women (and men) in Hollywood who have begun to speak publicly about their own personal battles with various mental health issues.
Singer Demi Lovato has fought her mental health battle in the public eye, currently serving as a spokesperson for a campaign called Be Vocal: Speak Up For Mental Health. The singer entered rehab in 2011 after years of living with eating disorders, depression, and addiction. "It was a great feeling to find out that there wasn't anything wrong with me," she says. "I just had a mental illness."
"I knew that there were two options:," says Lovato. "I could either not talk about my stint in rehab and hope that it went away, or I could talk about it and inspire people to get help for their issues, as well, so that's exactly what I did."
In 2014, Lena Dunham penned a sprawling personal essay in The New Yorker titled "Difficult Girl," detailing her struggle with Obsessive Compulsive Disorder and the difficulty of finding a therapist who felt like a good fit.
Actress Brittany Snow has also been vocal about battling anorexia, depression, and the propensity to self-harm. She told People Magazine, "You can starve for only so long. [After years of being anorexic] I started eating, and depression kicked in. I felt shame that I was 100 pounds. Anorexics are supposed to be 50 pounds. That's where the cutting came in."
Kristen Bell joins these ladies in hoping that speaking out about real—albeit difficult—experiences will help mental health be approached with equal consideration as physical health. "Mental health check-ins should be as routine as going to the doctor or the dentist," says Bell. "If you tell a friend that you are sick, his first response is likely, 'You should get that checked out by a doctor.' Yet if you tell a friend you're feeling depressed, he will be scared or reluctant to give you that same advice. You know what? I'm over it."
We're over it, too. If you think that you or someone you care about is suffering from a mental health issue, help is available. "Depression is a problem that actually has so many solutions," Bell reminds us. It's up to us to start acting on it.
Image: Getty