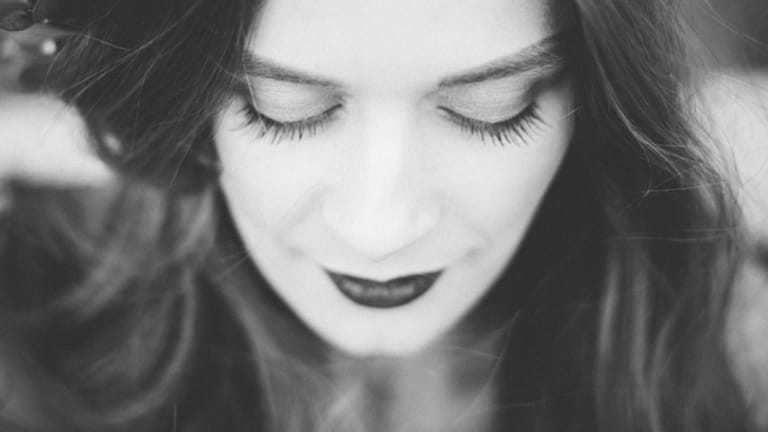 Why a Chronic Illness Turned a Tomboy Into a Style and Beauty Lover
Makeup and fashion never used to interest me until they became the tools that helped me through my illness.
If you saw photos of me as a child, you would never believe that I am the same girl. As a young girl living in Austria, I never gave my rugby shirts and mismatched trousers a second thought as I chased cows in pastures, played soccer, skied, and climbed trees. I was a tomboy to the core. 
All that changed in high school when I became the one person in two million stricken with the life-threatening condition, toxic shock syndrome. While I survived the near-death experience, my health remained poor, keeping me bedridden for a year and ultimately changing my life forever.
During my long recovery, I would watch my siblings and friends do all the outdoor activities I couldn't anymore. I was having a complete identity crisis at age 14. All the activities that I thought defined me—mountain climbing, skiing, ice skating, playing soccer—were stripped away. I began to have feelings of worthlessness, like I was less human because of my sickness.
It was on one of those long days, lying on my couch feeling hopeless and full of despair, that I spied a catalog from Peek & Cloppenburg, a German clothing retailer, on the coffee table. I began turning pages full of outfits that were breathtakingly expressive and artistic. 
I fell in love.
I began to experience the power of makeup and fashion during this time when I felt powerless. I started by copying the makeup I saw in the Peek & Cloppenburg catalog. Like any beginner, my first attempts were overly exuberant to say the least. Since I didn't own any makeup, I used my brother's oil pastels to create colorful smoky eyes, rouged cheeks, and red lips. I'll never forget my mother's face when she saw this first attempt—and, thankfully, immediately bought me real makeup to fuel my new-found creativity.
As I began using makeup and fashion as a creative outlet, I noticed that I felt better emotionally, mentally, and physically. When I felt especially ill, I put even more energy into learning about fashion and makeup, and recreating selected looks in my own life—and somehow my pain was alleviated.
At this point, you may be rolling your eyes. Fashion and beauty cannot cure physical illness. You might think they are superficial ways to cover up who we are. But fashion and beauty helped me to truly see myself for all my worth and dignity, even in the most dire situation.
When you're incapable of doing the things you used to do and have to rely on the help of others, it is easy to feel like you don't have the same dignity you had before. A serious physical disability can leave you feeling that you are your disability. 
Yet when I turned to fashion and beauty as a physical and tangible way to express myself, I was able to communicate who I was as a whole person. The sicker I felt, the more I thought people saw me as "the sick girl." So in response, I put extra effort into making sure I didn't look sick. Looking pulled together and stylish gave me more strength to face my illness, because it physically reminded me of the inherent dignity I had as a person.
Intellectually, I knew that my sickness didn't lessen my dignity. But how could I actually, concretely live the possible end of my life with the dignity I deserved? Seeing myself for all my worth was an active choice I made every day, and putting on a pretty dress and doing my makeup held me accountable to that choice. It ultimately helped me realize that I could choose to be happy, no matter what outcome I faced—even death.
As the years went on I had many chronic issues from my TSS episode, and my love for beauty and fashion continued to help me stay inspired and creative. My tastes developed and changed. I learned that orange was definitely not my color, paisley skirts did not flatter my pear-shaped frame, and I should be extremely sparing with blue eyeshadow. I fell in love with the classic Viennese fashions, and after spending hours people-watching at museums in Vienna, I would come home and try to emulate the outfits that had inspired me. 
I went through high school and most of college, but just when I thought my days of life-threatening illnesses were behind me, I began fainting unexpectedly and found myself bedridden once again. I didn't know what was happening to me, but there was something different about my sickness this time.
After visiting many specialists, I saw a cardiologist who found a tumor growing inside my heart. Since cardiac tumors are extremely rare, I was immediately sent to get an MRI of the tumor, and the doctors told me that I had malignant cardiac cancer, and probably had six to nine months to live.
And just like that, my life came to a screeching halt once again.
As I looked ahead to the imminent heart transplant and chemotherapy, my life completely fell apart. Now I was not only looking at possible death, but also, if I survived, spending the rest of my life facing multiple open-heart surgeries. I was a physical and emotional wreck, weeping constantly, unable to bear the future, yet unable to do anything about it. I remember lying in the hospital bed, barely able to move or breathe after my heart surgery, thinking, "I need to find something outside of myself to hold onto, to keep me going." 
The lesson I had learned when I was younger about honoring and affirming my dignity through fashion and beauty came rushing back. Once again, I found that the best way I could show respect for myself was through the way I treated my body. It was my body, after all, that was failing me. Fashion and beauty became a way to acknowledge my worth and to cope with despairing thoughts. I chose to find joy in my existence—no matter how short or long that would be. 
When choosing to wear a turquoise blouse or red lipstick, I was filled with joy because it reflected my own beauty as a human being. I felt that the only way I could truly celebrate the life I'd had and express gratitude for the life I had left was to continue choosing to be joyful about simply being. That choice gave me the confidence and strength to face my sickness with a (lip-glossed) smile, to keep on fighting, and to be joyful no matter what the outcome.
Call it a miracle or a severe medical oversight, but four and a half months after my first heart surgery, the doctors told me the scan was wrong and the tumor was not malignant. I still live in uncertainty as to what will happen with my health in the future, but what I learned from these life-threatening and life-changing illnesses is something I would never give back. Every day that I live to put on a fabulous outfit or to apply a careful cat eye, I am reminded that happiness is a choice, and that even when facing illness and death, I have dignity and worth—and beauty, too.
Photo Credit: Shannon Lee Miller