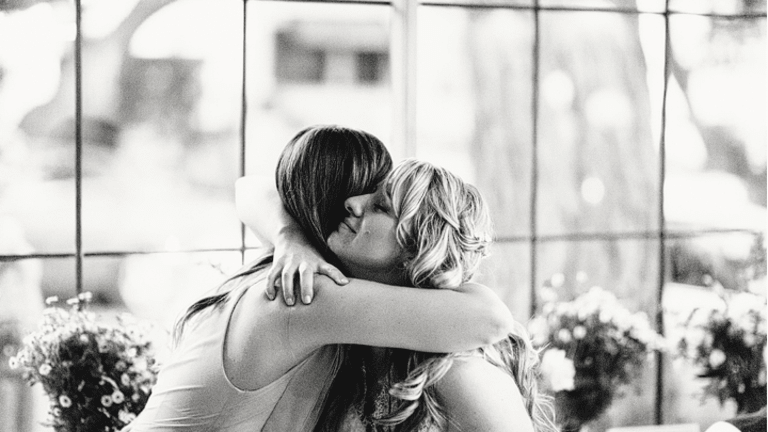 7 Tips For Giving an Awesome Maid of Honor Speech
Follow these guidelines and your speech is pretty much guaranteed to be a hit.
Wedding season can be a stressful time for those of us who are either bridesmaids or wedding guests. There is the expensive travel, the bridesmaid dress fittings, and then of course there's the angst over whether or not to ask our new guy to be our plus-one. 
Well, all I have to say is, first-world problems, girlfriend. There is one woman among us who has got a real problem on her hands—the maid of honor.
That's right, while we are running around sweating the small stuff, the MOH has the task of crafting a touching, humorous, wise, brief-but-personal toast to the new couple and to her friendship with the bride—which most maid of honors botch miserably. So yeah, no pressure. 
If you are an MOH frantically searching the Internet for inspiration, you have come to the right place. Rebecca Diaz-Bonilla, author of Foolproof: An Attorney's Guide to Oral Communications and public speaking consultant, has seven pointers to make your speech an absolute hit. 
01. No laundry lists
It's tempting to get up there and recite something like, "How do I love thee? Let me count the ways... ." But Diaz-Bonnilla says that laundry lists are not a good tactic when you are giving a wedding toast. "Laundry lists quickly bore and are easily forgotten," she explains. "That includes thanking 20 people...this not the Oscars. Keep a list to five or less."
Instead of delivering a long list, try telling a story that employs the method of simple enumeration, chronology, or comparing and contrasting instead. Diaz-Bonilla explains that these tactics will help you stay focused and will help your audience follow along as well. "An audience can remember that Jane is 'generous and brave' (two things), but they will ignore a list of twenty attributes."
02. Tell charming stories.
We all want to make our audience laugh, but things can go south quickly when low blows leave the bride and her guests awkwardly shifting in their seats. 
Diaz-Bonilla explains, "You never want to embarrass, antagonize, or roast when you are giving a joyful toast." It's certainly okay to poke a little fun, but be sure to keep jokes and anecdotes charming and G-rated. When the punch line points out a moral fault, it's bound to be received badly. Drunken escapades or previous shattered relationships won't make the bride feel adored. 
In addition to keeping your punch lines charming, Diaz-Bonilla stresses the importance of weaving your message into a story. We learn best through narratives, she explains. To leave your audience hanging on your every word, tell a story that is sensory, inspiring your listeners' imaginations. Instead of, "I met Jane when we were eight years old," try being more descriptive so the audience can join the reminiscing: "The first time I met Jane, we both had braces and freckles. I was wearing a frilly dress, and she was grass-stained and juggling a soccer ball."
03. Keep quotes to seven words or less.
For those of us who like to lean on the words of giants, it can be tempting to read an excerpt from a book or recite a poem. But if you want your MOH toast to be memorable, it's important to keep quotes to a minimum. 
Diaz-Bonilla explains that audiences typically can't remember anything more than seven words at a time. That may be too short for some of your favorite quotes, but don't stray too far from seven. If it's an excerpt from the bride's favorite book, it's best to paraphrase. 
You can also weave the words of a short quote into the entire toast by repeating portions of it. For example, if you use the quote, "Love is like a friendship caught on fire," by Jeremy Taylor, you can build a whole toast on friendship and how to keep the fire alive. 
04. Plan your beginning and ending lines to the letter.
Oftentimes, we are so anxious about all the important things we want to say in our toast, we brush past the introduction and conclusion. But Diaz-Bonilla explains that these are actually the two areas we should have scripted and memorized. 
"People will stylistically stumble the most in the starting and the ending," she explains. "You want to practice the beginning and end in full so that you capture your audience's attention with ease and close without a hitch." The top things to perfect include:
Get rid of the upspeak—ending every phrase with an upward inflection in pitch. 
Drop the fillers. Those "um's" and "like's" are really distracting. 
Have a warm expression; smile and manage those nerves.
05. Show a balance of emotions. 
All of our favorite toasts take us on a bit of an emotional journey. We laugh and we cry and we can't say which we did more. According to Diaz-Bonilla, showing a full breadth of emotion in your toast holds your audience's attention and makes for an unforgettable toast.
"Strive for a variety of emotions," Diaz-Bonilla suggests. "Audiences get saturated with emotions just like we do with everything else. A continuous stream of 'touching' will soon lose its power."
06. Keep it other-centered.
One popular temptation among maids of honor (and best men, for that matter) is to make the toast all about you and your friendship with the bride (or groom). But let's face it—we are not all gathered together today to celebrate your BFF status. This wedding celebration is about the union between the bride and groom.
Diaz-Bonilla says to keep it just 20 percent about you and the rest focused on the couple. "For quality control, edit the pronoun 'I' out of your draft if it's taking center stage."
07. Keep your toast to three minutes and you're golden. 
Did you know that the average attention span for Millennials today is 90 seconds? Of course, wedding guests are often diverse in age (increasing the average attention span of your audience) and different cultures have different toast traditions. But to play it safe, Diaz-Bonilla recommends no more than three minutes as a general rule of thumb. Practice with a timer several times before the big day.
"Not only will three minutes hit the right attention span mark, but you will leave the audience, and the bride, wanting more," explains Diaz-Bonnilla. "What could be better?"
Three minutes is still not a lot of time (especially taking into account reflective pauses), but if you play your cards right, you will have your audience hanging on your every word.  
Photo Credit: Nima Salimi