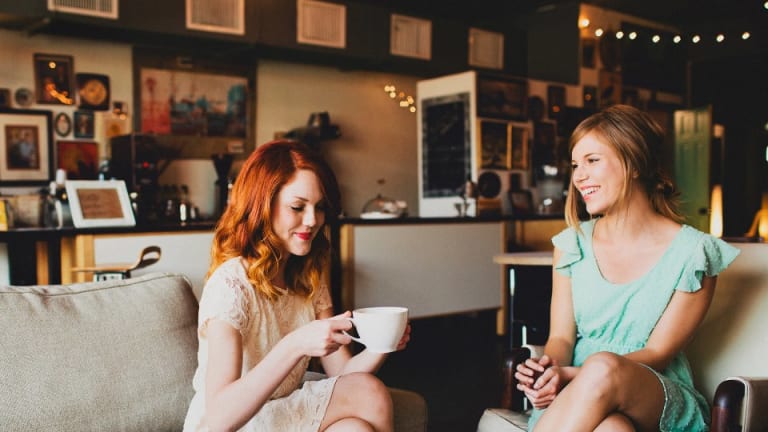 3 Dating Tricks You Can Also Use to Make New Friends as an Adult
Why is making friends as an adult so hard?
Making friends is a lot like dating: Things seemed easier in college. In college, you are surrounded by an endless supply of potential friends: your roommate, others in your dorm hall, classmates, clubs, and intramurals. But once you graduate, making friends becomes a lot harder, and potential friends seem much more scarce. 
Why is making friends as an adult so hard? Sociology professor Rebecca G. Adams says in an interview for the New York Times that as we get older, it's harder to find the three conditions necessary for a friendship to blossom: proximity, repeated and unplanned interactions, and a setting that lets you confide in each other. 
The podcast "This American Life" recently featured a story about a man who was trying to set up his friend with another potential friend. The story chronicled their nervousness and apprehension before meeting ("What are we going to talk about?") to their post-friend date assessment (both would be willing to hang out again at some point). I also recently heard about two mothers creating an app called MomCo to help other moms meet potential new friends. And the popular dating app Bumble recently unveiled an extension of their service called BumbleBFF for making friends. 
Clearly, making friends as an adult requires some effort, and people are looking for some help. But, the same three tricks we all use to "get out there" and meet potential boyfriends also apply to meeting and making friends.
Be bold.
If you're looking to make friends, being bold is the best approach. Dr. Irene S. Levine, in an interview for The Wall Street Journal, says although you might feel like you are the only person out there who lacks friends, it's absolutely not true. Other like-minded people are looking to develop friendships, so being bold alerts others that you are open to a possible friendship.
My friend Mark says he had a great friendship with a coworker but worried that they would never spend time with each other outside of work once the coworker completed their internship. He eventually pushed aside his fear of being vulnerable and asked him if he wanted to hang out after work. His coworker said "yes" of course! So, if you think you and an acquaintance have a lot in common, don't be shy. Chances are, they're probably interested in becoming better friends with you, too.
Have a wing-woman.
Whether you're an introvert or extrovert, we all have challenges when it comes to making friends. Introverts, especially, may find it hard to put themselves out there. Just like when we go out to parties or to grab drinks with some new guy, it can be nerve wracking to sit across from a new friend and make conversation. 
My friend Teresa says that meeting other "mom friends" can be hard as an introvert. But she says bringing along another person to your friend-date can make it feel less awkward, almost like a double date. Teresa also finds it helpful to invite the potential friend to a group outing or event so it's not just the two of you meeting over a cup of coffee with the potential for awkward silences.
Pursue your interests.
Embrace the comparison to dating when it comes to making new friends. You've heard the advice that joining groups focused on activities that you enjoy, whether that's volunteering, joining a sports league, or a hobby group, increases the likelihood that you'll find someone with similar interests. Meetup and Facebook groups are also good ways to meet like-minded people. 
For new moms, it might mean striking up a conversation with other moms on the playground or at the library reading circle much like writer Stephanie V. Lucianovic did as she described in her essay for the New York Times: "With the busy schedules we each maintain on not enough hours in the day, finding moms you really click with on a parenting as well as a friendship level can be fairly difficult." So when she found a like-minded fellow mom in her son's music class, she asked her to meet up for a play date. "The chatter never lagged, and we had a fabulous time at the park," she wrote. "The kids played amazingly well together, giving us time to talk and find out all sorts of things we had in common." The play date marked the beginning of a promising friendship.
Don't be discouraged if it doesn't work out.
Not every potential friend makes the cut, though, so it's important to be okay with it not working out. Often times you will schedule coffee date after coffee date and still no sparks of friendship fly, and sometimes trying to make time to get together seems like so much work, you wonder if either of you are actually really into it.
It's OK, the stars might not be aligned, or maybe you are looking for friend in the wrong place. For example, Maria Walley, my friend and fellow Verily writer, shared with me that once when she moved to a new city, she joined OK Cupid and said that she was just looking for friendship. "Needless to say, that was an epic fail," she recalled. "I found no friends. Just a lot of men who had no interest in friendship or lonely, old guys who wanted to chat about their life and books." Maria now laughs that perhaps OK Cupid wasn't the best place to go to make new friends.
Making new friends can seem like a lot of work as an adult, but it's worth the effort. You can't beat the feeling of hearing those words, "No way, me too! Let's hang out!" Talk about #squadgoals. 
Photo Credit: Shannon Lee Miller