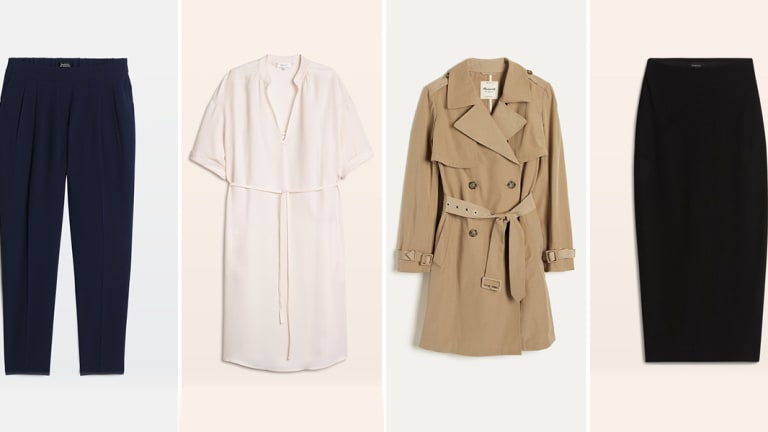 Follow This Easy Formula to Create a Wardrobe That Goes with Everything
Start here for a timeless, versatile closet.
Have you ever mustered up the courage to introduce a particularly bold item into your wardrobe, only to realize that you have nothing to wear it with? "If only I had a plain top to go with this patterned midi," you say to yourself as you defeatedly put the skirt back into the closet.
Surprisingly enough, many women lack a base wardrobe of essential items that are vital for making our attire versatile. Even if you aren't looking to balance your bolder items, a successful wardrobe depends upon a foundation of timeless pieces that act as the backbone to every outfit.
If you're looking to create a base wardrobe but aren't quite sure what the formula is, follow our guide below.
01. Choose Neutral Tones //
Seems like a major shopping buzzkill, but your base wardrobe should consist mainly of neutral tones, meaning colors so versatile that they will go with everything else you own. Before you dive for magenta and emerald green, be sure to stock up on an array of black, white, beige, cream, grey, navy, and olive in both tops and bottoms. 
Having a neutral color palette in your wardrobe comes in handy when you need to balance out brightly colored or vibrantly patterned items. Don't get us wrong, we love mixing and matching patterns, but for everyday we suggest pairing your more daring pieces with a more basic color. Neutral tones also make it easier to get dressed on mornings when you didn't have time to plan your outfit—everything matches neutral colors.
Neutral Colors:
Crisp White 
Olive
Cream
Navy
Black
Gray
02. Stock Up on Basic Items //
Walking into your favorite store and making a beeline for the crewneck tees, button-up blouses, pencil skirts, and tailored slacks might seem like a drag, but believe us, you'll be thanking yourself later. Just think, you'll finally have a go-to pair of skinny jeans that literally go with every top you own.
If you have ever suffered from feeling like you have "nothing to wear" despite a closet full of clothes, this might be because you don't have enough basic items in your closet. A wardrobe full of eccentric dresses and unique tops is fun, but what do you wear with them? And how do you get repeat wear out of them? A base wardrobe is primarily composed of these staple, understated clothes that you can always rely on looking classic and polished. 
Basic Items:
Skinny Jeans
Solid-Colored Dress
Button-Up
Slacks
Plain Tees
Pencil Skirt
03. Find Universally Flattering and Timeless Fits //
A woman whose body is flattered will look and feel like a million bucks. You can never go wrong when incorporating flattering items into your wardrobe. When your clothes complement your shape, your entire outfit is elevated to look more expensive and specifically tailored to your body (even if it wasn't). 
The best way to find these items is to discover your unique body shape and then learn what styles clothes look best on you. For a more general approach, take a note from Kate Middleton and choose clothes that are universally flattering. For example, dresses that cinch in at the waist, skirts that hit at the knee, tailored blouses, and three-quarter sleeves.
Universally Flattering Items:
Fitted Blouse
Fit-and-Flare Dress
Three-Quarter-Length Sleeves
Midi Skirt
Mid-Rise Black Skinnies
04. Invest in High-Quality Fabrics and Tailoring //
After putting in all this effort to build a base wardrobe, of course you want it to last for as long as possible. Unlike trendy items, these pieces will always be in style so there is no reason why they shouldn't last. You might get tired and replace some of your bolder "statement" clothes, but your base wardrobe is meant to be timeless and, therefore, worth investing in. You might be tempted to go for cheaper basics, but low-quality fabric and construction will give your base wardrobe a short life span. 
Opt for basics that are well-crafted and sturdy, meaning they won't lose their shape after a few washes, won't pill, won't rip at the seams. Always check the density of the fabric by holding it up to a light. If it's transparent that means the fabric is not dense and will not be durable in the long run. Speaking of durable fabric, there should be no gaps or size differences between the individual threads—you should only see a pattern of smooth rows throughout the garment. 
Quality Fabrics:
100% Cotton
Linen
High-Quality Denim (not too stretchy or thin but not too sturdy that you can't comfortably move)
High-Quality Synthetic Fibers (Viscose, elastane, lyocell, polyester, and lycra mixed with cotton)
Wool
05. Buy Versatile Accessories, Outerwear, and Shoes //
Every base wardrobe needs basic accessories, outerwear, and shoes to complete it. Bags, shoes, and jackets that go with everything else you own make getting out the door in the morning that much easier. The key is to stick to traditional items in neutral colors, by keeping the styles classic and versatile, these finishing touches will effortlessly blend in with the rest of your outfit no matter what the occasion. 
Versatile Extras: 
Black Ballet Flats
Tan Trench
Oxfords
Navy Blazer
Black Satchel Purse
Comfortable Nude Heels