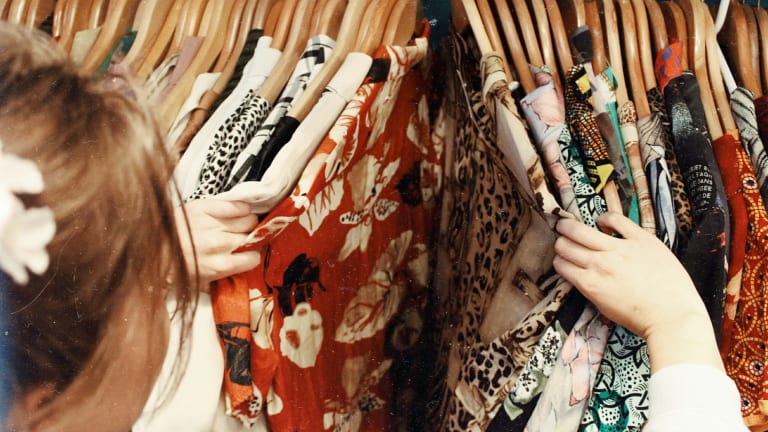 How to Be a Savvy Shopper Based on Your Personality Type
Know thyself—your closet, and your wallet, will thank you.
When someone compliments a piece of my clothing, I have a nearly irrepressible urge to reply not only with gratitude but also with an explanation of where I got it. It's because I love shopping, and these days there are so many ways to do it—online, vintage, thrift, department store, consignment, girls' night clothing swap.
Whether or not you're as thrilled about wardrobe enhancement as I am, there's a lot to consider when buying new garments: your budget, the piece's versatility, and the way in which it was made, to name a few. But have you ever stopped to consider the strengths or pitfalls of your shopping tendencies? Use this guide to make the most of your next foray into the world of fashion, whether it's combing downtown boutiques or clicking away from the comfort of your couch.
The I-Hate-to-Shop Shopper 
When you hear "an afternoon out with the girls," you think of creating artwork, relaxing over tapas, or going for a long bike ride. Malls make you jittery and online shopping gives you a headache.
The good news is, you only have what you need. It's easy to get dressed in the morning, and you have room in your budget and closet for things that interest you. The trouble is that when you need something new—a dress for a more formal occasion, styles for a new job with a different dress code, or a replacement for that sweater from high school with all the holes in it—you don't know where to start.
When you really need to shop, enlist a more seasoned shopper friend who can advocate for you. Another tip: many department stores and chains have personal shoppers who can work with you to find what you're looking for, says image consultant Janet Cargill in her book Look Damn Good: At Your Age, With Your Body and On Your Budget. They really want to help you, plus they know the store's inventory and can pick out possible outfits quickly—meaning you can get back to the things you actually like to do! 
Another tip for those who hate shopping is to make a list of the things you want before going to the mall. Feeling like you have to hit every single store as you walk down the strip is what you truly dread, so make this easier on yourself by only going to your favorite stores. Bonus points for checking out store websites beforehand to see if they have specific clothes you need. Stick to your check list of items and don't get suckered into walking into every store in the mall!
The Thrifty Shopper 
You like your clothing to come with a story, whether it's from a bricks-and-mortar consignment shop, an online thrift shop like ThredUp (my personal favorite), or a bidding site like eBay. You know your size in seventeen different brands, and you cast a wide net when you're looking for something to add to your collection. Your openness means you are more likely to find treasures that enhance your unique sense of style.
The key to remember as a thrifty buyer is that a deal is only a "steal" if it's something you actually need. Cargill cautions against building an "orphan closet"—a wardrobe with pieces that don't work together to create a cohesive look. A piece should work into three or four outfits you can create with what you already have to make it worthwhile, even if it is being sold for 90% off the original price. Pay attention to details: look at the fabric and construction to make sure the piece is high quality, put back any item that has damage which you're unwilling repair. Always check for care and keeping tags—you might find that blouse is dry clean only and it might not be worth it to take to the cleaners every month. 
To be a real thrifter you have to be willing to try everything on before buying. A size ten 1950s' dress is definitely not the same as a size ten dress from 2016, but don't let that discourage you! Sizes in thrift stores mean absolutely nothing compared to general sizing standard, so you must develop an eye for what will fit you. The only way to do this is by trying on as many items as possible until you find ones that actually fit. When you have found a pair of jeans that fit, carefully analyze the width of the waistband and hips. You will soon be able to determine which items will not fit you when perusing the aisles by simply eye-balling it. Remember to keeping a positive attitude when trying on 10+ items, it's all about the search and finding a treasure that's perfect for you, so don't get too hung up on something that doesn't fit.
The Straight-for-the-Sale-Rack Shopper 
Clothes that were "last week" to some are right on time for you. You enter a store and beeline for the racks in the back, or click to the sale page online. You've never paid full-price (because you know discounts are typically built in to retail prices). 
The veteran sale shopper knows what times of year are best for retail deals and consignment shop clear-outs. She builds a list of needed items and keeps it in her purse or on her phone, so she can make the best of a sale when it strikes. But as with the thrifty shopper, a heavily discounted price can persuade you to make a purchase you otherwise wouldn't consider. A skirt doesn't fit better because you got a bargain on it. If you can't be your own filter, bring a friend along when you hit the mall or text photos to her while you shop.
The key to making sales work for you is to look for timeless wardrobe staples, rather than trendy or cheap items that are on their way out for good reason. You will be amazed at the high quality gems you could find on the sale rack, simply because it's off season. Finding a good bargain is like a game, so make this experience even more fun by marking special shopping days on your calendar when the previous seasons clothes are on sale. For example, spring is the best time to snatch that pea coat you've been wanting for years, winter is the best time to look for that classic trench or go-to maxi dress, and summer is the best time to find a traditional navy or black blazer. Remember to be open to these classic staple items even when the weather outside is contrary. You will be thanking yourself when you already have your seasonal clothes and everyone else is buying them at full price. 
The Inside-the-Wardrobe Shopper 
For you, shopping means only going as far as your friends' or your sisters' closets. You wear close enough, if not exactly, the same size. It's pretty much the adult version of Narnia.
What's great is that your clothes come with a built-in stylist. With more than one closet to work from, you can try all kinds of combinations without spending a dime. But don't forget that the goal is not to become a clone of your fashion-forward friend. Rather, use the breadth of your resources to incorporate what of hers resonates with your personal sense of style. Whether the relationship is with your friend or her clothes, set some boundaries. All the back-and-forth could easily damage your goods and you can't promise never damaging hers. Make sure you both know which items are off limits—some pieces are special and distinct to ones own personal style. Always ask her before borrowing and ask her to check with you before rummaging through your wardrobe.
If you have a hard time defining your personal style, just make sure you have a base wardrobe so that you aren't depending upon your friend's wardrobe every week. You will be amazed and relieved at the endless outfit combinations you can create from the same blazer, pencil skirt, and simple blouse. By creating a neutral wardrobe full of classic items, you won't feel like you need to consult your friends wardrobe for every occasion in life because you will be able to rely on your basic items. Filter in your friends unique items to add a funky flair to your basic items for a look that is still your own.
The Online Shopper 
Your email inbox is a veritable garden of coupons and promo codes. You know which sites offer free shipping and returns and how to use the system to make the most of it (i.e. buying two sizes of the same garment to ensure a good fit and simultaneously avoid shipping fees). You use Honey or a similar coupon-finding browser extension to make sure you always get the best deal. You don't have to worry about making a special trip to go shopping, because your browsing is done primarily at home. Or on the subway. Or in the doctor's waiting room, thanks to your smartphone. Bonus: You never wait in line for a dressing room.
The biggest downfall to online shopping is having to judge items based off of how they look on a model. Eagerly opening up your highly anticipated package only to find that it looks completely different on you is frustrating, to say the least. The key to having a successful online shopping experience is to choose universally flattering items or fits you know work for you specific body type. A-line dresses, button-up shirts, midi skirts, simple T-shirts, and jackets are examples of non-risk items because their silhouettes are versatile and flatter all body types. Items that depend on your specific body type will be the ones you end up returning more often, for example, form-fitting pencil skirts, sheath or pencil dresses, fitted trousers, and tailored tops—it's best to just try these styles on in the store. They say time is money, so make sure to factor in time spent on negotiating with your printer for a shipping label and searching for a UPS drop to return pieces that didn't work out. 
While it may bog down your inbox, if you're committed to online shopping, make sure you take advantage of coupon codes by subscribing to emails from your go-to stores. Within any given week you're likely to see a sale or free shipping promo pop up. If you already have your eye on something, these ads can be a great resource for money saving. Keep tabs on those items by saving them onto a Pinterest page so that you can always find them when the perfect sale or coupon code comes along. Just be careful lest you forget that click-click-clicking has consequences for your bank account. But, just because you have an e-coupon doesn't mean you have to use it.