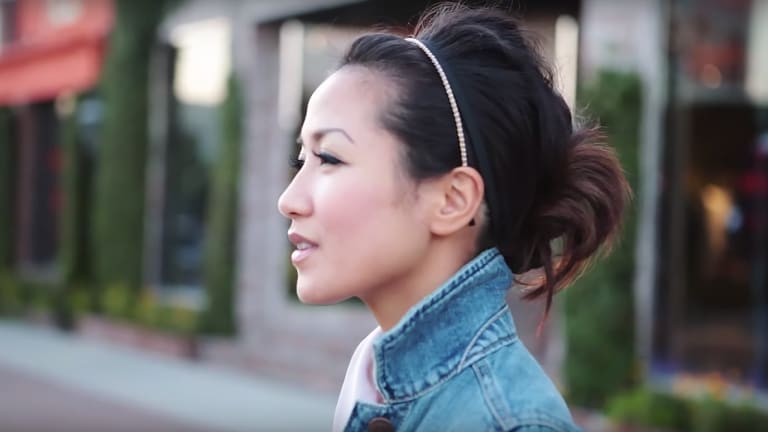 10 Fun Hairstyles to Keep You Cool This Summer
These tutorials will help you beat the heat in style.
Let's face it—summer is not always kind to your hair. Sure, when you style it in the morning, it's a perfectly coiffed work of art...until you step outside. Now it's hot, humid, and your hair is sticking to your face. Whether your locks are long or short, straight or curly, here are 10 fun styles to keep your hair out of your face and away from your neck, so you can keep it classy all day long.
Polished Ponytail
A ponytail is a tried and true way to keep your hair up and away, but it doesn't have to be boring! Nee shows us how to pair practical with put-together in these simple twists on the classic updo. Try the French twist, the hidden ponytail, or the double twist for immediate style and comfort.
Tucked In Headband
For effortless weekend style, choose a comfy headband to pair a simple updo with a quirky accessory. Whether you're hitting up the city or roving the beach, tuck your locks into a vibrant, scarf-like headband to catch Jenny's Arizona adventurer vibes.
Inverted French Dutch Braid
Inverted French braids, boxer braids, Dutch braids, pigtail braids—whatever you call them, double braids are in. Lana shows us how to sport these sophisticated twin braids without looking too childish. Rock this powerhouse hairstyle any summer evening for a runway-ready look.
Twisted Buns
On a hot summer day, the only thing better than putting your hair up in a bun is putting it in two! Take a quirky spin on the classic bun by pairing twisted buns at the nape of your neck. These don't have to be perfect either—Abby from Twist Me Pretty shows us exactly how to look messy chic.
Sleek Low Side Part Bun
Think low buns are outdated? Think again! Pair a dramatic side part with a low, sleek bun for instant style. Copy Fiona's go-to hairstyle for a classic look that will take you through the weekdays and into the weekend.
Inside Out French Braid
This one goes out to all the ladies who have yet to master the French braid. Milana shows us just how easy it is to accomplish the effortlessly cool inside out faux braid. Perfect for a formal event or a night out on the town, this versatile hair style will have you feeling rocker glam in no time.
Messy French Twist
An easy to way make your last minute updo look more elegant is to simply add a pretty headband. Wendy breaks down the intentionally messy french twist, showing us that the key to this runway-inspired hairstyle is to avoid perfection. Embrace your messy bedhead for a look that says "très chic" without all the effort.
10-Second Messy Bun
If elaborate hair styles aren't your thing and even the word "braid" sends you into nightmarish fits, try this effortless top knot. Perfect for second (or third) day hair, this messy bun will keep your hair up and away with minimal angst. Watch Emily's most-requested tutorial to see how.
Scarf Updo
Sherelle is all about natural hair, and so are we. Summer is not the time to mess with hairspray and a mountain of hair products. Instead, throw your hair up in a scarf wrap updo to let your natural beauty shine. Sherelle's curly hair looks stunning in this simple cotton scarf. To add a little flair, find a scarf with your favorite colors and patterns. 
Fish Tail Halo Braid
If you've mastered the fishtail braid and have a little more time on your hands, don a natural crown with Amber's reinvention of the milkmaid braid. Pull out a few strands of hair to frame your face, and you'll have all the makings of a darling Swiss shepherdess.