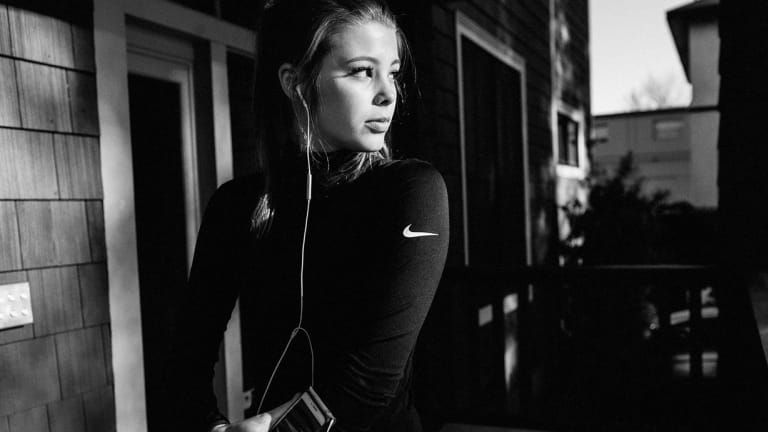 How Instagram Can Help You Live a Healthier Life (Yes, Really)
I used to be a social media hater, but then I discovered how it can help me keep fit and strong.
Instagram has rightfully been accused of spreading the green monster of envy. It will put you in front of some mouth-watering meal you aren't eating, a fabulous vacation you could never afford, or an #ootd that isn't in your closet. Often, the app feels less inspirational and a lot more like a blatant reminder of what you don't have. 
In an age where there is an app for everything and virtual is often mistaken for reality, I had always tried to limit my recreational use of technology. My belief was solid until I met an unlikely group of women through Instagram.
Online communities surrounding healthy living have become something of an Insta-craze in the past year. You may have scrolled across them: thirty-day exercise challenges and meal prep ideas, along with stories from women sharing their real-life progress and struggles. Many of the most popular accounts have upward of four million followers; some have as many as ten million. 
I came across one of them, a fitness community aimed at women like me, inviting us to take part in a program that includes 28-minute routines and healthy recipes. The women range from teenagers to those in their sixties, some are in college, and some have kids. Some struggle with eating disorders or severe obesity. The message wasn't about competition but rather about being a supportive team to motivate one another. 
I was inspired.
Before I knew it, I was snapping pictures of my meals and uploading them to my personal page. I also decided to partake in one of the Instagram-inspired meet-ups that were quickly sprouting up, like daisies, all over the globe. 
It was like a blind date. We entered the scene nervously, thinking to ourselves, "Will they like us? Will anyone show up?" 
The leader of the meet-up was someone I'd followed online for months. True to her Instagram, she was tough as nails, leading us in a workout to challenge even the strongest in the group. Around a potluck of fruits and protein bites after, we started to learn more about each other. 
I definitely felt a sense of community welling up inside of me. But I still found it hard to shake my hesitations about engaging in something so personal as my health journey via something so public as social media. I didn't know if I wanted to share the ups and downs of my weight and admit publicly to the days I skipped the gym. I wanted to succeed in living a healthier life, but to do so via Instagram made me uneasy. Motivated by our meet-up though, I got up early the next day ready to conquer a workout. I felt great. 
That is, until I tried to take a gym selfie.
Standing in front of the mirror at L.A. Fitness, I raised my iPhone out in front of me. "How do they do this?" I thought. Struggling to hold it at the right spot was challenging enough. I would hear someone coming and quickly hide my phone. The only thing I could think of that was worse than a gym selfie was someone seeing me trying to take one! I wrote a quick message about how I was hoping to stay motivated by sharing my journey and following others and uploaded it before heading off to work. I wasn't sure if this was the way to do it, but at least I gave it a try.
A comment came in shortly after the post. It said, "You'll do great! Best of luck!" And it was followed by more. I was amazed that people were taking the time to tell me that I could accomplish what I was setting out to do. I started following a few more people. Soon, a few of those people were following me. I found that seeing their progress was just what I needed to accomplish my own. It wasn't about trying to gain followers; it wasn't about making my fitness life look glamorous. It was about sharing in the successes and struggles of people who were honest enough to share their vulnerability with others.
A few of my close friends found my account, and I started interacting with them more regularly than I had before. It wasn't a thirty-minute phone call or a visit in person, but it was still a meaningful and positive connection over our common health goals. Who saw that coming?
Before finding this community, I was active. But my commitment waned based on the free time I might have in any given week, balanced against the constant pull of other commitments. Even when I had time, I wasn't sure where to start or what to focus on. Should I be running more? Should I be lifting weights?
Joining a community where a program was laid out for me was perfect. Every workout was pre-planned, and the support of those who were in the midst of the same journey made me want to do it. Regular meet-ups kept me accountable because you can't fake progress when you all workout together (doing twenty burpees after weeks of not working out is not fun or safe). And when I would (sporadically) workout before, there was no one to share it with. Now I had a group of women who not only cared about my progress and daily workouts but whom I cared about as well. I was incredibly encouraged by each conversation we'd have, even if it was in the comments section of an Instagram post.
This online community motivated me in my fitness journey more than all of my previous trips to the gym combined ever had. Accountability is important in attaining any goal, and Instagram provided an easy portal to accomplish that. The community's supportive, encouraging, and motivating messages speak to struggles we all face. When I wasn't exactly sure how a given exercise move looked, I could find a dozen videos of women doing the same workout with a simple hashtag search. And it was fun to tag friends with #whatsonmyplate to get nutritious dinner inspiration in a pinch.  
Most importantly, though, it showed me that I wasn't alone. Seeing that others made the occasional choice to eat cake and not be derailed by it or to skip a workout because they "just didn't feel like it" affirmed that progress is not perfection. Unlike the media surrounding us touting unwavering dedication and unattainable lifestyles, these women were real. Communities like these are what women need: strong women, wherever they are physically, being open and honest about their struggles, body fears, and thoughts while supporting each other.
I've continued going to local meet-ups. Our small group of ten grew to almost fifty in a few short months. It didn't happen overnight, but as quickly as I gained several followers, I had a handful of new friends in women who were sharing their lives virtually and were as authentic in person as they had been online.
In less than a year, I went from having a staunch view against social media and it's place in our society, to someone that you may catch taking a gym selfie (I've gotten a little better at those, too). I still firmly believe in showing respect and courtesy to friends and loved ones (if I'm out to dinner, I'll snap a quick pic and put my phone away). But in a world of evolving virtual technology, sometimes giving it a chance can change your actual life for the better. I know that the women I've met, and even some I probably never will, have challenged and encouraged me on my journey to a healthier me when I've needed it the most. I hope that I can do the same for them, even if it means taking a sweaty selfie from time to time.
Photo Credit: Taylor McCutchan