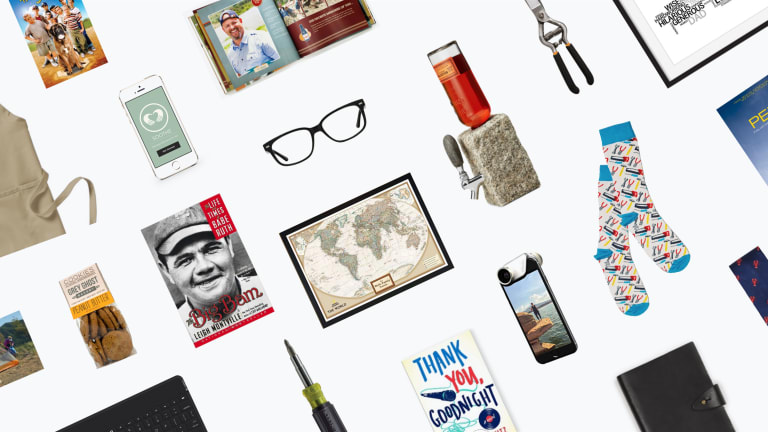 This Will Help You Figure Out What Your Dad Really Wants for Father's Day
Whatever his interests, this guide will help you find a way to show your dad you love him.
"What would Dad want?"
This question used to baffle me as Father's Day approached every year. Dads can be particularly hard to buy for, even when you know their interests. My dad is an outdoorsy handyman, so tools and bike gear tend to top his wish list. I don't know the first thing about either—despite my dad's efforts to teach me—and he shuns clothing, my go-to gift as our family's resident style addict. I once gave him a sweater that I'm pretty sure is still fully tagged and gathering dust in the back of his closet.
My dilemma continued until I dug a little deeper and asked myself, "What would make my dad feel loved?"
In finding out what makes a person feel loved, you need to know how they love other people. There are five primary love languages that people use to bring themselves closer to their loved ones: words of affirmation, quality time, physical touch, gifts, and acts of service. Besides his athletic and fix-it talents, my dad has an amazingly generous spirit and a spontaneous sense of humor, so my dad's primary love language is quality time with my siblings and me.
Thinking about how he prefers to show and receive love greatly expanded my options for Father's Day gifts. I began to give him quality time with me and other family members rather than material things. I treated him to breakfast and gave him a restaurant gift card for a date night with my mom. I knew he would appreciate and use that rather than leave it untouched in his closet.
Consider how your father has shown his love for you, and use that as inspiration to pick the perfect gift for him. Whatever your dad's love language is, we've gathered Father's Day gift ideas to fit not only his language but his personal interests, too.
If your dad has invited or forced you to go fishing, camping, or hiking, you know he has an appreciation for the beauty and solace that nature and physical activity provides. Tough on the outside and contemplative on the inside, the perfect gift for this dad is sure to inspire his next excursion.
01. Acts of Service: The season of lawn and garden care is upon us, so present your dad with shears to tidy up his yard. The kicker? Offer to trim with him.
02. Words of Affirmation: Create a memory book with stories and photos from your last trip. He'll love to read about the memories you've shared on your adventures together.
03. Gifts: Equip your dad with a box of curated supplies for his next escape with a souped-up limited edition Frontier Box by Bespoke Post. It includes items fit for legends, like a masterpiece pocket knife, a steel bottle opener, and an old-school fountain pen. Personalize it with additional add-ons like a classic lighter or book of stories by Hemingway.
04. Physical Touch: Use this tutorial from Healthline to DIY a heat pack to help dad lay back and relax after a particularly active day. All you need is some fabric (like wool socks) and a few cups of rice (or another type of grain) to fill it.
05. Quality Time: Find an REI outdoor class in your area so your dad can get out there to enjoy his favorite exercise outlet—cycling, running, trekking, to name a few. He'll have an excuse to do the activities he loves and maybe meet some people who love doing those things, too.
Whether grilling, mixing drinks, baking bread, enjoying wine around the dining table, or lemonade in the backyard until twilight, this dad's idea of a good time centers around other people. Add to his entertaining repertoire and the ever-hospitable host in him will beam.
01. Words of Affirmation: Stir up some laughs with a "Dude With the Food" chef's apron affirming his reign over the kitchen or grill.
02. Gifts: This marble cheese board with slicer from Williams Sonoma will keep his favorite meat and cheese delicacies looking and slicing fine.
03. Physical Touch: Offer to be your dad's sous-chef for his next dinner party or backyard barbecue. Your helping hand and this dual temp grill & meat digital thermometer will ensure his infamous steaks and grilled veggies come out tastier than ever.
04. Acts of Service: This Maine-made Stone Drink Dispenser by Jeff Henderson for Uncommon Goods will let dad serve up a special drink concoction in a way that's as interesting and steadfast as he is. No need to stand at the kitchen counter making drinks all afternoon when he could be socializing with his guests.
05. Quality Time: Take your dad out to a foodie haunt to bond over his favorite eats. A silly food or drink accessory like this Lobster Tie by Ties.com will add some quirky fun to your father-daughter bites.
There's nothing like the newspaper, the latest research, or a good book to catch the academic dad's attention and keep it. Thanks to local libraries and free university resources, gifts at an affordable price point abound for this bookworm.
01. Acts of Service: Pique your dad's intellectual curiosity with a monthly book delivery subscription from Hello Subscription. It'll keep his hobby going, and every time he opens a new book he'll think of you.
02. Physical Touch: Take your dad to a lecture that intrigues him at a local university, library, or academic hall. Your presence will show you care about his interests and this USA-made Trailhead Leather Notebook by Rustico will help him note new insights for later father-daughter conversations.
03. Words of Affirmation: Create a Wordle collage poster of words and quotes from your dad's personal heroes, favorite authors, or greatest minds that remind you of his best qualities. Frame it for him to show off in his office or den.
04. Quality time: Pick a book off the New York Times' Bestsellers list and start a father-daughter book club. Reading will help you bond and learn about the topic and one another at the same time.
05. Gifts: Help your dad study in style with EyeBuyDirect Eyezen glasses designed with a reading enhancement lens and a smart blue light filter to protect his eyes and sleep pattern. The "John" style is reminiscent of Clark Kent—perfect for the intelligent superdad.
Whether he's a diehard fan or casual spectator, the camaraderie and heroic feels this dad derives from following his favorite sport or team says a lot about his loyal and loving character. Whether or not you share his gusto for a good game, here are a few creative ways to share in his enthusiasm.
01. Acts of Service: Does your dad have a sports gear or trading card collection sprawled on shelves and spaces around the house? Gift him a Sports Gear Station or Ultra Pro Card Collectors Album and offer to help him finally get them in order.
02. Physical Touch: Hit this Father's Day out of the park by booking dad a sports massage at his home or office through the Soothe app. A licensed and background-checked therapist uses trigger point therapy to help increase range of motion, helping to improve his golf or bat swing.
03. Quality Time: Make game day a tasty day with the Game Day Goodies collection by Mouth. Join him in snacking and cheering on his team from the comfort of the couch.
04. Gifts: Can't afford a season seat in the stands? Set up a sports movie night just for dad. Watch Pelé: Birth of a Legend about the rise of soccer star Pelé who led Brazil to its first World Cup win. Or go old-school with The Sandlot.
05. Words of Affirmation: Get a book about your dad's biggest sports hero—maybe he'd like The Big Bam: The Life and Times of Babe Ruth by Leigh Montville. Add a personal note about how you're his biggest fan for an affirming touch.
It seems like no matter what breaks, leaks, or repairs need to get done, this dad is on it, like, yesterday. He's got a tool collection that would make Tim Allen proud and the know-how to go along with it.
01. Acts of Service: Lend a hand so he can tackle something big. Give him an 11-in-1 screwdriver so he can multitask his way around his to-do list without having to lug around that heavy toolbox.
02. Physical Touch: Treat him to special Foot Cardigan Father's Day socks featuring hammers, ratchets, and screwdrivers. Give your dad the coziest gift of adding to his sock and tool collection.
03. Quality Time: Build your bond by volunteering together through a Habitat for Humanity project in your area. Together, you can help create a home for someone in need and spend a little extra time with your favorite guy.
04. Gifts: Whatever his choice drink might be, dad can stay refreshed between tasks with a Leather Drink Holster with hip factor (pun intended). Now he can be productive and relaxed with a cool drink at his side.
05. Words of Affirmation: Dad can tout his skills at the office with this quirky Nailed It Desk Organizer by Fred Conlon, sure to start conversations at work about his latest project.
This dad always has his next itinerary planned, whether for a road trip or vacations near and far. His interactions with other histories and cultures broadens his knowledge and deepens his wisdom, making him your go-to for thinking and feeling outside of the box.
01. Acts of Service: The next time dad jets off to a new destination, help him with pre-departure shopping and packing. A few sets of travel cubes will maximize the space in his suitcase—an unglamorous, but practical gift he'll appreciate for all his future trips.
02. Quality Time: Plan a road trip to a destination on his bucket list to spend quality time doing something he loves. Gift him an Ollo Clip 4-in-1 Lens to upgrade his iPhone shots throughout the trip with a fun fisheye or an all-encompassing wide angle lens.
03. Physical Touch: A digital photo frame will create a continuous reel of feel-good memories from his adventures that can sate his wanderlust until his next trip.
04. Words of Affirmation: He'll admire a customizable "My World" National Geographic personalized map with a personal inscription for years to come. Or frame a classic map of his favorite country, city, or metro station for a budget-friendly option.
05. Gifts: For the tech-savvy traveling dad, get a lightweight Logitech Keys-to-Go portable keyboard so he can work or browse on the go in comfort.
Whatever the gift, your care and thoughtfulness is sure to give your dad a happy Father's Day.