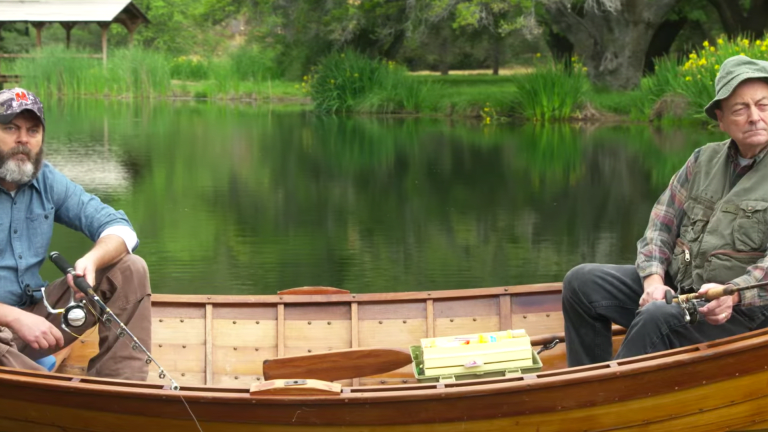 This Year's Funniest (and Sweetest) Ads About Fatherhood
It's time to laugh and cry.
Father's Day is Sunday (you're welcome for the reminder), which means advertising departments all over the world are queuing up short spots, capturing some essential element of fatherhood—with crucial product placement, of course. In honor of all the good fathers out there, we'd like to share a few of this year's top Father's Day ads.
The Unspoken Bond
For those with close relationships with their fathers, often there's an unspoken bond. In Lagavulin Whiskey's ad this year, it is literally unspoken. The spot features Nick Offerman and his real-life father, Ric, spending an afternoon together out on the lake. Offerman the younger, of course, has built a reputation for his reserved, outdoorsy brand of masculinity and Papa Bear Ric, unsurprisingly, is cut from the same cloth. Just watch this ad and try not to laugh!
The Passed Down Knowledge
Going the thought-provoking route, Gillette starts its Father's Day ad telling us that 94 percent of teenage boys go to the Internet when they have a question rather than to their fathers. In short interviews with a few fathers we learn that their dads were the source of information when it came to things like tying a tie, frying an egg, or shaving. Viewers watch as their sons Google the questions and execute the tasks miserably. The fathers, secretly standing in the wings, then step in and walk the boys through the task. The moral of the story? It's more than just a wealth of knowledge and a personal touch that the dads have over technology—it's also love.
The Forever Changed Identity As a Dad
Johnson & Johnson delivers a sweet montage of babies and fathers featuring the voice of a small child reminding dads that a child will change them, make their priorities different, give them super powers and, in a particularly real moment in an emergency room, "make you feel like the weakest man on earth." The ad finished with a reminder that fatherhood will make a man better. Pass the tissues!

The Love and Admiration That Goes Both Ways
Courtyard Hotels goes straight for the cute factor by interviewing the small children of NFL players while their dads secretly listens in. When the players walk into the studio the reactions from the kids is so magical you can't help but remember how excited you used to get when your own father walked in the door at the end of the day when you were a kid. Perhaps what's most heart warming about this one is how hearing all the reasons why little children adore their dads distills the value of fatherhood as "the most important job."
The Supporter
Canada's largest retailer of sporting goods and apparel enlisted native son Wayne Gretzky to talk about his "first teammate" and "first fan" alongside images of the hockey icon's first skates, little league games and high points in his distinguished pro career. A solid reminder how much parental support affects one's lifelong trajectory, and how often their sacrifices make them "the greats behind the greats."
They Mean More Than They Know
British grocer Tesco ran a series of ads featuring "customer announcements" for certain guests in their stores. The surprise was a heartfelt message from the guest's adult children, whom they were in the store with, giving a heartfelt message of love and thanks to their dad. Even the stoic British variety of dads betray a sudden swell of emotion when they're honored by adult children. In our reality-TV obsessed culture, this ad takes that formula to create a genuine and meaningful candid experience.
This Father's Day, let us all be sure to thank the good father figures in our lives!
Photo Credit: Lagavulin Whiskey