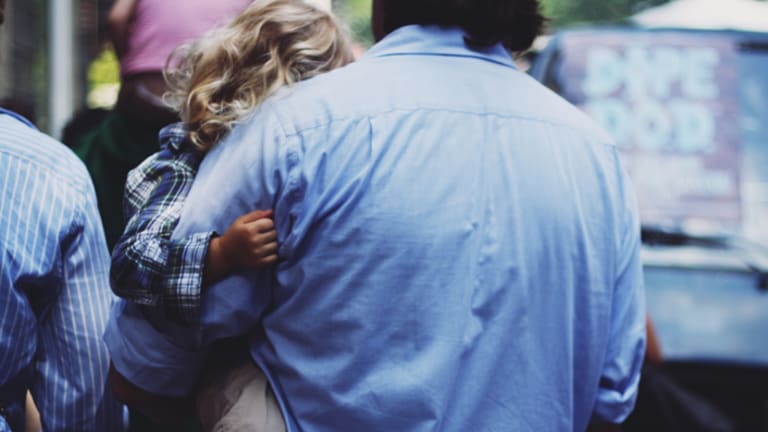 I'm Fatherless This Father's Day, But I Can Still Celebrate
Father's Day looks a little different for me since I lost my dad.
This Sunday I won't be swinging a golf club, watching a basketball game, or camping in the woods. I won't be signing a card, buying a last-minute gift, or grilling out in the backyard. In fact, I haven't done those things for a few years now. Father's Day looks a little different for me ever since my dad unexpectedly passed away when I was in college.
In the past, Father's Day has brought with it a deep sense of hurt and pain. This was certainly because I missed my dad, but also because, in the midst of his absence, I felt an even deeper sense of loneliness. It seemed as though Father's Day and fatherhood in general were no longer things I was allowed to participate in. 
Best-selling author Donald Miller sums up my feelings pretty accurately in his book To Own A Dragon. He says, "For me, a father was nothing more than a character in a fairy tale. I know fathers are not like dragons because fathers actually exist. I have seen them on television and sliding their arms around their wives in grocery stores, and I have seen them in the malls and in the coffee shops, but these were characters in other people's stories. The sad thing is, as a kid, I wondered why I couldn't have a dragon, but I never wondered why I didn't have a father."
Father's Day was particularly difficult because I wasn't just grieving the loss of my dad—I knew he was gone and that was that. Far more upsetting is that I was grieving the loss of the life I expected to live. For my whole life, I had visions of my future—of how things would play out—with my dad always in them. The loss of my expectations pushed me into a pretty deep corner of loneliness. What would life be now, with this huge void left by his death? Scrolling through Instagram and Facebook on Father's Day made it seem like I was the only one who didn't have an awesome father by my side.  
It wasn't until I came across some research by a non-profit called the Fatherhood Factor that I realized maybe I wasn't as alone as I had previously thought. It turns out there are a lot of us who feel particularly alone on Father's Day. According to one recent study, nearly one in four kids grow up in a fatherless home. And that doesn't even count those of us who may have had dads but lost them to death or emotional or physical unavailability.
In the midst of my pain and loss I started to see that I wasn't alone. It doesn't look the same as those who are fortunate enough to have fathers to celebrate with, but there is space for the fatherless to celebrate Father's Day, too. Here's what it that looks like for me.
I celebrate the men in my life.
Despite my father's absence, I've been very blessed with some wonderful men who are certainly worth celebrating. Whether they were relatives, friends' dads, or wise older guy friends, I realized that, collectively, they've supported and nurtured me the way any good father would. Especially to my guy friends who aren't fathers themselves, it has meant a lot to reach out and send them an encouraging word or two on Father's Day.
Any day is a good day to tell the people in your life just how much you care about them and how much they have influenced your life over the years. Father's Day is a good reminder to really appreciate the men who have stepped into a fatherhood role, both consciously and unconsciously, and thank them for that relationship.
I reflect on my own story.
In the midst of pain it's very easy to want to brush past emotions (both positive and negative). Rather than rushing through the day and wishing it away, I've learned to take time to reflect on my own story and create space to process anything I might be feeling. Father's Day, though painful, allows me to look back and remember who my dad was, who I've become, and who I want to be in the future.
I'm extra kind to myself. 
While I still experience sadness about my dad on this day, it's cathartic to embrace those feelings and learn from them. Father's Day is a great day to set aside some time to reflect through journaling, meditation, or prayer. It's also a time for self-care in the midst of any grieving you might experience. Go to the movies, eat at your favorite restaurant, go for a long run, or relax with some yoga. The biggest gift you can give on Father's Day is a little extra kindness to yourself.
I reach out to others. 
Aside from being kind to myself on Father's Day, I've realized the importance of reaching out to others who might also be having a tough day. It's easy to get introspective and feel incredibly alone on any holiday—particularly Father's Day—but realizing I'm not alone has greatly improved my healing process.
There are plenty of ways to reach out to those who are fatherless this Father's Day. It can be as simple as mailing a card or sending a text message saying, "I'm thinking about you." Maybe it means volunteering to mentor or tutor some fatherless kids in the neighborhood, or babysit for a single mom. Instead of buying a tie, you could give to The Mentoring Project's "Don't Buy The Tie" initiative, which helps support fatherless youth. Or, my personal favorite, you could grill out with other friends who aren't able to celebrate Father's Day with their dads. Rather than all of you spending the evening alone, you create a space for new memories and relationships to form.
While many of us might be fatherless this Father's Day, that doesn't mean we can't still celebrate our fathers, father figures, the people we've become, and the people around us. I know that's how my dad would want me to spend the day.
Photo Credit: Regina Leah