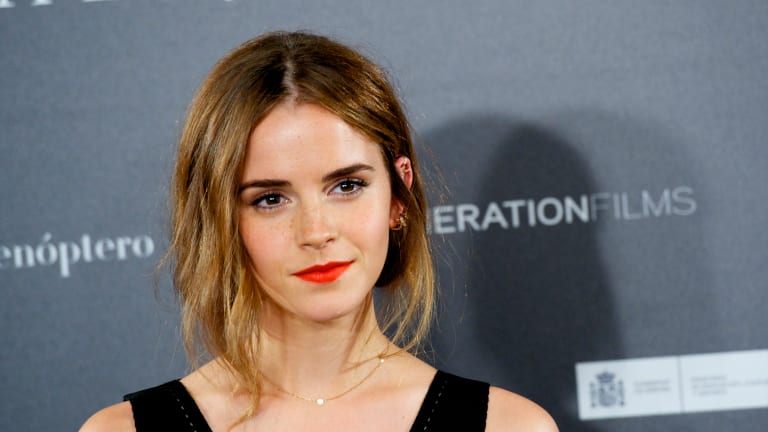 Emma Watson Is Playing Disney's Original Feminist, and It Looks Awesome
This "tale as old as time" gets a bold new retelling.
It's a good time to be a Disney princess. Frozen is still—yes, still—a sensation a full three years after its release. Last year's live-action Cinderella, with a star-studded female cast including Lily James, Helena Bonham Carter, and Cate Blanchett, was delightful. (Plus, a few more remakes are rumored to be in the works.) And the new Polynesian Princess Moana made a splash last week as an example of Disney's continued efforts to represent diversity among its characters. 
When it comes to princess news, however, I have my sights set on Belle. And I'm not alone. A live-action remake of Beauty and the Beast starring Emma Watson has been in the works for a while now, but when the teaser trailer dropped at the end of May, the Internet went wild. We didn't find out much about the actual film, but we do know that the trailer is a shot-for-shot remake of the one made in 1991. The trailer set a record for the most views within the first 24-hours of its release at a startling 98.1 million. It even beat out the trailer for Star Wars: The Force Awakens, and we all know the craze that surrounded that release. 
Since the trailer dropped, I've been trying to wrap my head around why it is that everyone is so hyped about this particular remake. 
Historically, Belle has been praised as the most well-received princess of them all, so I guess that's part of it. Movie critics from every respectable outpost gave the film good, if not rave, reviews upon its initial release, and people were thrilled to finally see a nonconformist—intelligent and spunky as well as kind—join the ranks of the idealized female characters Disney was known for.  
Linda Woolverton, the screenwriter of the original movie and the first woman to write an animated Disney movie, had noticed a pattern in past Disney princesses that was not quite what she wanted for her heroine. In an interview with Time Magazine Woolverton said that she didn't want Belle to be accused of appearing like a pushover. Her princess would be "one that isn't based on being kind and taking the hits but smiling all the way through it," Woolverton said. 
Whether or not the characterization is fair, there are plenty of people who viewed Belle's predecessors—including Snow White, Aurora of Sleeping Beauty, Cinderella, and Ariel—as un-feminist, suggesting that the women sidestep personal development in search of a prince. 
According to Time, Woolverton fought to have Belle seen as someone who aspired to travel, whereas others wanted her portrayed in a kitchen. She also had to convince other execs that it was OK for Belle to read books—something they thought would bore audiences. 
Belle was also one of the first princesses to defy the trope of "girl rises above humble means and ends up with Prince Charming." Instead, Belle rejected her classically good-looking suitor Gaston, followed her heart by delving into books and self-education (behavior that Gaston found strange and unladylike), was devoted to her father, and followed a path of personal growth and authenticity that ultimately led her to an untraditional friendship and love with someone everyone else viewed as a beast. 
A spirited, forthright, bookworm brunette? Sounds like a certain actress we know. Watson herself has taken a less-traveled path. Rather than promoting her own brand, as is typical with young celebs these days, she has decided to stand up for causes she believes in. Her activism for gender equality with HeForShe, a campaign resulting from her 2014 appointment as a UN Women Goodwill Ambassador, has sparked new conversations around how men and women can work together for the betterment of all. And remember when Watson announced she was taking a year off to learn and embark on a literary journey? "I'm doing a huge amount of reading and study just on my own," she said, announcing her plan to read a book a week and then some. To see a young, beautiful, famous woman use her platform for such worthy causes is a refreshing departure from the typical Instagram-fueled news cycle.
In 2002, the Library of Congress chose Beauty and the Beast as a preservation project in the National Film Registry. The reason cited for its selection was that the film was "culturally, historically, or aesthetically significant." Culturally significant—to me, this is the crux of this fairytale's enduring charm. Bringing this story to life in an actual "real life" way is sure to be just as important.
Why I and so many others are anticipating the 2017 release of Beauty and The Beast isn't really all that complicated. We want the true love of the right man, not simply the most handsome one. We want the unmatched joy of a good story. We want to be empowered by who we are as individuals, not cast into predetermined roles. All of this is what Belle and Emma Watson have managed to achieve. And to see it all unfold among many generations of women is bound to be something magical. 
Photo Credit: Getty