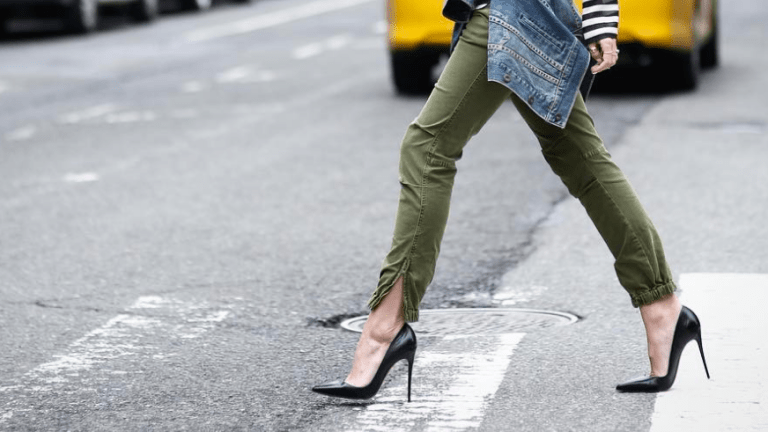 5 Pairs of Classic Shoes Every Woman Needs in Her Closet
Give your outfit an instant upgrade with some stylin' kicks.
Let's just admit it, we all have days when minimal effort is our M.O. Maybe we rolled out of bed too late, or perhaps we simply don't want to get dressed up—it's okay, even the most stylish women have their lazy days! One secret to making your last-minute, low-maintenance outfit look pulled together is your choice in footwear. We've rounded up a few of our favorite style bloggers to help you master this effortless approach to dressing well. 
01. Heels
Heels are the easiest way to elevate—literally—any casual outfit. Blair Eadie's green cargo pants, loose, striped tee shirt, and jean jacket tied around her waist sound like an outfit ready for a ball game. With the addition of sleek black heels, however, this effortless get-up transforms into an unexpectedly chic look.
02. Ballet Flats
The best outfits are those we don't have to go shopping for. Lucky for us, this outfit is super attainable, because who doesn't already own a pair of ballet flats? It's amazing how a simple pair of sleek shoes can make even the most basic outfit of skinny jeans and a plain white tee look upscale. Olivia from Corporate Catwalk is known for her classy style, and this look is no exception!
03. Ankle Booties
Your ankle booties aren't just for the cooler months! You can totally rock these beauties all summer long with your warm-weather skirts and dresses. The contrast between sturdy boots and feminine skirts gives you an edgier, fashion-forward look that's perfect for a night on the town. Take a cue from ToVogueOrBust's Alexandra Grant, who has updated her easygoing button down skirt and top by simply throwing on a pair of sleek ankle booties. 
04. Loafers
Loafers have made a serious cool-kid come back. These aren't your dad's work shoes anymore, ladies, so take note! Soraya Bakhtiar shows us that even a pair of light wash jeans and a relaxed striped jacket can become a street-style-worthy outfit when worn with a pair of slick loafers. Who would have thought these low-key slip-ons could be so transformational? 
05. Oxfords
A pair of academic oxfords is the perfect way to add a little class to an otherwise un-flashy look. The menswear-inspired shoe will give your outfit some structure, supporting your most casual ensemble. You can wear your dapper oxfords with any style of jeans for a French-inspired boy-meets-girl outfit like this look styled by Nisolo, or you can go the vintage 1940s route with a fit-and-flare dress. With these snazzy lace-ups, you'll be feeling sharp in no time!