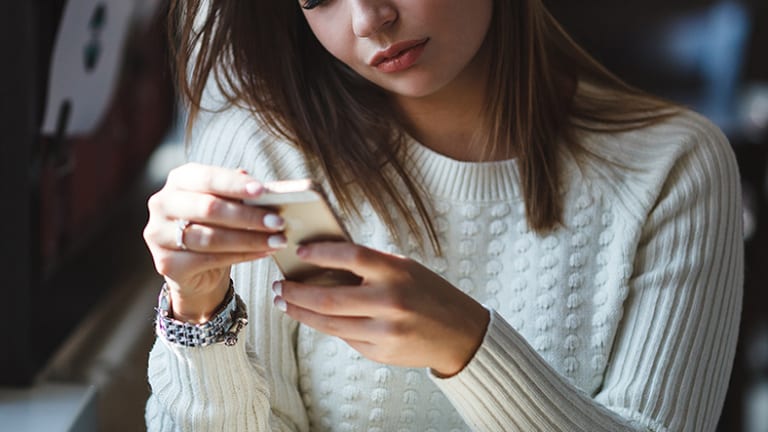 Can You Meet a Nice Guy On An App? Real Women Share Their Tried and Tested Tips.
Is Tinder all it's made out to be?
When it comes to dating, things are never as easy as they should be. From trying to figure out where to meet nice guys to navigating a budding romance, dating can often feel like too much to handle on your own. So we asked some smart and savvy women to give us their takes on modern dating.
If nerves and fear of the unknown have kept you from ever signing up for a dating app, we hear you. Dating apps don't exactly have a good reputation for supplying men you might actually be able to date. Thanks to horror stories from friends and that Vanity Fair exposé last year, apps like Tinder, Hinge, and OkCupid are getting a bit of a bad rap.
But here is the secret: Tons of women who have tried dating apps have actually met nice guys! I'm not saying these women have landed on any one magical app full of dateable men and steady dates. But with a discerning eye and a sense of humor, they have tamed Tinder and are meeting men who share their desire for a relationship.
So ladies, my question for you is this: How have you made your experience with dating apps lead to real connections rather than just hook ups?
Erica: Choose your photos wisely.
I was talking with some girlfriends one day and one told me that she only gets men messaging her on a certain app for quick hookups. I was bewildered. I use the exact same app and had never once had a man inquire about a sexual rendezvous. So I asked to see her profile, and I saw the problem immediately. Our profile photo selections looked totally different. 
Men are visual, so if you show them a picture of you in your bathing suit or even a tight dress at a club, they immediate focus on your body parts, not your potential as a long-term mate. When I choose my profile photos, I'm thoughtful about what I want to draw a man's attention to. I try to highlight aspects about myself I want men to notice (like my smile), and I avoid posting pictures that highlight my cleavage or any other sexual parts.
I also have a full-body picture of me so they really see me. Then I have a photo of me doing my work (I'm an artist, and I love what I do!), a photo of me on my bicycle, a photo where I'm laughing and not looking at the camera, and a photo with my family. Even though everyone says never to put a group photo on a dating app, I want to show that I come from a solid foundation. And it's my family, not a group of girls at a bachelorette party. I can't tell you how many times I get first messages from men saying, "Wow, you look so different than the other women on here. Would you like to go for coffee sometime?"
Maggie: Be selective with your apps.
I'm not a huge dating app connoisseur, but what I know worked for me was being selective. Rather than trying to set up a profile on every single app out there, choose one or two to make your mark on. You'll drive yourself crazy if you try to cast your net everywhere. Instead, focus on the apps that show whether you and a guy share any connections (Hinge or Coffee Meets Bagel, for example). These are often your best bets for finding a nice guy. As my friend Jena says, "I always swipe right on the guys where we have mutual friends that I trust. Typically, those guys are the keepers. Also, prior to the date, I can do a bit of not-so-secret vetting."
Christina: Unsure about meeting a stranger for coffee? Ask a trusted friend.
A friend and I were getting drinks one day when she confessed that she had recently started using OkCupid. I was immediately skeptical, having heard lots of not-so-great tales from others about the service, but she quickly added that a seemingly decent guy had contacted her and wanted to take her out on a date. She showed me his profile (Cute! Med student!) and the messages he sent (All grammatically correct! He actually used the word "date"!), and then asked if I thought she should go. I encouraged her to go, so long as they met in a public place and she kept her cell phone nearby. Long story short, she went, they fell in love, and they've been happily married for two years.
I know a lot of women who seek dating advice from the wrong people—bitter gal-pals, friends who haven't had successful relationships, and even parents who can be less than helpful when trying to navigate the online dating world. Seek out the older, wiser, less jaded friend whose judgment you trust. Who knows? You might one day thank them for giving you a nudge in the direction of Mr. Right-For-You.
Taylor: Don't swipe and ditch.
I think by far the biggest complaint I hear from my girlfriends when we talk about dating apps, is that you end up with all these unfinished conversations, dead air, and incomplete interactions. Getting from match to message is the easy part, but getting from message to meet-up takes some real leg work.
Take Bumble, for example, where women have to initiate the conversation. Saying hi is only the first step. I think there's a tendency to get into a bit of a "frenzy" mindset when you log on to an app—to swipe and swipe and swipe, garner a bunch of matches, message them all immediately, and then forget about it for for three days. Next thing you know, you're sitting at home on a perfectly good Thursday night telling yourself that dating apps are useless.
If you have to, set a reminder to check in on your app(s). Conversations that lapse for more than a day or so rarely result in dates, in my experience. Stay engaged and remember to ask questions as well as answer them in order to keep things going. (Seems like common sense, but this is key!) Chat it up openly, be a little flirty, and present yourself as a friendly and sociable woman that this guy would be a fool not to ask out. When you're putting in effort, it will be easy to tell if the guy is, too.
Erica: Be authentic, even at the risk of sounding nerdy.
When I first tried out online dating a few years ago, I didn't want to admit to anyone that I had a spiritual life, wanted a family and kids, and am two and a half years sober. I figured if I said anything that wasn't mainstream or "cool," I wouldn't get any dates. I talked about what I did for work and what I enjoyed doing on the weekends and cracked a few jokes. But then I was having to weed through so many people that didn't have similar values or goals.
After way too much time wasted sitting at coffee shops talking to men about "enjoying hiking," I finally decided to include more personal desires in my profile. I added at the bottom, "looking for a man who seeks his own personal growth and spiritual deepening." I got fewer messages, but the ones I did receive were so much more intriguing and even led to some second dates.
Maggie: Rethink your type.
I cannot tell you how many times I've heard from a girlfriend that the guy who asked her out just wasn't her "type." What does that even mean? I think we box ourselves into very selective areas when we focus on one particular "type" of man over another. 
If you like everything about a guy on his profile, except the fact that he's the same height as you (and I know this is something so many women get hung up on!), I say go for it. He might just surprise you. Physical attraction is important, yes, but sometimes that takes longer than a quick swipe to develop. In my experience, physical attraction grows after you get to know that person's passions and heart.
Just as you'd want a guy to look beyond your potential stereotype, we women should give guys their same due.
Christina: Trust your gut.
When I tried apps and online dating, I was determined to be as open-minded as I could be—which was all well and good until I started ignoring my intuition. Case in point: I once had to feign interest when my date (who had listed gaming as one of his interests) proudly admitted that he spent a large part of his spare time on Dungeons & Dragons message boards. During the entirety of both dates we went on, I was internally kicking myself for going out with him in the name of being "open," when I knew from a cursory glance at his profile that we weren't a match.
Bottom line: If a guy's message or profile seems crazy or creepy, makes you feel uncomfortable, or is just downright uninteresting to you, trust yourself and don't respond.
Taylor: Be the person you want to date. 
I've been single for almost the entirety of my six years living in New York, and I have been actively (and occasionally aggressively) using dating apps like Tinder and Bumble for about half that time. Even though I've had more than my share of dates with guys who I knew instantly weren't right for me, I wouldn't call any of them a catastrophic failure. These were guys who had fun hobbies, steady jobs, quick wits, and who held the door open for me. 
I sussed these guys out of the vast sea of idiots by first having a strong sense of myself and the confidence to presenting that person—the real me—online. Then, I went out and scouted guys whose profiles seemed to echo the same things I valued.
I know it sounds a little like Narcissus looking into the pool, but I designed my profile in hopes of attracting someone, well, a lot like me. The law of attraction says that like attracts like, meaning that you will draw people to you who are putting out the same kind of energy. This is as true online as it is in person, I promise you. If you want to meet a "nice guy," or someone who is as smart, fun, interesting, and genuine as you are, then showcase those parts of yourself through your photos and a few well-chosen words.
Have any dating question you want the girls to hash out with Verily readers? E-mail Monica at ohhello@verilymag.com. 
Photo Credit: Adobe Stock