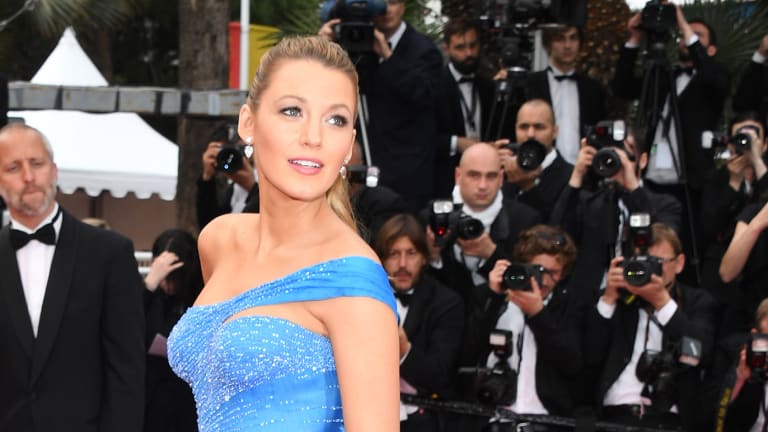 Blake Lively Takes an Unusual (and Refreshing) Stance on Motherhood
Is she the next-wave Millennial mother?
Most of us know Blake Lively for one of three reasons: Gossip Girl, The Sisterhood of The Traveling Pants, or for being, well, pretty. When her lifestyle website "Preserve" failed last year, a lot of people were quick to label her as a blonde beauty with not much else to offer the world. But Lively is continuing to prove the world wrong on that note. Instead, Lively is giving us something we desperately need right now—a refreshing view on the notion of family and motherhood.
The 28-year-old actress is pregnant with her second child, making her personal life the subject of many a media inquiry during the press tour for her new movie, The Shallows. For a Millennial, much less Hollywood starlet, Lively's comments about the family she has with husband Ryan Reynolds have been nothing short of inspiring. 
IT'S OKAY TO WANT A BIG FAMILY.
Defying Millennial stereotypes, Lively made an unusual declaration this week: She and Reynolds want a big family. Lively explained: "I'm one of five kids. My husband is one of four, so we're officially breeders."
The notion of a big family can be somewhat old-fashioned these days, but it seems now the idea of numerous kids is coming back into vogue. While some of her peers feel the need to choose between kids or career, Lively is proving herself to be a modern women who insists on not choosing one or the other.
MOTHERHOOD IS UNIQUE, BUT UNIVERSAL.
When her daughter, James, was just four months old, Lively called motherhood "the best." One particularly salient point she makes is about the universality of child-rearing. 
"It's the thing that binds us all—family," she said. "We have very unique jobs for a living, but we all are a part of someone's family. It's a nice thing." Ain't that the truth! 
...AND NOTHING PREPARES YOU FOR IT.
After bringing her daughter to an interview, Lively said having children is addictive because of its nonstop excitement. Rather than lamenting the ways motherhood overwhelms her, Lively seems to embrace the chaos.
"Having a baby is just living in the constant unexpected," she said. "You never know when you're gonna get crapped on or when you're gonna get a big smile or when that smile immediately turns into hysterics. It might be like living with a drug addict." 
"You have a baby and you think, 'I can't imagine ever not having a baby,' because they grow up so quickly. I'd be an 80-year-old woman with a baby if I could." Suffice it to say, the trials of parenting haven't scared her away yet.  
CHILDREN ARE AN ADVENTURE.
As any mother would, Lively adores her 18-month-old daughter, named after Reynolds' father. Speaking to the Today Show, Lively exclaimed how her daughter is, "always doing something fun and exciting. She's the most fun, funny human being I've ever been around in my life." 
Can I say again how refreshing it is to hear views of babies that portray them as lifting women up as opposed to dragging them down? 
RAISING THEM IS HARDER THAN YOU EXPECT.
Before she had children, Lively says she would compare her future to other moms' Instagram accounts. But real life, she says, isn't always so perfect. 
"My kid is, like, playing with explosive devices. I don't know where she found them. She already knows how to drywall because she puts holes in the wall." It's true. Kids have a remarkable propensity to destroy things with expedient skill. But Lively's optimistic approach to her baby's unpredictability is really inspiring for those of us wondering whether we could make it in the maternal world. 
CHILDREN CAN STRENGTHEN YOUR MARRIAGE.
She and her husband are not shy about praising each other as parents; they don't complain about diaper duty and getting up with their daughter in the middle of the night. 
Lively has called her husband the best father ever. In turn, Reynolds says having their first daughter made him love Lively even more. "When that happens you fall so much more in love with your partner," he said. "It's a pretty crazy experience. What blows my mind is that it's so common yet it's so profound at the same time." While post-baby dips in marital satisfaction are real, it's nice to also hear how babies enrich a relationship.
Congratulations on your second baby, Blake, and thanks for giving us those of us who want babies encouragement about the plus sides of parenthood.
Image: Getty