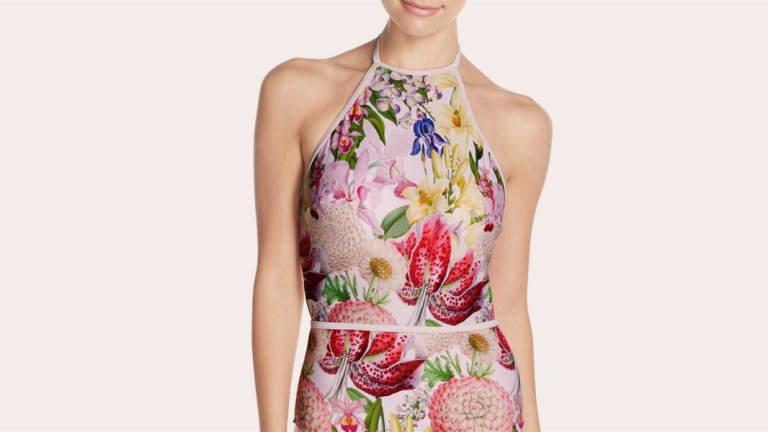 The Best One-Piece Bathing Suits for Your Body Type
Take the stress out of swimsuit season by finding a style that suits your shape.
Let's be honest, when bathing suit season comes, we all cringe a little bit. Even the most confident woman balks before trying on a new summer suit. We always love an elegant one-piece, but narrowing it down to just the right one is all about finding the style that flatters your unique body type.
To help you, we have a few tips on finding that suit you've been dreaming of. Whether you're hitting the pool or the beach this summer, you can rock your look with confidence.
Apple //
An apple shape carries most of her weight in her stomach and bust and typically has wider shoulders than hips. If this describes you, you know how difficult it is to find a suit with ample support. Feeling comfortable in your suit is the first priority—this means avoiding skinny straps and low-cut styles. These cuts may look super cute in the fitting room, but there's nothing worse than feeling like you can't freely move in the waves.
Don't worry, there are plenty of sleek styles with sturdy straps. A halter bathing suit with thicker straps will give you control over your bust because you can tie it as tight or as loose as you want. Also look for sweetheart necklines with thicker adjustable straps. This style will help you feel more secure while flattering your curvier torso. Of course, make sure your suit has padding and underwire, so you don't have to worry about your bust all day.
As an apple shape, you know that you've got some fantastic legs—so try high-cut legs to create the illusion of more length. Apple shapes also know that the first place they gain weight is in their stomach, so if you're looking to flatter this area, try a suit with ruching throughout.
Look for:
High-cut leg holes
Ruching 
Wider straps
Padded cups with underwire
Petite //
If you're petite, you know that some prints and styles of bathing suits can overwhelm your small frame. This is why the sleek one-piece was pretty much made for you! The silhouette of a one-piece will create long lines and won't break up your petite frame. To really highlight the lines of the one-piece, try suits in solid colors rather than choppy graphic prints or busy patterns. Black is always classic, but also consider trying vertical stripes that quite literally create long lines down your torso. Avoid necklines that cut straight across your chest; instead, try out a high neck that will give the appearance of a longer torso.
Suits with high-cut legs are also perfect for you because this style lengthens legs. Styles that cut straight across your hips will cut the lines of your silhouette in half, making you appear shorter.
Look for:
High-cut leg holes
High necks
Black
Solid colors
Vertical stripes
Rectangle & Athletic //
If you describe yourself as "straight up and down," you're probably a rectangle or athletic body shape. Lucky for you, your body type is perfect for having fun with bold prints, patterns, and ruffle details. If you want the illusion of more curves, stripes are your friend. Specifically, horizontal stripes of varying widths and angles. The varying stripes will accentuate the subtle curves you already have in all the right ways. Pay attention to stripes that especially highlight your waist line and don't be afraid of ruffles and embellishments! These fun details will create more volume around your bust line or hips, also giving the illusion of curvature. An asymmetrical strap will break up any boxiness, making for a curvier silhouette overall. 
Look for:
Variegated stripes
Ruffles
Asymmetrical straps
Patterns
Pear //
A pear body shape carries most of her volume in her thighs, hips, and rear end. The key to flattering your pear body type is to create balance between your lower and top half. In order to feel totally comfortable in a suit, most pears prefer full coverage in the back. This is a perfect opportunity to have fun with color-blocking. Try one-pieces that have a solid color on the bottom and a pattern on top—this will create more volume on top and, therefore, balance. Horizontal stripes across the torso are especially flattering, but so are fun details like cap sleeves and even the long sleeves of a rash guard. Cap sleeves and long sleeves will create the illusion of more volume on top, balancing out your wider hips. For those who want extra coverage and smooth lines on their hips, thighs, and rear, try a few boy short one-pieces that won't pinch or squeeze your skin.
Look for:
Color-blocking
Cap sleeves or rash guards
Horizontal stripes
Boy shorts
Hourglass //
To flatter your hourglass body shape, all you have to do is accentuate what you've already got! Because you have a more proportionate body type, look for one-pieces with details that highlight your symmetry. For example, a waist-cinching belt or design will make your waist look even more defined while emphasizing the equal width of your top and lower half. You might need a bit of extra support in the bust area, so make sure the cups of your suit have padding and underwire.
Look for:
Belts
Waist-highlighting details
Underwire cups