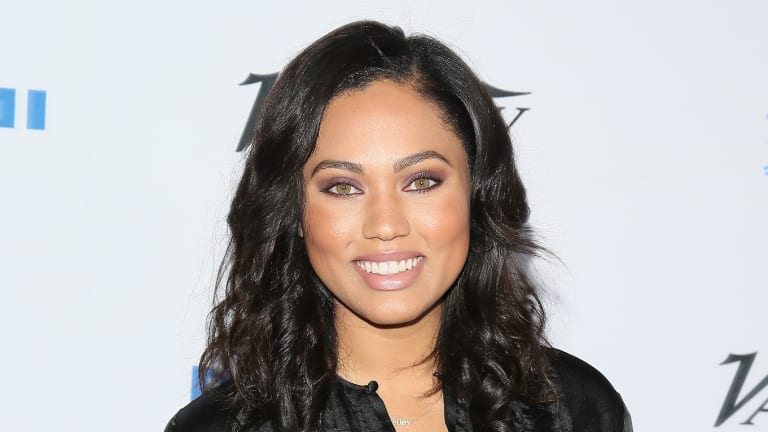 Ayesha Curry Defends Herself from Sexist Criticism Like a Champ
She won't let anyone pit her against another woman.
The nation watched from the edge of its seat last night as the Cleveland Cavaliers bested the Golden State Warriors 93-89 to clinch the NBA Finals and squash Steph Curry's dreams of holding another championship trophy. Instead, Curry left Oracle arena unvictorious, presumably heading home to wife Ayesha Curry—a woman who earned her own spot in the spotlight during the Finals.
Ayesha, who has 594,000 followers on Twitter and has been known to tweet her occasionally controversial perspectives, lit up the Twittersphere again during the Finals when she accused the NBA of being "absolutely rigged for money ... Or ratings" after her husband was ejected from the game for throwing his mouth guard into the stands in protest of his sixth foul. "I've lost all respect," she said of the league, immediately inciting a storm of criticism.
One of her most vocal critics was ESPN commentator, Stephen A. Smith, who called her "classless" and "out of line," and then went on to inexplicably compare her to LeBron James's wife, Savannah. "And I've got news for you," Smith said. "As beautiful as everyone wants to say Ayesha Curry is, and she is, Savannah is something special. I'm here to tell you something right now. Ain't a man alive, particularly a black man, that's going to look at LeBron James's wife and not say that that woman ain't gorgeous. She's wonderful inside and out … She never tweets and goes out there and calls out the league and stuff like that … nobody is more scrutinized than her husband. But yet she thinks about how she represents him, and as a result, she doesn't do that."
Ayesha was quick to call him out. "Why are you putting two women against each other like that?" she asked. "You're the one who's out of pocket." (Mic drop) Her response was widely praised as putting Smith in his place, and although Steph didn't weigh in this time, he has previously had her back on social media, playfully calling her "#TheInstagator."
Ayesha's perfect clap back comes as no surprise to her fans, who probably care more about her best-selling cookbook, advertising partnerships, and outspoken faith than they do about how she stacks up against Savannah James. Ayesha's response is a win for all women tired of girl-on-girl mudslinging, and further proof that she is her own woman, thank you very much. 
Critics who chastise Ayesha for being too vocal and posing a threat or distraction to Steph's career, are in essence suggesting that a woman ought to sit down, shut up, and look pretty. Not in 2016, thanks. I am happy to see Ayesha speak her mind, show her unconditional support for her husband, and continue to ignore the haters. 
Photo Credit: Getty