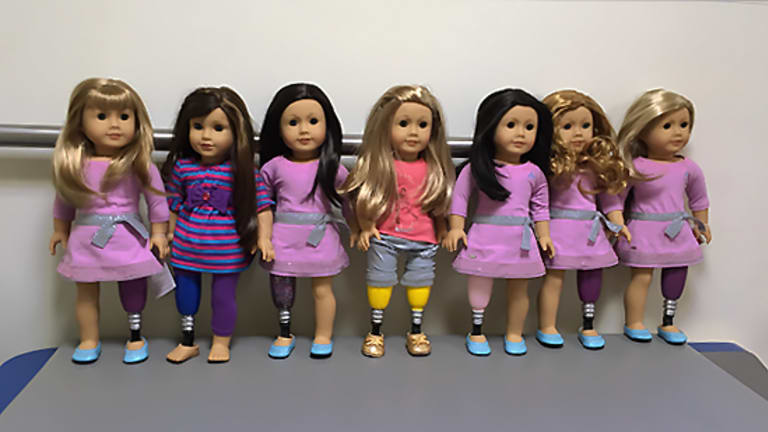 This Doll's Prosthetic Leg Made A Little Girl's Day—And Ours
How one doll made us all cry tears of joy
Long before the Barbie dimensions debacle, American Girl Dolls were championing diversity and positive body image for young girls everywhere. Since their launch in 1986, American Girl Dolls were unique in that they were real. Their names, creative backstories, the fact that they were actually little girls and not impossibly disproportionate women, made them the doll of choice for a lot of young girls. While every consumer has the option of choosing between one of the many American Girl stories, they also have the option of buying one of the "Truly Me" dolls that include different options for hair, skin, eyes, etc.—so that girls can buy a doll that looks just like them. 
In a recent viral video, it appears the American Girl Doll has become even more inclusive of all range of appearances.
Last week, a little girl named Emma Bennett received a very special doll. Emma was born with a rare birth defect that has left her with a prosthetic leg. Now 10 years old, Emma had no idea what new surprise was in store for her when she received her very own American Girl Doll—the doll had a prosthetic leg just like her. After ordering the doll, Emma's mom, Courtney Fletcher Bennett, sent the doll over to A Step Ahead Prosthetics where it was fitted for her very own prosthetic leg completely free of charge. The prosthetic was even pink because that's Emma's favorite color.
A Step Ahead Prosthetics does this for any young girl with limb loss who wants to have a doll just like her. With Emma's doll came a letter from the company saying, "After a few weeks of training, she is ready to go home and lead a life without limitations with you."
Emma's mom posted the video of her daughter opening the box on Facebook. The footage starts with Emma opening the box and soon breaking down into tears when she realizes the likeness: "You got to be kidding me. It's got a leg like me!" By Friday the video had more than one million views and a hundred thousand shares. Emma has been melting hearts as all across America—there's something powerful about this video of a little girl weeping tears of joy to have a doll that is just like her. 
Emma and her new-found friend serve as a great reminder of how seeing ourselves reflected in imagery, media, and yes, in a doll, really does have a positive effect on affirming our self-worth. She clung to that doll with such joy, almost as if she wanted that little doll to know she too had value, even with a prosthetic leg. In other words, it was what she herself probably wants to be reminded as well—she too is beautiful; she too is valuable, prosthetic leg and all. 
Images are powerful. Portraying females realistically and authentically—and in all range of shapes, sizes, and abilities—can go a long way toward establishing a more realistic and inclusive standard of beauty. We're glad that Emma has her new friend. It gives us new hope.
Photo Credit: A Step Ahead Prosthetics