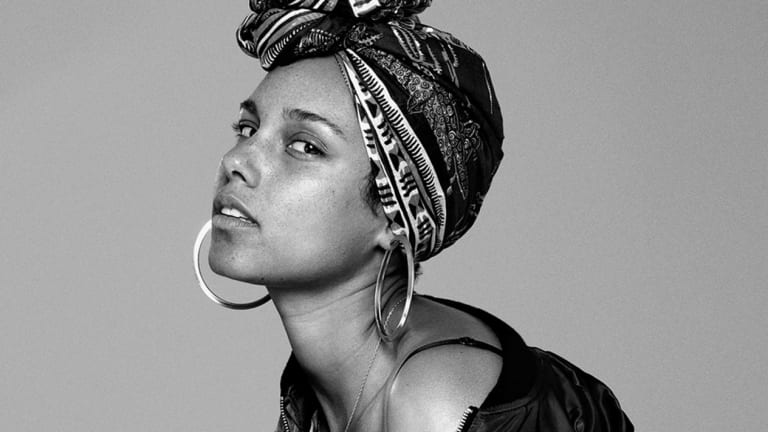 Alicia Keys' New Cover Art Makes a Bold Statement About Beauty
My taste in music is your face.
I'm a total cosmetics junkie. The happiest days of the month for me are when my Ipsy bag or Birchbox arrive. I—like so many women—live for the transformative properties stuffed into pretty tubes and compacts. But there's a powerful conversation going on right now that is so full of girl power that even lipstick-wielding junkies like myself are being inspired to put down the products.
This week, singer Alicia Keys penned a delightfully engaging essay explaining her recent decision to go makeupless on the artwork for her new single "In Common," and to some extent in her daily life. Her words are resonant without putting down anyone else's choices.
"Before I started my new album, I wrote a list of all the things that I was sick of," Keys says. "One was how much women are brainwashed into feeling like we have to be skinny, or sexy, or desirable, or perfect."  
She goes on to say: "One of the many things I was tired of was the constant judgment of women. The constant stereotyping through every medium that makes us feel like being a normal size is not normal, and heaven forbid if you're plus-size. Or the constant message that being sexy means being naked. All of it is so frustrating and so freakin' impossible."
The songstress then turned further inward observing her tendency to write songs about wearing masks and chalks it up to feeling insecure. In a song called, "When a Girl Can't Be Herself," her lyrics read: "In the morning from the minute that I wake up / What if I don't want to put on all that makeup / Who says I must conceal what I'm made of / Maybe all this Maybelline is covering my self-esteem."
I don't know about you, but the cosmetic lover within me just had to take a step back and ask myself: What are we trying to cover up, exactly?
Keys says this revelation made her look deeper within herself. She started stripping away what she normally put on to focus on what she already had. It all came to a head one day when her photographer caught Keys on the way to get ready to the album photo shoot and said: "I have to shoot you right now, like this! The music is raw and real, and these photos have to be too!" While nervous at first, Keys reveals that ultimately the experience was "the strongest, most empowered, most free, and most honestly beautiful that I have ever felt... I felt powerful because my initial intentions realized themselves. My desire to listen to myself, to tear down the walls I built over all those years, to be full of purpose, and to be myself!" 
What I absolutely adore about Keys' entire essay is that not once does she suggest that others should follow her lead. She's not on an ivory tower saying, "We all need to do this experiment!"
Instead she records her journey, from which even makeup lovers can glean lessons. There is insane pressure to measure up for modern women. The amount of conditioning we experience from birth to adolescence about what a woman should look like is staggering. Millions of dollars and tons of subtext are poured into ads that tell us we're not good enough—that we need products to impress each other. Women are portrayed as objects for others' visual pleasure, and less as people. It's no wonder why $32 billion is spent annually in the U.S. on beauty products; we're all trying so hard to enhance rather than embrace our look. It's kind of upsetting when you think about it, and Keys in her unique position takes her organic beauty and turns that idea on its head.
You don't have to rebuff her makeup-free experiment or boycott her new album if, like me, makeup makes you feel most yourself. But you might find it insightful to take a few minutes and really think about how sitting in front of your mirror and applying product feels. If it becomes less an experience of self-expression and more an experience of meeting expectations, then Houston, we've got a problem.
Cheers to Keys on her raw new music and brave new look. 
Photo Credit: RCA Records / Paola Kudacki