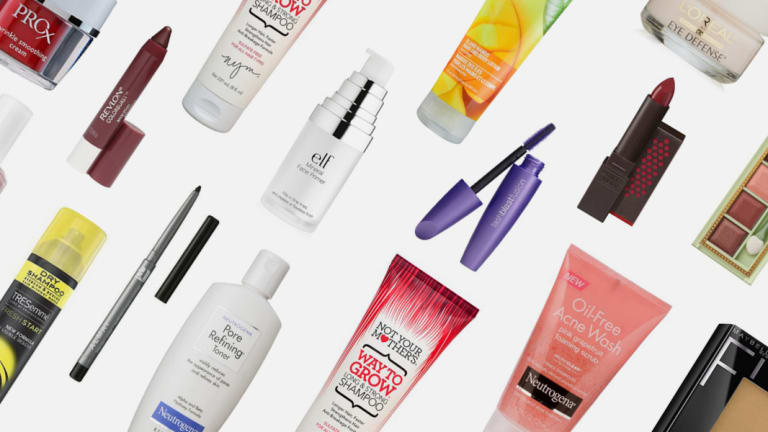 Drugstore Beauty Products We Like Better Than the Fancy Brands
The affordable drugstore gems you need to know about
In a world of expensive, high-end beauty products, we have to ask ourselves: "Is this really better than what I can get at the drugstore?" Rather than shelling out big bucks at Sephora and Macy's, first take to your pharmacy, and peruse the aisles of items marked $10 and below. 
Here are some of our favorite finds!
01. Revlon Color Burst Stain // $7
Clinique's Chubby Stick is priced at $17 in department stores, but for $10 less, you can get the equivalent, Revlon Color Burst Balm Stain. With a four-and-a-half star rating on Walmart.com, Drugstore.com, and Ulta.com, this low-maintenance lip color is a fan favorite. We suggest trying Crush for a rich berry hue when you're in the mood for a regal pop of color.
02. Burt's Bees Lipstick // $9
Speaking of lip color, Verily cofounder Kara Eschbach can't say enough about the power of Burt's Bees lipstick: "This lipstick is the bomb—saturated color, the right amount of moisture, lasts for hours, and only $9." Perfect for those who want a bold yet natural lip color that isn't too shiny or glossy.
03. CoverGirl Mascara // $10
CoverGirl comes out with new and improved mascaras every few months, but we can't stop going back for LashBlast Fusion. With a rubber brush that actually provides the volume and length it boats, we can always count on this one to give us the full lashes we desire. With a consistent 4-star rating across all online drugstore platforms, we can't think of a reason why we would spend $20+ on a department store mascara.
04. FIT Maybelline // $6
Want a little coverage without getting the full-on cake? FIT by Maybelline has mastered weightless pressed powder, which offers a smooth finish, sets makeup, and conceals uneven skin tone. This versatile product can be used as an oil-absorbing powder, an under-eye concealer, and a blemish hider. It sets up your makeup but is breathable and provides natural-looking coverage—we're already halfway to the checkout line with this $6 beauty.
05. Essie Nail Polish // $9
We've all been there. We set aside time to manicure our nails only for them to start chipping the next day. It may be more expensive, but Essie is the polish that truly lasts. Verily's graphic designer, Emily Brett, raves about Essie's endless color variety. "My absolute favorite color from Essie is Mademoiselle, a pale pink. It's the perfect nude that will always look classy and timeless no matter what the season."
06. Almay Eyeliner // $8
Verily editor Megan Madden is a dedicated Almay Eyeliner fan. "To me, eyeliner is an easy place to save yourself some money," she says. "I've tried expensive brands, but I always find myself coming back to Almay. It goes on smooth; if you mess up it isn't impossible to correct; and it stays on. What more do you need?"
07. e.l.f. Primer // $6
After spending half an hour (or more) on your makeup, the last thing you need is for it to all melt off. This is where face primer comes in handy. Rather than dropping $25+ on expensive brands, we suggest giving e.l.f. Mineral-Infused Face Primer a try. You might be skeptical at the $6 price tag, but this cheap primer lives up to its billing. The primer itself feels silky-smooth to the touch and keeps makeup in place all day long.
08. Olay Pro-X Wrinkle Smoothing Cream // $32
Before you write off Olay's Pro-X line as a purely anti-aging collection, think again. This product fights fine lines because of its retinol content, but retinol is also used in many acne treatments to slough away dead skin cells and prevent clogged pores from occurring—a great routine at any age. Pro-X has a base that locks in moisture and minimizes irritation for glowing, luminescent skin. When anti-aging and acne treatments run up to $200, we definitely suggest trying Olay Pro-X Smoothing Cream first.
09. TRESemmé Fresh Start Dry Shampoo // $6
For ladies on the go, a bottle of dry shampoo certainly comes in handy. Verily's lifestyle editor, Krizia Liquido, has found her match with TRESemmé Fresh Start Dry Shampoo. "I originally bought a travel-size bottle just to try it out and fell in love with it! I use it a few times a week because I'm a mom and that means sayonara to long showers." The fresh-smelling dry shampoo soaks up oil and adds volume to lifeless locks.
10. L'Oréal Eye Defense // $12
Verily relationships editor Monica Gabriel swears by L'Oréal Eye Defense. "It has been my go-to eye cream since college," she says. "This is not a heavy cream for fighting wrinkles; this is all about keeping my under-eye area hydrated and making under-eye concealer application easy and clump-free." When even inexpensive department store eye creams can start at $30, this guy's a steal.
11. Desert Island Essence Mango Body Lotion //  $9
Opening up the cap of Desert Island Essence Mango Body Lotion is like slicing into a juicy mango itself. For those who want to wear the aroma of the tropics, this mango body lotion is almost good enough to eat (but don't, obviously). Plus, this heavenly lotion is organic, so you can rest easy that it's not full of chemicals. With a 5-star rating, this mango body lotion is definitely the way to get your skin ready for summer.
12. Neutrogena Pore Refining Toner // $8
After a long day at work and a sweaty commute, it's important to make sure your face is clean at the end of the day. Many face washes don't remove all the oil, dirt, and dead skin cells that can accumulate. See for yourself by using this toner with a cotton ball and thoroughly wiping your face. This toner sloughs away dead skin cells with alpha and beta hydroxy acids to fight outbreaks. Reviewers rave about Neutrogena's Pore Refining Toner on Walmart.com, Walgreens.com, and Ulta.com. 
13. Not Your Mother's Way to Grow Shampoo & Conditioner // $5 each
This cult beauty favorite is surprisingly accessible at your local Walmart, Target, and Ulta. Not Your Mother's products are raved about for their price and quality, not to mention a great smell. Skip the salon-only shampoos and get your hands on this.
14. Pixie by Petra Mesmerizing Mineral Palette // $12
If you're looking for a neutral yet glamorous eye shadow palette Urban Decay's wildly popular Naked eye shadow palette is available at Macy's for $54—or you can buy Pixie by Petra's Mesmerizing Mineral Palette for a mere $12. Both eye shadow palettes have an array of high-quality natural tones such as champagne, blush, chocolate brown, rose gold, and shimmery bronze, but one palette is $42 less than the other. You do the math.
15. Neutrogena Oil-Free Pink Grapefruit Scrub // $7
It's no secret that Neutrogena's Oil-Free Pink Grapefruit Foaming Scrub is a drugstore winner. Many women, including Verily's style editor, Lilly Bozzone, use this product on a daily basis. "First off, I love the smell. Secondly, I have very oily skin, so I need a powerful scrub at the end of the day. Other face washes have left my face burning. This Neutrogena grapefruit scrub is gentle but fights acne." Done and done.