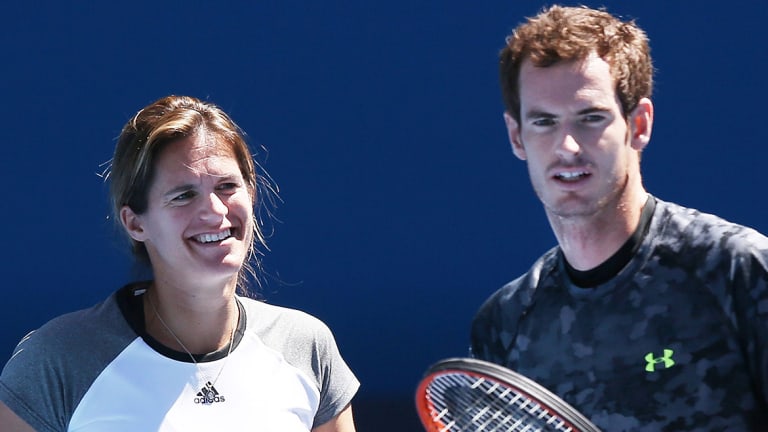 The Struggle Is Real For Working Moms, and Murray's Tennis Coach Knows It
Tennis star Andy Murray announced yesterday that he will be parting ways from his coach of two years, Amelie Mauresmo. Mauresmo, a Frenchwoman, was notably the first female coach to be hired by a male professional tennis player. Murray was vocal about the history-making partnership, declaring that he's "very passionate about getting more women in sport, giving women more opportunities." But even with a golden ticket ticket opportunity like getting to coach Andy Murray, Mauresmo wasn't insulated from the same conundrum that working moms face every day.
Murray did well under Mauresmo's coaching. He won seven titles—including his first two on clay—and led Great Britain to the Davis Cup title, although he failed to add to his two Grand Slam titles. Is it the hunger for another Grand Slam title that has prompted the split? Or it painfully more mundane than that?
The answer hides in plain site in every publication that's covering the news. In TIME Magazine: "Mauresmo, who added [that] she had trouble dedicating enough time to travel right now… took six months off from coaching after she gave birth in August." In ESPN: "Their partnership was also temporarily broken when the former women's world No. 1 took a break from coaching Murray after Wimbledon last year to give birth to her first child." And the least veiled of all, from BBC Radio 5 live tennis correspondent Russell Fuller: "Murray has always maintained he needs to spend 25 weeks a year with his head coach, and...it has become apparent over the last few months that as a new mum, Mauresmo would be unable to find that time."
Mauresmo appears to be having her very own "you can have it all, but not at the same time" moment right now, and on an international stage. And I feel for her. There are no easy answers in the game of working motherhood. There are generally only really, really hard answers. Like whether to stay by your star client's side and earn fame and fortune in the vocation that you love, or to work a reduced schedule and have more time to spend with your infant son who you love during the brief time that he's still an infant.
Murray has likely had his fair share of hard choices in this scenario as well. To stick it out with a coach that he made history with and whom he says he's learned so much from, "both on and off the court," or to admit that he prefers a coach that can travel with him year round and devote more undivided time and attention to him? No easy answers there.
There are no fingers to point in this situation, no blame to be cast and no injustice to be made right. This is just the messy, complicated reality of what it means to be a working mom. Whether at the highest level with the whole world watching, or in a minimum wage grind in small town obscurity, the job of the working mother is to defy physics. To be in two places at once. To give 100 percent to two (or more) pursuits. To keep all the balls in the air without skipping a beat. And then, when the balls start dropping, to choose. To compromise. To bargain and wager and pray that the opportunities that must be postponed today will still be available tomorrow.

I see you, Amelie Mauresmo, defying your physics and making tough choices. And I add my voice to your prayer, that the choices we're making are the right ones, that the things we can't tend to today will still need us tomorrow, and that in the end, we find that we can, in fact, have it all, even if we can't have it all at the same time. 
Photo: Getty Images