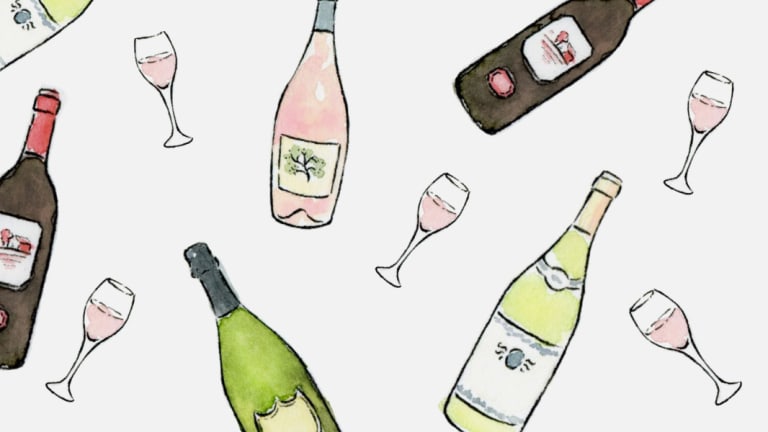 7 Tips for Finding a Wine You'll Actually Want to Drink
So you can look like you know what you're doing with that glass of pinot noir.
I'm sitting down with a glass of 2013 cabernet sauvignon from Sonoma. I'm focusing to fully appreciate the wine's nose. Noticing its legs. Making astute observations about the fruity undertones and quality of the tannins. That's what you need to know to truly appreciate wine, right?
According to the experts I consulted on the subject: not at all.
The first—and maybe only—rule that I heard from wine experts is to simply enjoy your glass. Ernest Hemingway wrote that wine "offers a greater range for enjoyment and appreciation than, possibly, any other purely sensory thing." I wholeheartedly agree.
Yet with so many options out there, it's hard to know where to start when choosing wines. Theoretically I could pretty easily employ those tests I mentioned above to navigate the dense wine world. But I've got to know how first. To help you land somewhere between know-nothing wino and master sommelier (a feat that only a small percentage of people have achieved), we asked wine professionals on both coasts for their tips on navigating tastings, pages-long wine lists, and shopping aisles full of fermented goodness without making fools of ourselves. The overarching theme: Have fun!
01. Breathe
We don't mean taking in the scent of the wine, although that's important, too. First, relax. Michael Beneduce, winemaker and vineyard manager at Beneduce Vineyards in Pittstown, New Jersey, says that one of the most important parts of his job is to "break down all the pretentiousness that surrounds wine and show people that, 'Hey, this is just fermented juice.'" According to Beneduce, who studied viticulture and enology (grape-growing and wine-making) at Cornell University, "It doesn't have to be any more complicated than that."
02. No One Expects You to Know Everything (or Anything)
A restaurant's novel-length wine list can feel intimidating. But the only test is whether you enjoyed your meal. Garrett Busch, proprietor of Trinitas Cellars in Napa, California, encourages those who dine out to engage with the service staff. At a more upscale restaurant, the waitstaff will be trained to guide you in your selection. In a more casual setting, Busch says, "Don't be shy to ask for the wine steward or manager because they typically are the wine buyers."
Beneduce agrees: "Be direct with what you're looking for. Tell them what you normally like to drink at home, what you plan on ordering to eat, and give them a price range that you're comfortable spending." Consider that a bottle you see in the store will be 60 to 100 percent more expensive on a restaurant list.
To skirt the issue of bringing up money, "Point to a price (not a wine) on the list and tell the sommelier you're looking for 'something like this,'" Beneduce advises. "They'll get the hint."
03. Keep an Open Mind
"I guarantee there are styles of wine out there that you'll love, and you'll never get to try them if you're not adventurous at least some of the time," Beneduce says. Though there's nothing wrong with finding a varietal or region you come back to again and again (pinot grigio for me, thanks), it can be exciting to drink outside the box. For whites, if you like light, sweet, acidic wines, try a Riesling that pairs well with fish, chicken, and pork. Pinot grigio (aka pinot gris) is crisp, dry (it will make your mouth feel dry), citrusy, and makes a versatile pairing. Sauvignon blanc is bright and fruity but very acidic and dry; pair it with seafood, poultry, and salad. Velvety in texture, chardonnay has tropical flavors when grown in a warm climate and earthy flavors, such as apple, when grown in a cool climate; pair it with chicken and fish.
For reds, try pinot noir if you want something delicate and fresh with fruity and earthy aromas. It's good to drink on its own or pair with grilled salmon, chicken, lamb, or something light like Japanese food. For something a bit more robust but easy to drink, try a malbec; pair it with rich and spicy meat-based meals, especially with Mexican, Cajun, and Indian inspirations. Cabernet sauvignon is full-bodied, so it will feel heavy in your mouth—more like cream than skim milk; it's dry and best paired with food, specifically simply prepared red meat. Syrah (aka Shiraz) is a very dark, very full-bodied wine that pairs perfectly with meat—or anything.
04. There Are No Rules, Only Guidelines
You may have heard that red wine should pair with a beef course and that whites are reserved for lighter proteins such as fish. While this is a good place to start, also take into account the way food is prepared. Both our experts pointed to a heartier fish—be it pan-fried or poached salmon–matching with a pinot noir, as an example.
Reds typically pair with cheese courses. But Beneduce "actually prefer[s] whites for most cheese because the acidity kind of cuts through the fat and cleanses your palate for another bite." We'd toast to that.
As for dessert, stick more closely to this guideline: the wine should be sweeter than the fare. If the reverse is true, the wine will taste sour by comparison. Port is a good starting point because it pairs well with a variety of flavors (most notably, chocolate). Tawny port (a wood-aged port that has spent at least two years in barrels) will stay drinkable for a few months after it's opened when stored in a cool atmosphere.
05. Variety Is the Spice of Life
When it comes to stocking up at home, diversity is key. Keep a mix of what you can afford to drink every day with a couple fancier bottles for special occasions.
For reds, unless you know you like bold varietals (types of grapes), start with pinot noir, a lighter choice that Busch calls "softer and more approachable on average." For whites, go with crisp sauvignon blanc and rich chardonnay because these are appropriate for a range of foods and occasions. In warmer climates and seasons, add rosé for backyard barbecues and breezy evenings on the patio.
Beneduce also suggests, "Every cabinet or wine fridge should have at least a bottle or two of bubbly, and if Champagne's not in your budget, look for Spanish cava or sparkling Vouvray. Both are great wines at half the price." For Busch, having company over for a meal is enough of a celebration. "When your friends walk in the door and you greet them to that first 'POP!' and a little fizzle in their glass, they automatically are in the celebratory mood and feel very loved," he says.
The majority of wines available in stores are ready to drink, so there's no need to age them. "All wines move from fresh and fruity to more mellow and complex as they mature," Beneduce notes. "They just take different amounts of time to complete that curve."
06. Take Notes
Apps such as Vivino allow you to keep a record of what you imbibe just by taking a photo of the label. The program offers reviews, rankings, and average pricing. You may also make your own notes and reviews.
A simple notebook or the notes app on your phone will do the trick, too. Pay attention to region, year, and varietal even more than the vineyard. These are factors you can use to confidently pick your next bottle. "Vintage" refers to the year the grapes were harvested. As with any crop, weather is a considerable factor in a year's produce. For wine, this affects its balance of acidity, sugar, and tannins—the element that makes your mouth feel dry. If you find a wine you like, note the vintage. You'll probably enjoy the same varietal from other vineyards in the region that year.
07. Make It a Party
An at-home wine tasting is a great way to socialize, and you don't need to be an expert to put one together. With Kevin Zraly's Windows on the World complete wine course, you can take your guests around the globe by region to delve into the complexities of enology at your own pace.
Zraly says that tasting can be broken down into five basic steps.
Color: Hold your glass against a white background. Whites gain color as they age, while reds lose it. In a white wine, you may see green, gold, or brown. In a red, you could see purple, scarlet, or brick red.
Swirl: This is not just for show. It allows oxygen to enter the liquid to release more of the bouquet, which is the total smell of the wine. Zraly suggests holding your hand over the glass as you swirl for a more powerful effect.
Smell: Sniff three times, and notice that you get the most out of the last effort. We can taste four or five sensations but smell more than two thousand scents. Don't worry about using fancy language—just be honest!
Taste: You have taste buds all over your mouth and tongue, so don't swallow right away. Let the wine sit in your mouth for a few seconds to warm up and send signals through your nasal passage. When you swallow, notice the aftertaste. How long does it last?
Savor: Finally, consider your impressions and savor the experience. A wine transitions—the flavor in the first instant it enters your mouth will evolve as you swallow. Think about what pleased you. What would you prefer to be different?
Use this procedure to cover a chapter of the guide each month. Rotate homes for locations. The hostess can purchase the wines to ensure a balanced spread. This book also offers food pairing suggestions, so have each attendee bring a dish and their split of the wine purchase. Take your time, and remember to write notes.
There is literally a whole world's worth of history and possibility when it comes to wine. Everyone has her own preferences and taste buds, and you'll have the most fun if you let those be your guide. Cheers!
Illustrations by Katherine Messenger