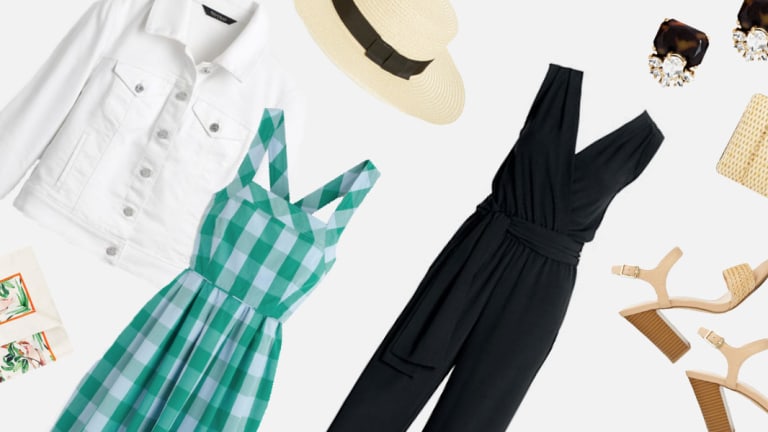 What to Wear on a First Date Made Easy
Take the stress out of your date with these cute outfit ideas.
The first date outfit is the one women worry about the most. No matter how casual or formal the date, most of us have a moment of panic about what (or what not) to wear. We sift through every single item of our clothing and ask ourselves, "Is this dress too fancy? And are these shoes too casual? Do I look like myself?" Naturally, we want to present the best version of ourself in the most authentic way. But when you throw in pre-date nerves, it's easy to second-guess an outfit choice.
If you have ever found yourself in this situation, we've got the perfect outfits that can be dressed up or down for both a day and night date for the coming warmer weather. So stop worrying about what you'll wear, and get out there!
Daytime // A-Line Sundress
If you don't know where he is taking you, the best approach to choosing an outfit is to pick one that is versatile and ambiguously occasioned. For example, an A-line sundress is appropriate for really any plans he may have (unless he's taking you rock wall climbing). Whether you're going on a picnic, to a matinee show, to the ice cream parlor, or even on a romantic boat ride—the fancy meets casual silhouette of the fit-and-flare sundress will have you feeling confident in your outfit choice. Throw on a few accessories to show off your personal style, and you'll be good to go.
Nighttime // Jumpsuit
Now, you might be thinking, "A jumpsuit is only for those crazy fashion girls who wear bold things." Before you completely swear off jumpsuits, hear us out. Similar to the daytime date outfit, the goal is versatility. The black jumpsuit, although a bolder fashion choice, is surprisingly adaptable for many occasions. The sleek, long black lines of the jumpsuit give it a fancier look, making it perfect for a classy dinner by candlelight. The edgier pant element of the jumpsuit, however, gives it a more casual vibe. So if he wants to take you to a bar for cocktails before deciding to spend more time over dinner, you won't look overdressed or underdressed. Let's be honest, we all worry about looking too fancy on a date, but the elegant black jumpsuit offers both formality and informality so that you can be ready for any place he takes you.