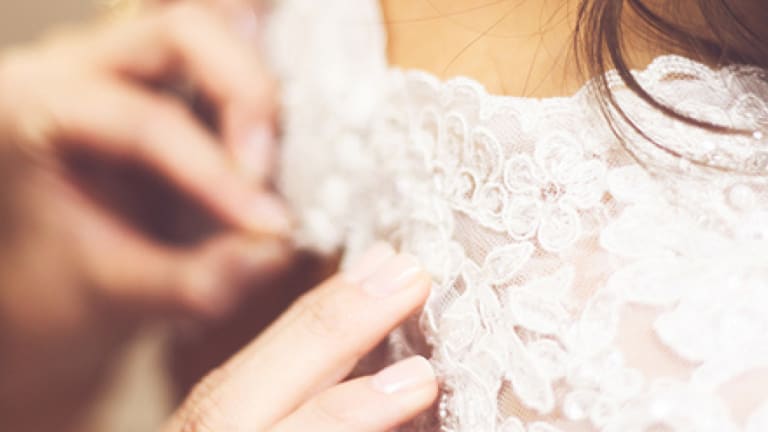 I Learned the Secret to a Happy Marriage While Fulfilling My Mom's Dying Wish
This was the one bucket list item I could fulfill for my mother in her final days with cancer.
I tried to stifle the tears as I spoke to Mary-Katherine, owner of the bridal shop, but as I held the phone, they stubbornly began to well in my eyes anyway. No longer the tears of newly engaged wonder, like those of our Christmas day proposal, these were the heartrending tears of a daughter trying to move quicker than her mother's terminal cancer.
By the time my mom was given two weeks to live, there were few things left on her bucket list that were still achievable. Those that were doable bore great significance. First and foremost, her dream to go wedding dress shopping with me, her only daughter.
Watching her rapid decline the previous week, I searched bridal shops online and booked an appointment at Mary-Katherine's Fine Ladies, a shop thirty minutes away. Despite Mom's repeat objections, I had to cancel that appointment so that Dad could take her back to the oncologist to treat her dehydration. At that emergency appointment we learned it was time for hospice. No longer would Mom be able to go with me to look at dresses.
I was about to give up hope on my quest to have my mother's help shopping when Lori, Mom's hospice nurse, suggested an alternative.
"I bet that if you told the bridal shops about your situation, they would bring the dresses to the house," Lori said. "And if they don't say yes, then you give me their number, and I will call them. We make miracles happen." Mom's eyes brightened at the mere thought of it.
As I relayed the painful circumstances intertwined with plans for the happiest day of my life, Mary-Katherine quietly said, "I'm sorry."
"That's OK," I said.
"No, it's not," she responded. "What size are you, sweetheart?"
Explaining my 5'4" frame, I rifled off a list of "don't wants": No bows, no tulle, nothing too froufrou. We compared my taste to styles as we flipped through our own copies of the same bridal magazine. By the end of our call, Mary-Katherine had cleared her calendar. Later that same day she would come to the house, dresses in tow.
A sorely needed excitement surged through the house when the "wedding attire wagon" pulled up. A procession of sparkling tiaras, lacy veils, and ten stunning bridal gowns were ushered into my parents' bedroom. As Mary-Katherine assisted with the tedious preparations of adorning a bride-to-be, Mom and Dad anxiously bantered in the living room with my aunt, uncle, and Mary-Katherine's husband, Bob.
The whole room seemed to anxiously inhale simultaneously each time I entered wearing another dress, wrapped in dazzling white satin. As I would take a turn around the room, Mary-Katherine perfectly primped each train.
"Mom, what do you think? Do you like this one?" I'd ask as I stood next to her bedside in a new dress.
"I just want you to have whatever you want," she would say each time.
Trying on dress number three, I looked at my reflection in my mother's vanity and softly said, "I think this is it." The off-the-shoulder cut, cathedral-length train, and delicate, silver crystal beading that even trimmed the veil made it a crowd favorite. Mom stuck with her standard neutral response. All she needed to know was that I would feel beautiful on my wedding day.
Five months after Mom died, that day finally arrived. My fiancé and I had endured the ultimate preparation for the hard times of marriage during that precious time before she passed. We stood by one another in grief, and we made sacrifices to do what love required, but my mother instilled that it's really more about how we approach the difficult times.
You see, anyone can feel happy when good things occur, but joy—joy is an act of the will, especially amidst suffering. As my mom and I "shopped" for my wedding dress that day, I knew she was suffering. But she put on a brave face for me and made sure the moment was one of happiness and not sorrow for what was to come.
To rise above the pain that accompanies life and marriage, joy must be nurtured by a determination of the will. We can't control our circumstances, but we can control how we orient our minds and our hearts.
Fr. Joe, a dear old college friend of mine, had flown down to South Texas to marry us. During our wedding sermon, he shared that the preparations for this day had been hard for me. "But rather than focus on the absence of Eve, they have focused on her presence—the moments where she is definitely with us," Fr. Joe explained. 
Admittedly, it was hard to choose joy on my wedding day. I missed my mom, and there were many moments I could have recoiled at the tragedy of her absence. But for my husband, for my family, and for my mom, I knew that I could be joyful and make that day as beautiful as it deserved to be. Mom rejoiced with us, as did everyone present.
Five years later, it's not always easy to choose joy. There are days when serving my spouse can feel like a chore, and my heart and mind become cluttered with other self-centered things. It is in those moments that I need to search my heart, remembering that love is built upon sacrifice, but it flourishes with joy. That is the secret to a fulfilling marriage, as giving from a sense of duty does not cultivate love.
In fact, in marriage counselor Peter McFadden's Verily article on the characteristics of a happy marriage, he explained that "married couples need consistent, sustained joyful communication if they are to enjoy being married over a lifetime together."
"Many self-acclaimed marriage gurus will tell you that date night is the key to a happy marriage; it is not," McFadden wrote. "Date night is helpful, but it is only the icing on the cake. The 'cake of marriage' is the little daily interactions that make life together not just bearable but inspiring and joyful."
Kay Warren, author of Choose Joy Devotional: Finding Joy No Matter What You're Going Through, said, "We cannot avoid pain, but we can avoid joy." This I know, from a bucket list wedding dress search. After Mom passed, Dad shared that she'd secretly told him my dress had been her favorite, too. Of course it was.
Photo Credit: The Happy Bloom