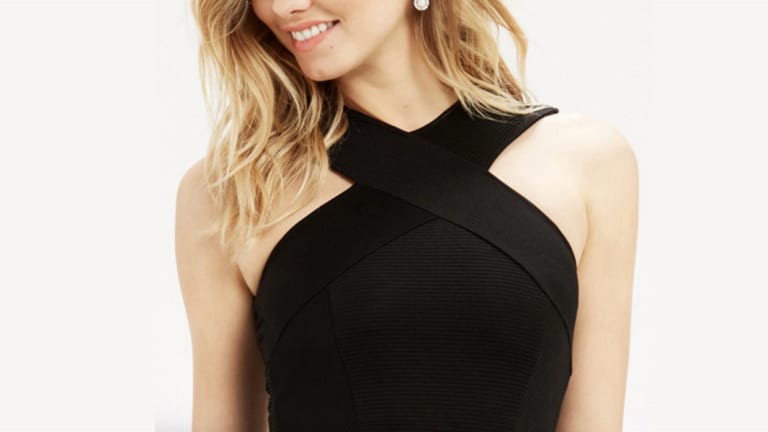 How to Pull Off Wearing Black to a Wedding
These simple style tricks will transform your favorite little black dress into your go-to wedding guest outfit.
Wedding season is upon us. You're facing a plethora of invites and probably thinking, "What am I going to wear to all these events?" And while we can commiserate with not wanting to wear the same dress every time (because, well, photos), that also means that your beloved LBD will be on your radar. Along with the thought: "Can I really wear black to a wedding?" Yes! It's totally OK to wear black to a wedding—just keep a few things in mind.
Choose a dress with a great fit (aka not frumpy).
Steer clear of flat fabrics, and go for some differing textures, prints, or embellishments to up the party vibe.
Avoid longer lengths; this isn't the red carpet.
Floral Print //
A sure way to get away with wearing black to a wedding is to incorporate a print. It doesn't get more wedding-appropriate than florals, even if the background of the pattern is black. So whether the flowers are colorful or white, rest assured that this look is totally perfect for the occasion. Keep the accessories feminine and sophisticated for a wedding-season win.
Fashion Savvy //
A fashion-forward woman who can rock a black-on-black ensemble will never be questioned. When it's chic, it's always appropriate. You may think that dresses are an absolute must when attending a wedding, but sleek, billowy palazzo pants are equally glamorous. The key is to make sure that your pants are well-tailored to have shape—a classy wide-leg or sleek cigarette pant is best. Amp up the fancy factor with an embellished or lace top. Strappy heels will elevate the look even more, while edgy accessories will top it all off. A bold cat eye and red lip will bring this look home.
Colorful Accessories //
Seems like an obvious solution, but it's tried and true. When wearing your figure-flattering LBD to a wedding, keep things festive with brightly hued accessories and heels. While you're looking striking in your favorite sleek black dress, the focus will be on your colorful accessories and not on the fact that you are, indeed, wearing black to a wedding.