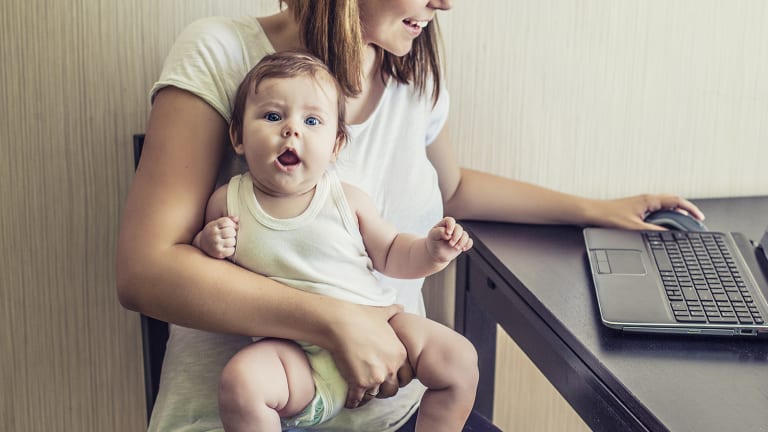 Yes, America's Maternity Leave Sucks, But Here Are 6 Things US Companies Are Doing Right
It's not all doom and gloom for working women in America.
It's hardly a secret that America is trailing behind the rest of the world when it comes to offering parental leave and support for new mothers (and fathers) in the workplace. The United States is the only developed country not to guarantee paid maternity leave, and while we're a ways to go from agreeing on how best to address this from a policy perspective, it's refreshing to see more and more companies developing innovative mom-friendly policies in an effort to support their female employees. And the bottom line is that this isn't just good for women, it's good for everyone. 
As Christine Emba reported for Verily last year, "Women make teams smarter, and research shows that having female members helps corporate boards make better decisions." Even scientific research is starting to prove the value of women and mothers in the workplace, and it's encouraging to see that businesses are making changes for the simple (and sustainable) reason that it just makes good business sense.
Here are just a few of the women-friendly policies being introduced around America that we hope can inspire change for working women everywhere.
Prioritizing Parental Leave
Parental leave is arguably the biggest factor in supporting women in the workplace, with good reason. Without it, women are forced to choose between being there for her newborn or newly adopted child during a vital time of nurturing and bonding or potentially losing her job. If we want to empower women in the workplace, it seems obvious that we need good maternity leave policies—and parental leave for fathers, too. While mothers play a unique role in her baby's early life, having support from their partner is invaluable for mom, and baby. So we're heartened to see more policies aimed at allowing men to be involved in their kids' lives. If more fathers were able to take parental leave, as Mark Zuckerberg announced he was doing last year, the pressure would be reduced on women in the home as well as at work, and reduce the stigma that women carry when taking parental leave.
Last August, Netflix announced that they would be offering unlimited paid parental leave for up to a year following a child's birth or adoption to its salaried streaming employees, and then in December (after quite a bit of backlash) that they would be altering the policy to include four months of paid parental leave for their hourly workers, too.
Vodafone, an International phone company, provides all its employees (including American staff) with a minimum of 16 weeks of maternity leave on full salary which is then followed by 6 months of a protected 30 hour-per-week workload. The best bit about the policy? As Anna Quinlan wrote for Verily when it was first announced, "It's about talent." Vodafone worked out that "the new policy would save global businesses $19 billion annually," meaning that their policy is a formal recognition of the fact that working mothers, and women more generally, are bringing value to businesses everywhere. You can't argue when it's good for the bottom line.
Other companies that offer great parental leave include Twitter, Johnson & Johnson, Adobe, and Facebook.
Flexible Work Options
Everyone (and every situation) is different, so flexible working options are another huge factor in supporting working mothers. I, for one, wouldn't be able to do my job if I couldn't work from home; flexible working policies include the option to work from home when necessary, job share or working part-time hours, and fit working hours around a parent's schedule (allowing them to leave work to pick up kids from school, for example).
So, which companies are doing well in the flexible working stakes? As Fortune pointed out last year, "The healthcare industry [in America] is dominating the market for female talent by offering flexible work options and promoting many into leadership roles." One company doing really well in this field is Meridian Health—at the time of the report, women accounted for a huge 79 percent of their workforce, and filled 63 percent of leadership positions.
Similarly, Children's Healthcare of Atlanta offers various different flexible work options, including telecommuting for nurses when operating hotlines, flexible scheduling such as compressed workweeks, as well as job sharing and reduced schedules that adapt to the needs of the staff. These policies make a huge difference to women, and the proof is in the numbers: Over half of senior managers on the team are women, and eight out of twelve staff on the senior leadership team are female, including the CEO. As one working mother commented, "I never feel pressured to put work ahead of the needs of my family."
Other companies making a difference to female employees with flexible work provisions include Accenture, who provides generous paid holiday and job-guaranteed unpaid time off. GE allows employees to figure out their paid time off requirements with their managers rather than adhering to a set number of allotted days. Meanwhile, Lego allows full-time employees to shift their hours within a designated window, and supports part-time workers by offering benefits after just twenty hours a week.
On-Site Childcare Solutions
As every parent knows, one of the biggest challenges for parents who are returning to work is childcare. As it is most often women who are organizing the childcare, this is another area where innovative policies can go a long way towards supporting women in the workplace. Not every woman can follow in Yahoo CEO Marissa Mayer's footsteps and commission a nursery to be built next to her office. 
As well as their flexible work policies, Meridian Health provides on-site childcare at three of its six hospitals in New Jersey, costing an average of $663 a month rather than the national average of $972. Children's Healthcare of Atlanta also offers backup childcare, which helps explain the high proportion of women on the staff at every level in the organization. Goldman Sachs offers at least 20 days of backup childcare per dependent annually. Other companies that offer on-site childcare include Google, Aol, and Eli Lilly. 
Woman-Friendly Company Cultures
"Company culture" is a tricky one to define, but it can mean the difference between women putting themselves forward for promotions and quitting.
Google's company culture is legendary, and has won them the No. 1 slot on Fortune "100 Best Companies to Work For" list for seven years now. As well as the dizzying array of perks that they offer all their employees (think three organic meals a day, unlimited snacks, and subsidized wash and fold laundry services), they also offer various women-friendly perks such as breast cancer screening and reserved parking for pregnant employees (thanks to Sheryl Sandberg, who was the first one to point out this need when she worked for Google years ago).
The overall percentage of women at Google is far below parity at 30%, but Google has proven that they care about supporting women in the workplace: When they realized six years ago that more male engineers were putting themselves forward for promotions than female engineers, they experimented with different methods to get more women to apply for higher roles.
Other companies such as Goldman Sachs foster a parent-friendly working culture through maternity-mentoring programs and seminars on wellness and nutrition for expectant mothers.
Professional Mentorship Opportunities
As Julia Hogan pointed out for Verily, "a host of research studies has found that there's a marked confidence gap between men and women." Women are reportedly four times less likely than men to ask for higher salaries and raises. In Lean In Sheryl Sandberg writes that as women we often "lower our own expectations of what we can achieve," which sets us back in the workplace. Businesses are beginning to acknowledge this "confidence gap" and do something about it by offering women mentorship and opportunities to train and develop skills in areas they wouldn't necessarily put themselves forward for.
The International law firm Ernst & Young has a sponsorship program which Forbes writer Susan Adams described as "a mentorship on steroids," with partners mentoring groups of women and actively advocating for them to earn places on highly visible projects, increasing their chances of getting promotions.
And a New One: Menstrual Leave (You Read that Right)
Yes, this really is a thing. A British company made headlines earlier this year for introducing a "period policy," allowing women to take off extra days or work from home without having to class them as regular "sick days." They weren't actually the first company to create a policy like this, however; back in 2007 Nike included a "menstrual leave" policy in their Code of Conduct, applying it worldwide in whichever countries they operate in, including the United States. They are currently the only global company to include the policy in their code of conduct.
While this kind of workplace policy is not without controversy, putting periods in a separate category from other medical conditions recognizes the physical reality of being a woman. Rather than forcing women to conform to masculine behavior, it introduces the idea that working women have inherent value and that we are different from men, and can structure things a little differently.
While we still have a long way to go, thoughtful policies like these that individual businesses are employing acknowledge the unique issues women face over the course of their careers. As it turns out, change is already happening in the working world around us—you just have to know where to look.
Photo Credit: Adobe Stock