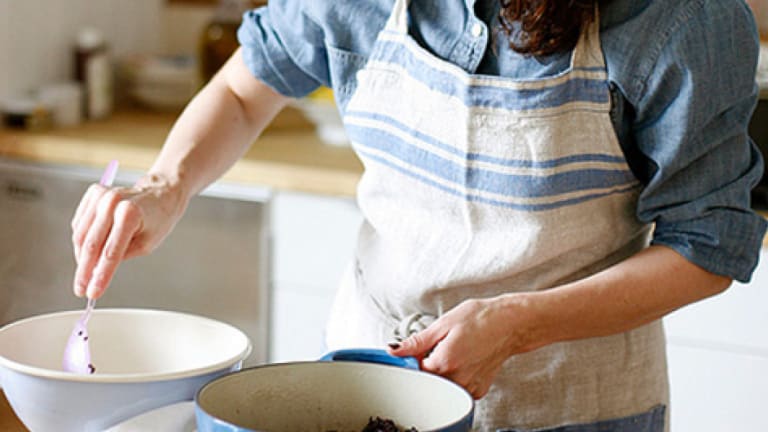 10 Clever Time-Saving Hacks (So You Can Spend More Time Doing What You Love)
The busy girl's tried-and-true tips for getting the boring things done faster.
If you're anything like me, you resent chores and running errands because they pull you away from doing things that are more meaningful to you—spending time with family and friends, working, writing, and dreaming up new ideas. As a busy therapist and writer, I'm always on the lookout for time-saving tips and productivity hacks. So I took my question, "How do you save time?" to colleagues, family, and friends to find out what helps them do more of what they love. Here are some tried-and-true tips.
01. Prepare Meals Ahead of Time
This was the most popular response I got. Jenny, a mom of two, says she makes a meal plan for the week on Sunday or Monday and writes the menu on a board in the kitchen. She says planning the meals for the week not only helps with grocery shopping but also with prep work (defrosting, marinating, etc.). Many also said they usually made meals that could last 3-4 days to minimize time spent cooking during the week. Maggie, a physical therapist, says she is a fan of slow cooker recipes for this reason. Julia, a nursing student, says she cooks a bigger meal on Sunday or Monday in case the week gets busy. "That way I still have something we can eat that is already made," she says.
02. Let Subscription Services Do Your Shopping for You
Many people have turned to online subscription services to help save time. Verily writer Maria Walley uses Blue Apron to supplement a few home-cooked meals. They deliver portioned ingredients and accompanying recipes. While not the most budget-friendly option, Maria says it serves as a healthy time-saving meal during busy weeks.
Amazon Prime offers a Subscribe & Save program, which delivers items you use regularly—baby food, dry pasta, and toilet paper, for instance—on a recurring schedule (between one and six months). This saves you 15 percent on your total purchase, saves time, and (bonus!) helps prevent impulse purchases on last-minute shopping trips.
03. Set Recurring Reminders
A busy schedule can make it easy to forget due dates for bills and other important reminders. I set recurring reminders on my phone so that I know I won't forget to file my quarterly taxes or send out an email. I have it alert me a few days before the actual due date just in case I don't get around to completing the task right away. Now I no longer have those moments of sudden panic where I wonder: "Did I take care of that bill?"
04. Limit Time on Emails and Social Media
Answering emails and perusing social media is a significant source of frustration for many. It takes away from more engaging, productive activities. Many respondents shared this frustration and have creative ways to minimize tech time sinks. Katie Joy, who works in healthcare marketing, likes using Boomerang to help achieve the highly-coveted Zero Inbox. Samantha, an accountant, says she "kills the newsfeed Chrome add-on for Facebook." Teresa, a mom of two, shares that she will turn off her phone's notifications or delete social media apps when she needs to concentrate. You can always add them back.
05. Plan Your Schedule a Week at a Time
Knowing what the next week will look like was another popular timesaving strategy. Lauren, a school psychologist, uses Google calendar to plan her schedule hour by hour. Julia recommends estimating how long each task on your to-do list will take. "I find that my lists tend to get unrealistic if I don't approximate expected time to complete," she says. Others, like my friend Kaitlin, uses a planner to keep track of her commitments. "I'm more productive if I write things down in my planner. That way every item that week gets a day and a time."
06. Prepare for Tomorrow's Activities
Maggie says, "I pack my gym bag every night for the gym, pack lunch beforehand, and set the coffee pot for 6 a.m. so it's ready when I get up." Verily editor Krizia saves herself time spent deciding what to wear for the day by laying out her clothes the night before. Packing your bag, prepping breakfast, and picking out an outfit the night before makes your morning routine run that much more smoothly.
07. Develop Routines
My sister, Claire, says that establishing routines helped her increase productivity. "It's harder to not do something when it's a habit." Kaitlin agrees, saying, "If you know Wednesday's gym day, you can pack your bag the night before and be ready to head there straight after work." Making it a normal part of your routine means you save the mental energy of figuring out the logistics each time.
08. Touch It Once
Lacy, who works in higher education, uses the "touch once" principle. When an actionable task crosses your path and only takes a couple minutes to accomplish, take care of it right away. I find that this is particularly helpful for mail and email. This prevents them from piling up and collecting dust. Plus, it feels good to know that it's no longer hanging over your head.
09. Use Little Pockets of Time Productively
Use time between commitments to your advantage. Sylvia says, "I have 'not enough time' to study Chinese, but if I download some podcasts onto my phone beforehand, I can do listening exercises while I ride my bike to class." Marie piggybacks on her productivity by doing online personal errands during her breaks at work. Tiffany, a mom of a little girl, says she takes a few minutes every night to tidy up the house before going to bed to keep clutter at bay. Keep an eye out for pockets of free time during the day to get small tasks done and out of the way.
10. Simplify Your Options
Streamlining your choices is an easy way to cut down the amount of time you spend making decisions. Sylvia says that decluttering was a huge productivity booster. "I pared down my closet to only the clothes I wear often, minimized the gadgets in the kitchen, and limit myself to only two pens and two pencils for school. I waste so much less time and headspace deciding what to use and figuring out where to find it." Consider embracing a personal uniform like Monica Burke did in her Verily article. The popular Marie Kondo organization method is a great way to declutter if you're looking for a proven technique.
While tasks and chores are a necessary part of life, less time and energy spent on them means more spent on what you love. Try one or more of these tips, and you may be surprised by how much more you're able to accomplish and enjoy in your day to day.
Photo Credit: Belathée Photography