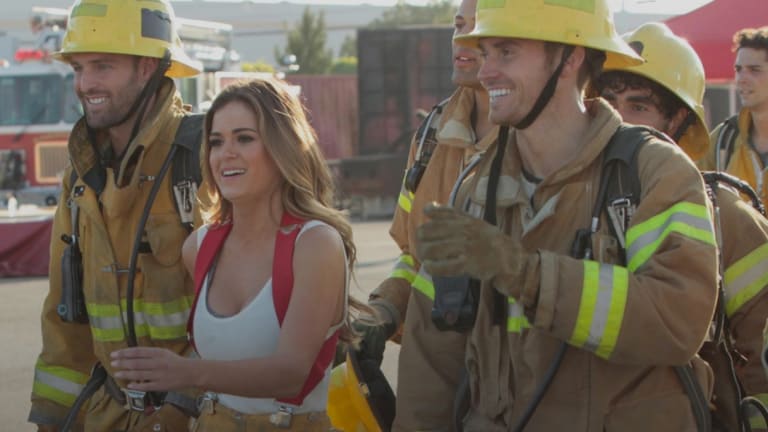 The Bachelorette: Why, Oh Why Do Women Go for Guys Like Chad?
We're watching The Bachelorette so that you don't have to.
This year, we've decided to follow along with all of The Bachelorette action. Say what you will about the show, but there are lessons to be learned from it (even if just what not to do), and we'll be watching to see just what they are.
Last episode we left off with lots of question marks. Mainly: Why did JoJo give a rose to that Canadian guy Daniel (yeah, that's all we know about him) who couldn't wait to peel down to his underwear and catcall her from a balcony? Also: What's with the guy in the Santa suit? Oh, and: Does JoJo know that Chad has some serious latent anger issues? 
The season premiere left these questions unanswered and JoJo hopeful about the twenty men she selected for the next round.
Here is what went down on the second episode of The Bachelorette.
DRAMA AND DELI MEAT 
Tonight kicked off the group dates. For the first one, JoJo showed up in a sexy firefighter outfit and took ten guys through boot camp-like drills at a firefighter training facility. For the second group, ESPN's "SportsNation" co-hosts, Max Kellerman and Marcellus Wiley, played big brothers roles testing six bachelors' commitment to JoJo. For both groups, the dates proved quite dramatic. 
That's right, if you ever suspected that men were just as capable of catty behavior and mean-spirited gossip, you now have your proof. No swift punches to settle scores here (although there were threats), these men spent most of the show forming cliques and trash talking. 
Chad has made it clear he is not here to win a popularity contest, and it's a good thing too, because he is losing. His arrogant and condescending behavior toward the other men and his excessive meat eating (we are talking truck loads of deli meat) at the evening cocktail party is making him very unpopular at the bachelor pad. But you have to wonder: are these guys really that concerned about the amount of protein Chad is eating or is it more about the amount of time he is getting with JoJo? 
While most of the guys are standing around sweating Chad, Chad is busy stealing time (literally interrupting guys mid-monologue) with JoJo, and it's her opinion that matters most. News flash, gents! She isn't going to see the behind-the-scenes footage until after she has made her choice at the end of the season. The jealous guys need to forget about dueling Chad and focus on making a good impression with JoJo instead. 
ABC, DUMP THE DATE PLANNER
Honestly, the group dates were a little painful. Dress men up like firemen and have them run through strenuous drills in a damsel and distress exercise to prove their love? Come on now. Oh and then to add to the humiliation, one guy gets "over exerted" and almost passes out. I know JoJo doesn't pick the dates, but I just think this one lacks real-world application. I mean, how many of us really care if our future husband has what it takes to be a fireman? I would think a midnight run to the local drug store to successfully retrieve the correct box of Tampax would be a more appropriate test. 
Then there was the ESPN "dream date." The guys on this date had to prove to co-hosts Kellerman and Wiley that they have what it takes...by proposing to JoJo. Again, I just don't think a hypothetical proposal scene is really part of a real-life screening. Chad (yep, him again) thought the game was a bit stupid too and said as much. "I don't know you and don't know if I want to marry you," he told JoJo during the proposal practice. Not romantic, but he got the "protective big brothers'" vote—go figure.  
MY HERO
Chase from Colorado was by far the most thoughtful and smart of this episode. He didn't have a chance to shine in a firefighter uniform or offer an insincere marriage proposal. While all the other guys were throwing shade at the over-eager Chad—Chase stepped in to take our bachelorette on an impromptu one-on-one date. Complete with fake snow, a beer, and cozy mittens, Chase made believe JoJo was in his own hometown.
JoJo was impressed by Chase's initiative and creativity, but for me—the woman on the other side of the screen silently suffering though all the man drama—Chase was my hero. The guy who spares me from a room full of testosterone-drenched tension, for an impromptu cozy wintertime beer is my kind of man. That, and he seems like a pretty nice, normal guy. Hope to see more of Chase next episode! 
RED ROSES, RED FLAGS
The big surprise during the night's rose ceremony came with the final rose, of course. With only one rose left, Chad was nervously sneering amidst the pool of potential outcasts. Alas, JoJo breaks all of our hearts and bolsters his ego with the gift of the last rose.
All the guys think he is a bad actor, mostly because he has about as much sportsmanship as Donald Trump before Cruz and Kasich fell out of the presidential race. But is his lack of people skills really a red flag? As someone who makes a living analyzing love, I'm here to tell you that yes, yes it is. I know this isn't a Mr. Congeniality contest, but no one wants to marry a jerk. 
Even putting the fact that he has the personality of a snapping turtle aside, Chad's behavior on his ESPN "Dream Date" concerns me most at the moment. While his honesty about not being ready to propose to JoJo authentically was refreshing (but, um, P.S. it was just a game), him calling her "naggy" made my arm hairs prickle. 
In case you missed it, while the other men lavished JoJo with admiration, Chad asks: "You need me to tell you all the things I love about you?" Then he adds: "Starting off a little naggy here." Cue flashbacks of nightmare boyfriends from the past. 
Yes, Chad, part of being in a relationship with another human is that they need whats called verbal affirmation. JoJo, take it from a woman who has been there, if a guy finds you "naggy" because you asked about his feelings then you want to DROP IT LIKE IT'S HOT. 
I know Chad has a "this is me, like me, or leave me attitude" that might come across as an alluring challenge. But a healthy, loving relationship should feel like you are looking in a mirror, and the reflection looking back at you is the person you want to become—not the hot stuff facade that you want everyone else to see. You're better off looking for a man who is humble and who will seek to better himself each and every day. 
As for next week? It's a double episode of what looks to contain some prematurely steamy (I think I saw a hot tub in the preview) dates and hopefully a lot less Chad—and maybe a veggie platter or two to give Boar's Head some time to restock. Stay tuned.
Photo Credit: ABC