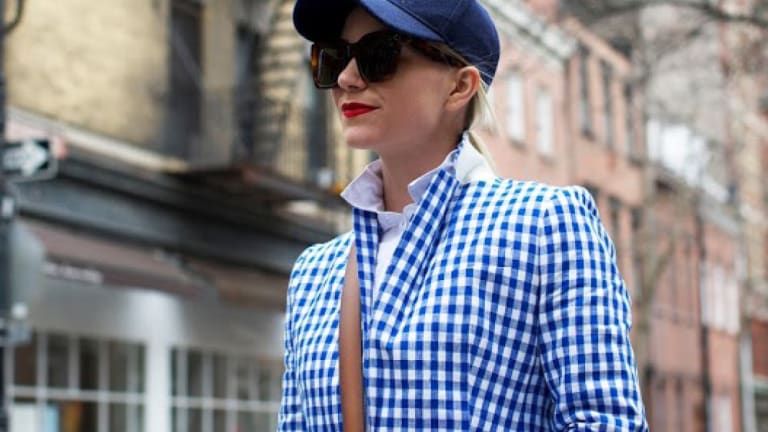 7 Totally Different Ways to Wear Your Classic Blazer
Classy, versatile, and understated—these outfits will inspire you to embrace the blazer.
The classic blazer is perhaps the most versatile item you own. Admittedly, sometimes we forget about the blazers hanging in our closets, disregarding them as only office-appropriate or even too boring for everyday use. The tailored structure and clean lines of the blazer, however, give it the power to add prestige to any outfit while still remaining neutral and understated.
If you haven't explored your blazer outfit opportunities just yet, check out some of these stylish ladies' looks for inspiration.
Feminine //
Many think that the blazer is reserved for office wear because of its masculine origin, but Eleonora Sebastiani proves that the blazer can look just as fabulous when worn with a feminine midi skirt. Her ladylike outfit is even classier with the jacket addition. When copying this look, make sure your blazer is fitted and on the shorter side. An oversized fit will create an overall boxy appearance and hide your shape. Choose a high-waisted skirt so that your waist is visible, giving you curves.
Casual //
Whoever said baseball hats and tailored clothing didn't go together? The two unlikely items make a perfect pair in this white-and-blue outfit by Blair Eadie. The quirky pattern of the blazer dresses down its formality, giving it a fun summer-inspired look. To keep the pairing fresh and matching, she wears white sneakers, jeans, and shoes. If you don't have a patterned blazer, this outfit can be just as easily recreated with a traditional navy blazer—simply throw on a casual patterned tee underneath. Top it off with a baseball cap, and voilà—you're ready for the ball game or a day out on the town.
Matching //
You may be having flashbacks to the 1980s with this look, but hear us out. This fashion-forward outfit is daring, not dated. Brightly colored pantsuits originated in the 1940s (think Katharine Hepburn), but they are modern and chic when fitted correctly. Camila Coelho shows us how to match brightly colored pieces, wearing tailored cigarette pants and a fitted blazer. Avoid boxy shoulders and especially boxy pants, and you'll be reinventing this matching blazer-and-pant ensemble for a whole new generation.
Parisian //
Perhaps the easiest look to recreate, the Parisian-inspired blazer outfit only requires your striped tee, a pair of light-wash jeans, and a scarf (if you really want to commit to the French look). A navy or black blazer will instantly give your casual basics a classy revamp, perfect for when you're in need of a quick outfit upgrade before running out the door. Copy Jules' look, and dress it up with a pair of heels to complete the dressy-meets-casual ensemble. 
Corporate //
We couldn't leave out the office-appropriate look. Blazers rule the corporate scene, but that doesn't mean you have to get lost in a sea of tailored suit look-alikes. To make this look your own like Merritt Beck did, add a pair of extra-bold statement heels and a delicate lace blouse. This way, you can keep your feminine flair while staying within the dress code. P.S. Make sure your blazer and pants are tailored and not baggy.
Preppy //
Preppy stylers have also made blazers their own, wearing them every which way by dressing them up and down. Sarah Vickers gives us a classic prep-appropriate look with a brightly checkered button-up tucked in to skinny jeans. To complete the J.Crew catalogue–worthy look, she wears loafers and a mint bag.
Fancy //
Need a quick cover-up for your fancy fit-and-flare dress? Grab your classic blue blazer and drape it over your shoulders to creatively stay warm. Krystin Lee made this look work by choosing complementary colors in red, white, and blue for an overall bold look. Follow her lead by sticking to jackets that aren't too long in length so as to avoid a boxy silhouette.
Photo Credit: Blair Eadie