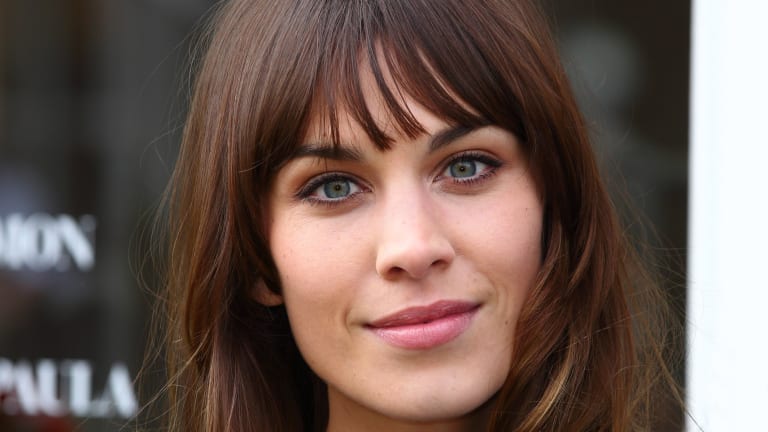 The Best Short Haircuts for Your Face Shape
Stay cool in the heat with these shorter hairstyles.
As the cold winter months become a distant memory and we look ahead to the warm summer months, we naturally crave reinvention by changing up our look. We are so ready to shed our heavy locks for a shorter, breezier summer cut. 
Whether you're looking for a bold short haircut, or you just want a trim, it's always good to know what styles flatter your face shape before going under the shears. Check out our favorite short haircut looks for each face shape, and get ready for a brand-new summertime you!
Oval //
An oval face shape is only slightly longer than it is wide, making it the most versatile face shape for most hair cuts. Summer is the perfect time to go for a bold cut, like Jessica Alba's short, blunt lob. To achieve this look for yourself, don't be tempted to get lots of layers—this will read more mom cut than modern. If you want to soften the look, ask for framing around your face. 
Key phrases to use with your stylist:
-Blunt cut
-Inverted bob 
-Slight framing around face
Heart //
A heart face shape, also known as an inverted triangle, is when your forehead is the widest part of your face, and your chin is the narrowest. The goal when choosing a cut to flatter a heart face shape is to minimize the width of your forehead while maximizing the width of your jaw. A shoulder length, beachy hair cut with lots of layers toward the bottom will create the illusion of having more width in your jaw. Make sure you ask for long, piece-y side bangs that frame each side of your forehead—these bangs will camouflage the width of your forehead. Bonus tip: Parting your hair down the middle will create the illusion of a longer face, thus narrowing your forehead.
Key phrases to use with your stylist:
-Deep layers
-Piecey side bangs that hit mid-cheeks
Oblong //
A long face shape is exactly what it sounds like—similar to an oval face shape but narrower and longer. Achieve a fresh summer look by keeping your cut shoulder length with one or two layers. Bangs especially flatter your face shape since they cut the length your face down, creating the illusion of a more balanced face length. Make sure your bangs start farther back in the crown of your head; no wispy 1990s bangs here! You want thicker bangs that cover your forehead. 
Key phrases to use with your stylist:
-Shoulder length
-Subtle layers
-Deep, straight-across bangs
Diamond //
A diamond face shape is more rare, with the widest part of the face around the cheekbones and eyes and a narrower forehead and chin. To key to flatter a diamond face shape is to create the illusion of volume at your forehead and jawline. Freida Pinto has nailed this look with thick side bangs that hit just above her brow, making her forehead appear wider. Her shoulder length cut with choppy, curled layers fills out her jaw line. 
Key phrases to use with your stylist: 
-Shoulder length
-Thick, short side bangs that graze the tops of your brows
-Subtle layers
Pear //
Haven't heard of a pear-shape face before? This face shape is often confused with a square face shape. While it's similarly angular, a pear face shape is widest at the bottom of the face (cheeks and jaw), and the top half is more narrow. Flattering your pear face shape is a balancing act. You have to balance the volume of the bottom half of your face with a similarly voluminous cut on top. Ellie Kemper has the right idea with heavy, long side bangs that hits her mid-cheek. The thickness of these bangs creates the illusion of having a wider face on top, balancing out the lower half. Her cut and style is more bouncy and full, supporting her wider jaw line without enhancing it as long, straight hair would. 
Key phrases to use with your stylist:
-Just above shoulder length
-Deep layers
-Thick, long side bangs
Round //
A round face shape typically has softer features, with a rounded chin, full cheeks, and a wider forehead. The goal is the elongate the roundness of your face with contrasting cuts that have longer, angular layers. Emma Stone shows us how it's done with her long layers and curtain bangs. Emma avoided, short choppy layers in order to achieve an edgier, long, sleek cut, even thought this style is shoulder length. The parted curtain bangs hit at her jaw line, creating an imaginary line down her face for the overall illusion of a longer face.
Key phrases to use with your stylist:
-Shoulder length
-Long layers
-Curtain bangs that hit at jaw
Square //
A square face shape typically has an angular, defined jawline and prominent cheekbones. The width of a square-shaped face is also about the same from the jaw to the forehead. To flatter the square face face, opt for a soft, fun beachy cut with lots of deep layers like Rachel McAdams. The inverted lob will soften your features as well since the long layers in the front will frame your face. Rather than creating more angularity, these piecey rounded layers offer a more feminine and softer cut to counter act the angles of the square face. 
Key phrases to use with your stylist:
-Inverted bob
-Deep layers
-Piecey cut