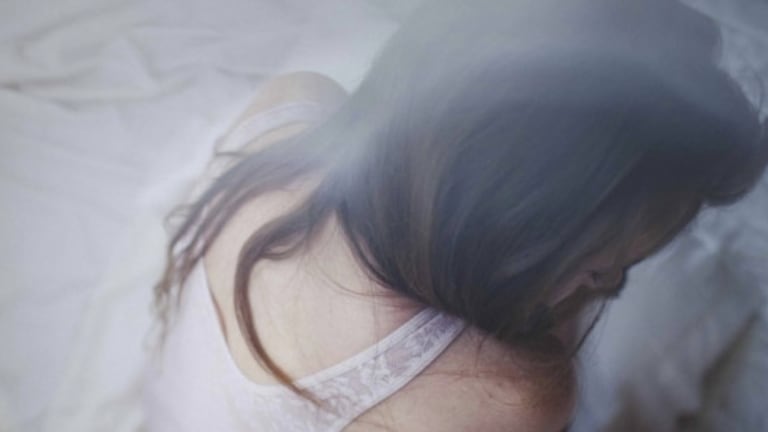 5 Misconceptions About Sexual Assault We Need to Forget
The percentage of false reports of sexual assault is a lot lower than you think.
The conversation around sexual assault is reaching a fever pitch these days. In the past year, we've hardly gone a month without a reminder of it in the media. We heard striking musical performances at the Oscars; saw headlines about singer Kesha's battle to legally detach from her alleged abuser, Dr. Luke; read cover stories, like that of New York Magazine, on Bill Cosby's 35-plus accusers. It's in buzzy documentaries such as ESPN's Fantastic Lies, which details the fallout that comes from false accusations like the Duke Lacrosse scandal, or Hot Girls Wanted, about the exploitation and abuse of women in the sex industry. 
For all the talk on sexual assault these days, though, there remain many misconceptions about how sex crimes affect victims. Why did they react as they did? Why didn't they tell someone? Did they bring it upon themselves? These questions permeate the discourse about assaults. Add to it that the conversation around statistics—is it really 20 percent of women who have been assaulted?—and it can be difficult to have a clear conversation without systematically disavowing the victims who need our understanding and support. 
The fallout from sexual abuse is a problem that not enough people are talking about. Challenging the misconceptions plays a significant role in raising awareness of the issue.
Myth #1: It Doesn't Happen That Often
In the social commentary on rape and sexual assault, the numbers have been much debated. The oft-cited statistic for sexual assault is that 1 in 5 women are victims. We first heard that figure in 2007 when the U.S. Department of Justice released its Campus Sexual Assault Study, in which it was reported that 1 in 5 women were sexually assaulted during their time in college. Many said it wasn't a legitimate claim. But in 2015, the Association of American Universities, known as AAU, released corroborating evidence. This study has also fallen under scrutiny.
In the AAU study, sexual assault was defined as "including both rape and sexual battery, such as forced kissing, touching, grabbing or fondling." Some outlets claim that number is conflated because it's results lump together instances of forced penetration with smaller violations like any sexual experience under the influence of alcohol. Others praise the study because it actually included separate and detailed questions about whether there was penetration.
The primary concern with both is the bias inherent to the test population. Neither is indicative of a whole nation or even a "random" sample. Both are specific to college students. The AAU study had a relatively low 20 percent response rate which collectively came from 26 of the 60 institutions in the Association of American Universities. John Foubert, a professor of higher education and student affairs at Oklahoma State University says these are "more elite, large institutions."
But the National Intimate Partner and Sexual Violence Survey, also oft-cited, tells a similar story. Conducted in 2010 via a "national random digit dial (RDD) telephone survey of the non-institutionalized English and/or Spanish-speaking U.S. population aged 18 or older," 18 percent of females surveyed have been the victims of rape or attempted rape at some point in their lifetime. It may report less than the 1 in 5 figure, but it's no less alarming and problematic.
While factoring the degree of the assault may change the statistics, the fact remains that any occurrence of sexual assault is one too many. A "lesser" form of sexual assault doesn't make it any more okay. Focusing on the confusion over statistics detracts from the real reason we are talking about sexual assault: to eliminate it completely.
What we do know for certain is that sexual assault predominantly affects women; 91 percent of victims are female. A recent report found that cases of sexual assault have fallen by 49 percent in the last decade. While this is a significant reduction, it is estimated that one sexual assault occurs every 107 seconds in the United States. Until that number is reduced to zero, sexual assault remains a crisis that demands our attention.
Myth #2: The Rape Victim Could Be to Blame
In every single case of sexual assault, it is never the victim's fault. Still, it is all too common to hear or read how a survivor of sexual assault somehow provoked or encouraged the assault, whether because of the way she dressed or how much alcohol she had consumed. However, Georgetown Law emphasizes that sexual assault is about the perpetrator exercising power over their victim and taking advantage of her without her consent.
Some people wonder why a victim didn't "just fight back" when confronted by the perpetrator. When a victim is sexually assaulted, there can be many reasons why she is unable to resist the assault ranging from being intimidated by the attacker due to his physical strength or threats he has made, fear of something worse might happen if she resists, or feeling frozen and unable to move. Freezing is one of the body's responses to traumatic situations and is known as "tonic immobility." Nonetheless, widespread misunderstanding about the freeze response to trauma can contribute to the victim later blaming herself saying she could have prevented the assault if only she had resisted more.
Myth #3: The Rape Victim Could Have Escaped If She Wanted
In a story covered by the podcast This American Life and reported in print by The Marshall Project, Marie, a young woman living on her own, was raped after a man broke into her apartment. When she called her former foster parent, Shannon, to tell her what happened, Shannon said she was immediately suspicious that Marie was lying based on her reaction to the assault. She told This American Life: "There's something about how she said it that just made me question whether or not she'd actually been raped. It was the tone of her voice. There was just no emotion. It was like she was telling me that she'd made a sandwich." 
What Shannon didn't understand was that feeling detached and numb is a common reaction for a victim to experience after the assault. One might expect that she would be hysterical and crying. But Marie's reaction is actually very common and is considered normal.
A sexual assault carries with it a high probability of lasting effects. Eighty-one percent of women who were assaulted report significant short or long-term impacts such as Post Traumatic Stress Disorder (PTSD). 
After a sexual assault, the victim can experience a range of emotions including calm, hysteria, laughter, anger, apathy, and shock and their reaction depends on a variety of factors. Immediately following the assault, the victim might be in shock and feel numb or may experience strong emotions such as fear. They may also feel guilty ("I should have done something more to prevent the attack from happening"), angry, or ashamed. 
Some victims may want to talk about the attack immediately afterward while others are not comfortable talking about it yet. Neither reaction is "better" than the other. The Medical University of South Carolina emphasizes that common responses to the trauma of a sexual assault include fear, guilt, loss of control, flashbacks, difficulty concentrating, depression, feeling "dirty," disrupted relationships, and an avoidance of sexual activity. The key message here is that suspicion shouldn't arise if the victim doesn't react in a way that you think of as normal.
Myth #4: Victims Don't Report Because It Wasn't a Big Deal
In all the media coverage, it's not unheard of for a reporter to quote surveyed women who said they didn't report their assault because they didn't think it was a big enough deal at the time, and conclude that it, therefore, must not have been a big deal.
As a therapist who understands the psychological component of assault, I can say definitively that this is not the case. 
You might wonder why as many as 63 percent of sexual assaults go unreported. And how more than 90 percent of sexual assaults that take place on a college campus are never reported. Unfortunately, there are many reasons why a victim may choose to forgo reporting the assault. Some of these reasons, according to the National Sexual Violence Resource Center, include fear that they will not be believed, fear of retaliation by the perpetrator, being pressured by others not to report the assault, fear that reporting might negatively impact the family (if the offender is a family member), distrust of law enforcement, and completing a rape kit is emotionally difficult. 
In his book Missoula, which investigates a series of sexual assaults in the college town of Missoula, Montana, author Jon Krakauer found that many of the women he interviewed for his story suffered a great deal after reporting their assault. These women had to relive the trauma of their assault and were tasked with proving that they were assaulted. Reporting the assault can be intimidating. As a result, six out of ten cases are never reported. For some, the emotional cost just seems too much.
Myth #5: Most Rape Victims Are Lying
What can you do to help a friend who tells you that she's been sexually assaulted? The best thing you can do for her is be her ally and advocate. The percentage of false reports for sexual assaults is between 2 and 11 percent, so the likelihood of your friend lying is low. Allow her to process what happened at her own pace. Encourage her to take advantage of her social support and psychotherapy as she begins the healing process. The list of common effects that a sexual assault can have on a victim is long, ranging from physical effects such as nightmares or physical injuries to emotional effects such as depression or shame to cognitive effects such as flashbacks and difficulty concentrating. Whatever you can do to help your friend cope with the effects of the trauma she has suffered is invaluable.
The frequency of sexual assaults and the effects it has on its victims emphasizes that this is an issue that needs to be a topic of conversation and education in order to raise awareness and prevent. As Madelyn Parsons wrote for Verily her personal account of the aftermath of the sexual assault she experienced, "It's about time those who talk flippantly about rape victims crying wolf to wake up." It's time to understand the facts and support survivors of sexual assault in their healing process instead of doubting their stories.
Photo Credit: Andrea Rose Photography