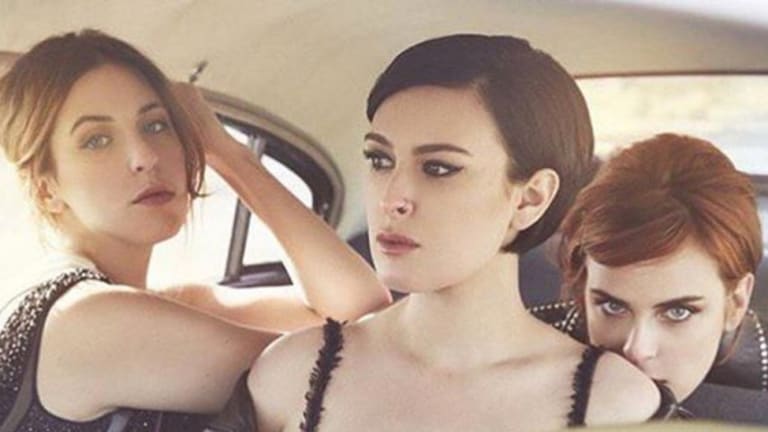 Rumer Willis Just Called Photoshopping a 'Form of Bullying'
This star is taking a stand against airbrushing away the things that make us unique.
Rumer Willis is the latest celebrity to call out photographers for Photoshopping her appearance, stating in no unclear terms that she's just fine with how she looks naturally, thankyouverymuch. Vanity Fair posted a photo on Instagram of Willis and her sisters, Scout and Tallulah, from a sunny, bohemian photo shoot that depicts Willis' jaw looking much smaller than it is in real life.
Willis took to social media to ask her followers to take down any shares or reposts of the image, explaining that "the photographer Photoshopped my face to make my jaw smaller, and I find it really offensive for anyone to try and change the way you look so drastically. I love the way I look, and I won't support anyone who would feel a need to change the way I look to make me beautiful," she wrote. Preach.
Unfortunately, Willis isn't the only celebrity to notice that her appearance has been digitally distorted without her prior knowledge. Just last month, Kerry Washington called out Ad Week for Photoshopping her cover image to the point of looking "so different from what I look like when I look in the mirror." Kate Winslet has gone so far as to stipulate in her 2015 contract with L'Oréal that she never be Photoshopped. Spurred on by gratuitous alterations to her likeness in a 2003 issue of GQ and an issue of 2013 Vogue, Winslet has had enough. "I do not look like that," Winslet said of the flawless images. "More importantly, I don't desire to look like that."
And neither does Willis. She's completely comfortable with her jaw as it is—it's a part of what makes her unique. "Whether or not they realize it, it is a form of bullying, which I won't stand for," she said.
Bullying. Now that's a comparison we haven't heard before. The term "bully" quickly brings to mind the kid on the schoolyard calling someone else fat or ugly or poor or stupid, the goal being to make the other person cry—to believe that something's inherently wrong with them, that they're not good enough. Bullies break others down by saying and doing things to make them feel shame for who they are. By adjusting Willis' jawline, Vanity Fair was effectively saying, "You are not beautiful enough as you are; no, it's not enough that you're talented and accomplished and have beautiful eyes—your jaw is too ugly. We won't just tell you that in the schoolyard, we'll put it in ink: The jaw on your face, that you walk around with and show the world, is not fit for print in our publication."
Willis has a point. Vanity Fair and publications that Photoshop women are sending messages loud and clear that women are not beautiful enough, not just to the women photographed but also to readers everywhere who consume these images.
We salute you, Rumer, and we thank you for standing up for yourself exactly as you are. I'd much rather see the unaltered photograph: showered in the love of your sisters, confident, and yes, uniquely beautiful.
Photo Credit: Instagram @ruelarue