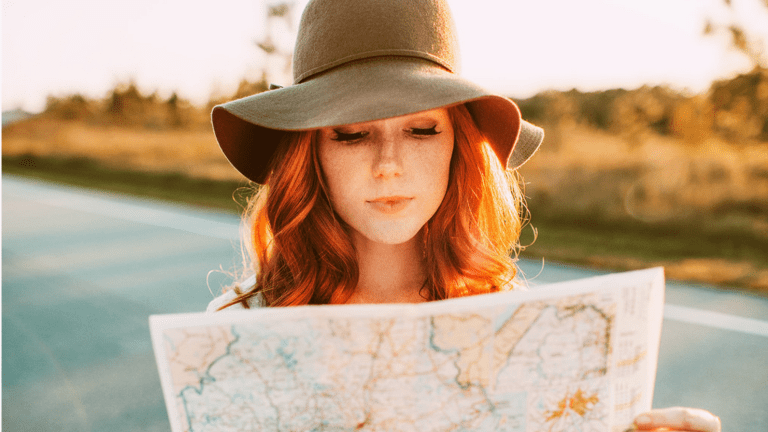 8 Hacks to Make Your Next Long Drive More Fun
The journey can be just as good as the final destination if you do it right.
If I ever win the lottery, I would go ALL out on a fancy vacation. We're talking a first-class plane ticket with complimentary drinks and toiletry bags with mini toothbrushes. A hotel room that has a living room and a kitchen and an ocean view. And of course, dining out for every meal at the area's best restaurants.

Unfortunately, very few of us ever win the lottery, or have thousands of dollars to spend on such an extravagant holiday. But does that mean we can't take amazing, memorable vacations? Definitely not.
Taking a road trip is one of the most economical ways to have a getaway, but most people see them as just the means to an end. But with these 8 hacks, you can make any road trip as special and enjoyable as the destination itself.
01. Make it a food tour.
Road trips are notorious for poor food choices. McDonald's for the third time, anyone? But they can become a foodie's adventure. If you find yourself stuck with only fast food options, research to see if they have a "secret menu" you can experiment with, or challenge yourself to order something you've never tried before. It might take a little extra planning, but you can also take short detours off the highway to try unique, local restaurants that you would never happen upon otherwise. Map out your route and timing, and Google towns you'll be near around eating hours.
02. Use a paper map.
Challenge your 6th grade geography skills by taking turns to guide the driver using a real, paper map, instead of relying on your GPS. Even if you get a little lost, you may discover a new scenic route along the way. But don't use this method if you're in any sort of rush, as you may end up making some mistakes along the way—not a bad thing if you've got the time!
03. Take a screen break.
These days, most sources of entertainment involve sitting in front of a screen, whether on a tablet or in the palm of your hand. With YouTube, Netflix, Instagram, and Snapchat, it's nearly impossible to escape "phubbing." On your next road trip, take advantage of a different form of entertainment: listening. Catch up on podcasts such as "Happier with Gretchen Rubin," "A Taste of the Past," or "Serial." You can "read" an entire book on your road trip by listening to an audiobook. If you you're up to it, disconnect completely and just listen to nature or whomever you're making the journey with.
04. Keep everyone entertained.
Even if you go into a long road trip with the mentality that you're going to enjoy it, little ones or antsy friends might not feel the same way. By packing a few essentials (movies, games, good music to suit everyone's tastes) and staying stocked on supplies (snacks, beverages, pillows), you'll easily be able to keep them entertained and comfortable.
05. See the sights.
If you're going on a lengthy road trip, there's a good chance you'll be driving through other awesome cities or tourist spots along the way. Instead of getting to your destination ASAP, pick a few touristy activities in the cities you'll be driving through. If you're making the trek from San Francisco to Los Angeles, for instance, stop by the Monterey Bay Aquarium and make a visit to the Santa Barbara Zoo. You may lose a day at your final destination, but exploring along the way makes the journey sweeter.
06. Test your snack-making skills.
Take a look at Pinterest or your Instagram feed. How many snack ideas have you seen that you'll probably never get around to actually trying? Whether it's healthy nut butter protein balls or an indulgent homemade Chex mix, put your skills to the test to keep the "hanger" at bay on long stretches of open road.
07. Try camping or glamping.
Going camping is no new idea. If your drive is going to be more than a day, break it up by stopping for a campout along the way. Signs along the highway often indicate nearby campsites (usually an image of a tent). Just make sure your trunk is stocked with shelter and sleeping bags, and you've just upped the adventure factor under the stars! If camping isn't your thing, glamping is a trend hitting many parts of North America (and beyond). These sites provide everything you need including a chic tent, amenities, Wifi, and even board games and group exercises depending on the location. All you need to do is make a reservation and show up!
08. Catch up with old friends or family along the way.
Unfortunately, we often move away and grow apart from family and friends. We mean to see them again soon, but how often does it actually happen? When you're planning your next road trip, double check to see if you're driving through any areas where one of them now lives. They might even offer up their home as a place to crash for the night, saving you the cost of a roadside motel.
If you're a fan of taking the scenic route, we'd love for you to share your tips on how you make the road trip well traveled in the comments!
Photo Credit: Shannon Lee Miller