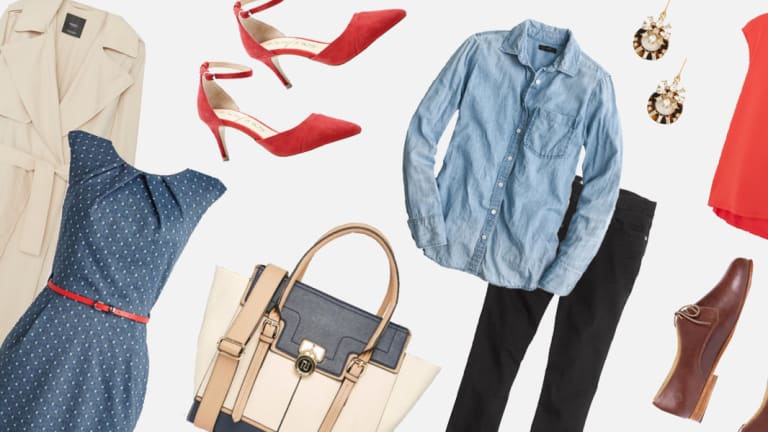 3 Common Workplace Dress Codes and What to Wear for Them
Unsure of how to dress for your office environment? This guide will help.
Whether you are entering into a new office environment or simply reevaluating your wardrobe, understanding the basics of office wear and the specifics of your company's dress code is essential to easy weekday dressing. What we wear can impact our productivity and can even help us be more confident in the job title we are taking on. Whether you're making waves at an emerging venture or hoping to fit in alongside your super-serious colleagues in the corporate world, there's a look that's perfect for you.
If you're uncertain of how to dress for your office environment, take some inspiration from these looks.
Start-Up //
This one goes out to all of the freelancers, entrepreneurs, and start-up pioneers, who have faced the "Is this professional enough?" dilemma. We have to admit, while a lax or even non-existent dress code seems ideal, sometimes the line between casually professional and just plain sloppy can become skewed. To achieve a pulled together, work appropriate, yet laid back look, the key is to stick to the basics—of your wardrobe that is. Think button downs, black skinnies, blazers, non-destroyed boyfriend jeans, oxfords, and breton tops. By mixing your classic pieces with your casual items, you can nail that professional millennial look every time.
Business Casual //
Business casual is perhaps the most confusing office dress code to master. The name itself is confusing enough to send anyone entering into the workforce into a nervous frenzy. What "business casual" really means is this: classic workwear staples such as pencil skirts, pencil dresses, heels, blazers, and blouses in more casual fabrics, prints, and colors. All you have to do is shop for business staples that have a fun flair. For example, a subtly polka-dotted pencil dress, a pair of red heels, a floral pencil skirt, a linen blazer, or a checkered button-up. See? Business casual can be fun!
Corporate //
Corporate, aka "formal business," is the most difficult to experiment with because it's the strictest. Whether you're working at a prestigious law firm or in finance, you want to make sure you look the part—meaning, suits. Sounds boring, but really, there is nothing like a flattering suit to make you look like a million bucks. So first and foremost, purchase high-quality slacks, blazers, or pencil skirts and take the time to get your items professionally tailored. In terms of letting your creativity shine, stick to stark colors such as crisp white, black, and bold red, and never be afraid to mix and match. A pair of classic sling-backs, stilettos, or pumps will make you feel like the powerhouse you are.