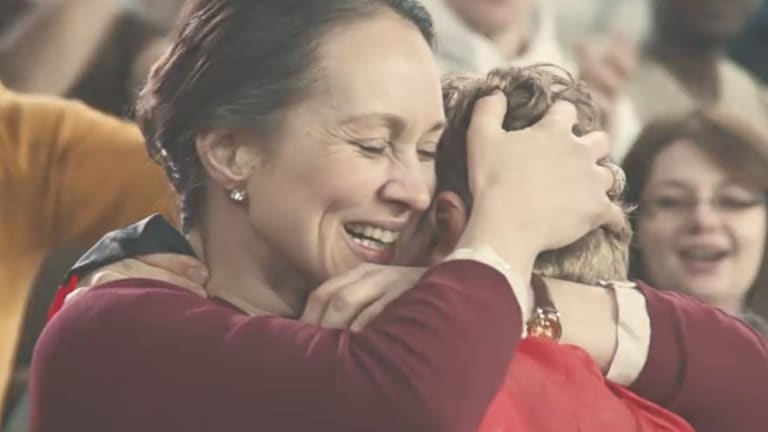 This Year's Sweetest (and Funniest) Mother's Day Ads
Tissues at the ready, it's time to celebrate our moms.
We've been officially celebrating Mother's Day in this country for more than a century now. In that time, advertising departments have come up with some ceremonious campaigns and television spots to rival even Super Bowl commercials. Sometimes these ads manage to sidestep the sappiness associated with this holiday and tap into something true, something beautiful, something powerful—the essence of motherhood.
In honor of going that extra step, we'd like to share a few of this year's top Mother's Day ads.
Apple
Apple posted a new thirty-second spot as part of its Shot on iPhone campaign. It shows us motherhood as seen through the iPhone lens of its users. Clever in its candidness and adorably set to the song "Because You Are Who You Are" by K. S. Rhoads, this sweet montage could've gone on for sixty seconds, and we'd still love it.
P&G
Sponsor of the Rio Olympics Procter & Gamble hands us an ad fit for champions. Highlighting real-life adversities from the perspective of the child and grown-up Olympians, and the mothers who mold them, the two-minute ad contrasts definitive childhood moments when their mothers made an impression on them with dramatic scenes of intense competitive grandeur. The victories are then framed as a thank-you to the mothers who reassured them with steady hands or words of encouragement throughout their lives. "It takes someone strong to make someone strong" is the message. Yes, indeed.
Pandora
Many moms love charm bracelets to collect reminders of their children, so the jeweler Pandora is taking this opportunity to address the uniqueness of every mother's patience, support, and "love, profoundly and eternally, each in our own way" in this memorable thirty-second spot.
Pampers 
Nothing seems more cliché than a diaper company airing a Mother's Day commercial, but the quintessential baby brand hits a home run on this one with a voice-over letter from mother to child by speaking the universal truth of "when you were born, I was born."
Macy's
In this campy ad, a salesman assumes the role of kitschy Jewish mom as he tries on a necklace for a presumably single twentysomething girl. The ad capitalizes not on demeaning motherhood or even a specific demographic but rather references a humorous aspect of the child–parent journey appreciated in an ironic or knowing way.
The Body Shop
Not all the best odes to moms have to be serious, as we're reminded with The Body Shop's full-on farce in this hysterical spoof on the British royal family. The ad leaves viewers with the reminder: "Treat mum like a queen!" Camilla Parker Bowles lends just enough legitimacy to the whole situation that you spend a good portion of this thirty seconds wondering if that actually is Prince Harry sprinting through the frame in Union Jack boxers or if that really is Prince Charles whispering lovingly to his roses until the royal corgis destroy them.
Peak Milk
While we're enjoying ads celebrating mothers with inspiration from abroad, this one from Nigerian milk company Peak Milk is hard not to love. It takes us along on a musical tour of motherhood. Try not to bop along with the happiest-looking mothers I've ever seen.
Ulta Beauty
The cosmetics retailer touches on something that resonates deeply with daughters who shop at their stores: Mom, the original beauty icon. Interspersed with vintage photos of moms sporting iconic retro beauty trends, the ad reminds us how our moms were likely the first ones who taught us to play up our best features, choose a signature color, and always believe in our own beauty.