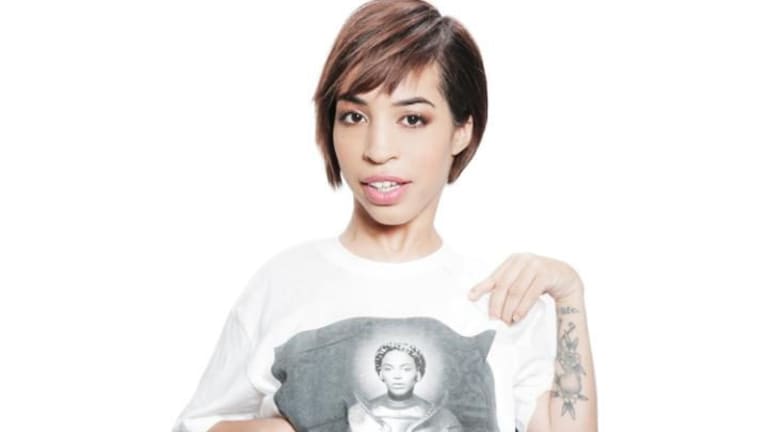 This Model with Muscular Dystrophy Is Fighting for Change (and She's Winning)
The new face of Beyoncé's merchandise, Jillian Mercado, is a true trailblazer.
Jillian Mercado isn't your most likely candidate to become a model—she was diagnosed with spastic muscular dystrophy as a child and has spent much of her life in a wheelchair. But that didn't derail Mercado's love of fashion, which led her to study at the Fashion Institute of Technology and internships at magazines such as Allure. And now she's blazing a trail into the most unlikely of niches as one of the faces of Beyoncé's merchandise line on the singer's website.
A recent video profile by INSIDER People is a testament to the optimism, spunk, and beauty of the rising star. INSIDER, a new publication from Business Insider, describes itself as being "about people who see wrong in the world and fight to make it right," and Mercado's drive to change the fashion industry and fight for a more inclusive approach to beauty standards is inspiring.
INSIDER People's video is a celebration of Mercado's persistence—she has been signed by IMG Models agency and starred in campaigns for Diesel, Nordstrom, and Target. What I find particularly heartwarming is that these modeling campaigns not only celebrate her particular brand of physical beauty but manage to capture her personality and warmth, too.
Thankfully, Mercado's story is part of a growing trend in the fashion industry to diversify and celebrate a broader spectrum of beauty—different body types, different skin colors, different abilities, different quirks that are all worthy of putting on a pedestal (or in a magazine) and admiring. Madeline Stuart's recent success making it as a model with Down syndrome is another wonderful example.
But there is still a long way to go, and it is worth noting that real change will only happen when this inclusion is not seen as a short-term trend but an essential practice that lifts all women up and celebrates them for their own unique and personal beauty. In a 2015 profile in Vogue, Mercado said of her growing fame, "I was shocked that I didn't see anyone in the industry who was like me. So when people—girls especially—tell me that I'm their role model, I am taken aback. I love it, and it is flattering, but it affects me on a very personal level because I remember growing up without having a person I could look to."
Every young woman deserves a world where she can look around and see herself reflected in a role model. Mercado talks about the frustration that occurs when people turn you away from something you love, even when "you know you are meant to be there." Her level of confidence is admirable, but it is easy to falter along a path that offers you no one to look up to in whom you can see yourself. So kudos to Mercado, Stuart, and all the women out there who refuse to accept that being unique is a detriment to success and by doing so, remind the world about the true nature of beauty.