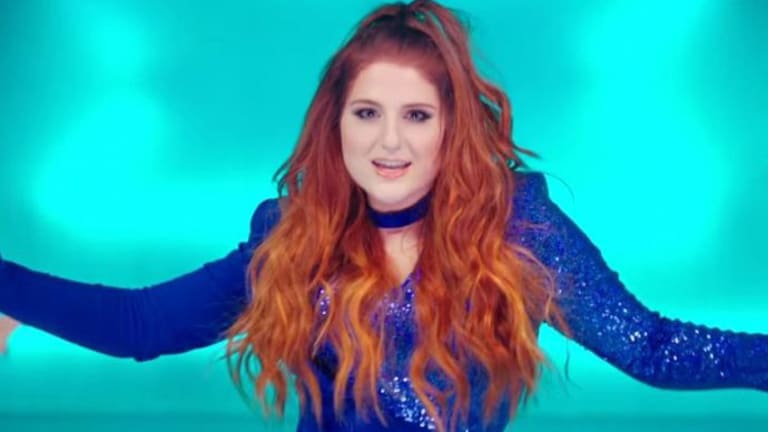 The Reason Meghan Trainor Pulled Her Music Video Was Really Powerful
Respect, Meghan.
This week Meghan Trainor made headlines when she pulled her music video for her recent song "Me Too" shortly after it was released. Trainor took action a couple hours after it was published after discovering that her waist had been digitally altered without her permission. The track is from her new album Thank You, and a replacement video has since been released, with the digital alterations removed.
Commenting on how she discovered the issue, Trainor says that initially she thought that fans were making the alterations, which saddened her—only to realize that it was her official video she was watching. Trainor called Vevo and demanded that it be taken down. She then took to Snapchat to address the music video:
"Hey guys, I took down the 'Me Too' video because they Photoshopped the crap out of me. I'm so sick of it and I'm over it, so I took it down until they fix it. My waist is not that teeny. I had a bomb waist that night, I don't know why they didn't like my waist, but I didn't approve that video and it went out for the world, so I'm embarrassed. I told them to fix it ASAP Rocky 'cause I will be going to Times Square to play it for my fans so I hope they fix it for me. And I am sorry about this. The video is still one of my favorite videos I've ever done. I'm very proud of it. I'm just pissed off that they broke my ribs."
This isn't the first time Trainor has spoken out in favor of healthy body image. Trainor has spoken out about body positivity before in both her lyrics and in interviews, and she is also a spokesperson for the #OwnYourCurves campaign, a digital ad campaign by Full Beauty, the world's largest marketplace of women's clothing size 12 and up. It's particularly apt for Trainor to fix this video given that the song, "Me Too," is another anthem about self-confidence and self-love.
In her gutsy move this week, Trainor has powerfully taken control over her career by speaking out about digital alterations. She has put her money where her mouth is by encouraging women of all shapes and sizes to accept their body types.
But despite her confidence in fighting back, Trainor is not immune to the pain of insults. She said she cried after finding out about the music video and she has admitted to struggling with her self-image. "Why would they ever be like, 'Let's break her ribs!' It's insulting, it's rude," she told USA Today. "Especially because I'm the only artist who talks about it."
The cry against Photoshopping has become louder as celebrities stand up to unrealistic standards of beauty and demand greater acceptance of natural body shapes to be represented in media. Accepting our bodies is often a struggle for women, especially in a world where the perfectly advertised bikini body is often unattainable, and plus size models actually look like the majority of us.
In her act of standing up this week, Trainor has revealed herself to be a role model both for women who need to confidence to take ownership over their careers, but also to women who struggle with body image.
When I watched Trainor's unaltered video, I saw a woman with my body type. How inspiring would that have been for me as a younger girl, to see a role model who looked just like me. I applaud Trainor and others who have declared their bodies to be up to their own personal standards. I hope that more women will stand up for authentic representations of themselves, as Verily strives to do with our no Photoshopping policy. Maybe then we'll get closer, one step at a time, to a world where we stop erasing away what makes us unique. 
Photo: Vevo