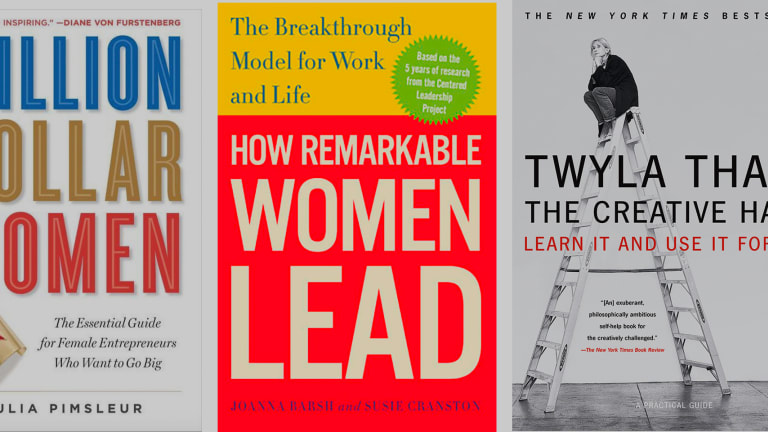 7 Female Leaders Share the Books That Transformed Their Careers
(Other than Lean In, of course)
Work the room at any networking event long enough, and some conversation is bound to lead to the same question: "Well, you've read Lean In, right?
It's a near certainty—that is, if you're a woman who just so happens to be working in the tech space like I am. Since its publication three years ago, Sheryl Sandberg's disruptive autobiography topped both the NYT and Amazon's bestseller lists and became arguably one of the most influential books for the working woman in the Age of the Smartphone.
No other women-in-the-workplace book has reached such controversial heights as this self-described "sort of a feminist manifesto," by Facebook's charismatic COO. Inspired by a now famous 2010 TED Talk, Sandberg's book was both heavily criticized and highly applauded—​quoted, highlighted, and torn apart—even by herself.
In honor of Mother's Day, the recently widowed Sandberg shared on Facebook how she underestimated how important it was to have a supportive, loving, significant other in order to reach the successes she did—and how self-adaptation isn't enough; that systemic change such as paid maternity leave must be demanded. Her newfound thoughts are certainly worth a read, and portray humility and an earnestness necessary to learn and evolve.
I can't deny that Sandberg's book had a lasting effect on me. I, for one, will never bake my colleagues cookies ever again. But Sandberg isn't the only one with a voice in the professional progress realm. Personally, I've always been one to appreciate books more like Tim Ferriss' 4-Hour Work Week—with a hammock as its cover. When I get asked about Lean In, usually I jokingly respond that I prefer to "lean back" instead (and yes, I'll have another cocktail). 
Recently, I spoke with several female leaders about the books—and the key lessons—that have influenced their outlooks on their careers.
01. Embrace Ambition
Laura Vanderkam is the bestselling author of I Know How She Does It: How Successful Women Build Lives that Work and What the Most Successful People Do Before Breakfast, among others. This busy writer, speaker, wife, and mother of four recommends Playing Big because "too many women hold themselves back by limiting their ambitions. This book talks about embracing ambition while being true to yourself." Channeling Sheryl Sandberg's desire for change, it gives more practical advice for how to implement that change. Playing Big helps women with not-so-obvious self-doubt issues to identify their "calling" and to train themselves to not be so affected by either praise or criticism.
02. Overcome Your Insecurities
Christen Thompson is the marketing director at Authors.me and co-owner of Itinerant Literate Books, a mobile bookstore in Charleston, South Carolina. She finds that we too often fall prey to our own insecurities for no good reason. "Being a human is an amazing thing, and the fact that we're all so different is something to be celebrated and embraced, not scrutinized and used as fodder for personal self-destruction." In Bringing Your Boldest Self to Your Biggest Challenges, the author, Amy Cuddy, shares that having awareness of oneself and the moment is empowering and important not just for women but for anyone.
03. Transform the Way You Pitch Your Ideas
Tanya Menendez is the cofounder and CMO of Maker's Row, a business focused on access to American manufacturing. She and cofounder Matthew Burnett built it from their living room into a 3,100-square-foot office space in downtown Brooklyn today. Trust us—she knows a thing or two about how to pitch a successful idea. "Pitch Anything has to be on top for me right now," Menendez shares. "I'm naturally not very aggressive, but sometimes it's necessary to be in business. This book helped me balance that out." Applying the latest research in neuroeconomics, Klaff describes how the human brain makes decisions and responds to pitches. Whether you're selling an idea to investors, pitching a client, or negotiating for a higher salary, Pitch Anything will help you control every stage of the process.
04. Make Your Business Goals a Reality
Karina Mikhli, VP of Partner Accounts at Authors.me, has spent most of her career managing content operations at various publishing houses. She also runs Women's Business Leadership Book Club. To Mikhli, Million Dollar Women "was a wonderful first-person look at how a mother took a risk, created a business she believed in from scratch, stuck with it through hard times, and managed to not only grow it into a million-dollar company but is also giving back and teaching the next generation of women entrepreneurs." In addition to the writer's hard-learned lessons and inspiring story, Pimsleur describes two other women who have grown successful on their own and their tumultuous journeys as well.
05. Routinely Think Outside the Box
Dubbed by Fast Company as one of the most creative and influential entrepreneurs, Payal Kadakia founded ClassPass—a membership program for fitness classes across multiple gyms and studios that makes exercise more accessible, affordable, and inspiring. She also founded The Sa Dance Company, a contemporary Indian performance group that's garnered praise from the New York Times to MTV.
When we asked Kadakia for her book recommendation, she immediately mentioned Twyla Tharp's The Creative Habit. With such an eclectic, colorful background, it's clear that Paypal sees Tharp's message not only as a competitive advantage, but as a beautiful way to live. While many of us liken "creativity" to a nebulous artistic gift that some are naturally born with (or not), Tharp argues that creative thinking is the product of preparation and effort, and that everyone can be creative if we intentionally make creativity an integral way to energize our daily lives. Similarly, Payal takes her passionate creativity for dancing and applies it to her business ways of thinking. She shares, "I look to the rhythms and patterns in my life that have led me towards creativity and happiness, and then I focus on creating more of those cycles."
06. Pursue Balance
Monica Landers, CEO of Authors.me, began her career producing for ABC News with Peter Jennings and Good Morning America before she moved into the business of building Internet companies. Landers holds two patents in media innovation. She recommends How Remarkable Women Lead because it "addresses every aspect of our complicated and messy lives." She believes that its focus really speaks to most women: "how we can try to attain some sense of balance and self in the midst of all our challenges and aspirations." Landers says that she especially enjoyed the examples of handling setbacks, as the book gives "enough stories that everyone will find someone to identify with."
07. Know That It All Begins with Relationships
Natasia Malaihollo is the CEO and founder of Wyzerr, a tech company that's humanizing long, archaic surveys to be more engaging to people—and, consequently, more enriching for companies. "Peak made a huge impression on me, because it takes Maslow's theory on the hierarchy of needs and applies it to running a business." She describes that the author—CEO and founder of Joie de Vivre Hospitality—realized that, once companies started satisfying certain needs with their employees, essentially treating them as free-thinking adults instead of children who needed to clock-in at certain hours, this had a phenomenal effect on company morale, growth, and loyalty.
Malaihollo shares that the wisdom she found in its pages wasn't limited to the business world. "Whether it's business or personal, it drew home to me that treating people—fostering an environment that encourages growth—well isn't just the right thing to do, it can fundamentally change your relationships." She shares that in many ways, this book helped her realize that fostering human relationships—through tech or in person—is the key to transforming business results while enriching lives.
As busy women at home and in the workplace, making time to read books that empower us can seem like the furthest thing from a priority. Even Landers confesses, "There's some irony that as CEO of Authors.me—I don't get to read as much as I used to!" But investing a little bit of time toward vocational reading (just twenty minutes a week!) can give you inspiration that's a bit more eloquent than those after-work happy hour diatribes—and a breath of objective fresh air.