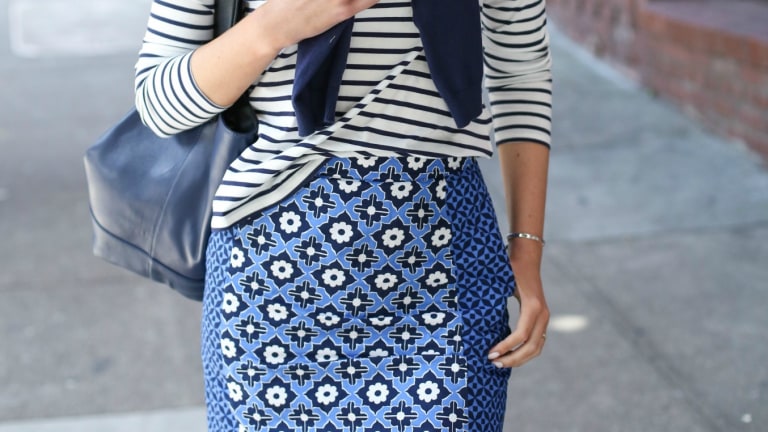 6 Pencil Skirt Looks You Can Recreate for Any Occasion
This feminine and flattering wardrobe staple is so much more versatile than you realize.
We all have a pencil skirt or two in our wardrobes. Many of us keep these figure-flattering beauties in our closets for purely business-professional occasions, but little did you know, these classic skirts are perfect for any occasion on your agenda. Don't believe us? Check out these enviable and easy-to-recreate looks for the next time you're brainstorming pencil skirt ensembles.
Preppy //
There's a little preppy in all of us—especially after seeing Olivia from the Corporate Catwalk rock this J.Crew-worthy outfit. Spice up your plain pencil skirt by pairing it with a brightly colored sweater and a button-up. (If you need some help on how to expertly mix and match sweaters with button-ups, check this out.) By adding a fun color, Olivia makes this more conservative office-appropriate look stand out.
Pattern Play //
Mixing and matching prints sounds scarier than it actually is. Mary Orton from Memorandum effortlessly shows us how it's done by pairing these contrasting patterns together, creating a surprisingly harmonious look. The key is to pick complimentary hues, even if their patterns are completely different. Mary's Breton striped shirt picks up on the blue and white in her floral-print pencil skirt. How's that for a mix-and-match look made in heaven?
Experimental Silhouettes //
Thanks to the structured fit on the pencil skirt, it's a canvas for experimenting with the overall silhouette. Since the skirt is sleek and fitted, why not have fun with a little volume on top? Mind you, don't lose your waist! Take a few pointers from Eleonora Sebastiani, who chose a peplum top to create a uniquely stylish silhouette. The final result is a fashion forward ensemble that simultaneously harkens back to the 1940s—sign us up!
Casual Meets Fancy //
That over-the-top sequin pencil skirt you absolutely love but "would never wear," can actually be worked into your wardrobe in a totally normal way. For a quirky, fashion forward yet totally attainable outfit, just add casual items. Blair Eadie shows us that even chucks can be worn with a bedazzled skirt! Balance out the fancy with a slouchy tee tucked in and a denim jacket on top. Who's the street styler now? 
Comfortable Knits //
We all have those casual days where we want to look fashionable but without any of the effort. Sarah Donaldson of Harper & Harley is the queen of upscale comfort, masterfully pairing basic items in dark color schemes and sleek fits in leisure fabrics. Copying Sarah's look is easy as 1,2,3. Simply wear your basic tee in a dark tone and pair it with a flattering cotton pencil skirt. To really blend classy with comfort, throw on a pair of your favorite black slip-ons.
Photo Credit: Memorandom