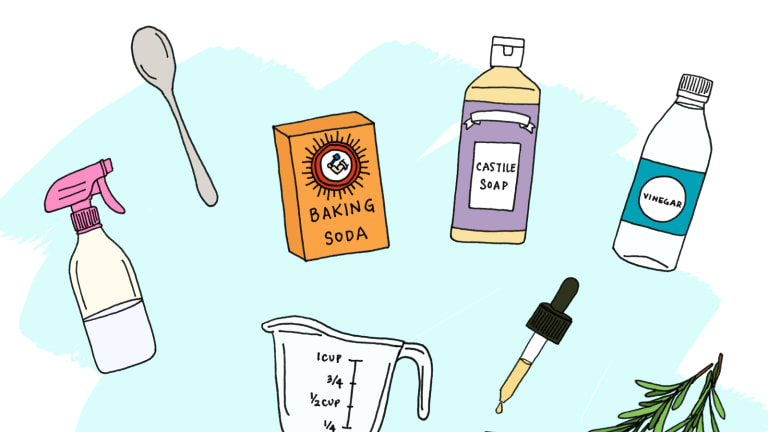 The Lazy Woman's Guide to Natural Spring Cleaning
Who knew making your own cleaning products was so easy and affordable?
Ditching commercial cleaning products and using your own homemade versions sounds great . . . if you're a person who has a lot of spare time on your hands. It's time-consuming and requires a bunch of weird ingredients, right?
That's what I thought. Then I researched DIY recipes and realized that most homemade household cleaners contain approximately three ingredients and can be whipped up in five minutes flat.
I became interested in making my own cleaning products when I knew I wanted to get pregnant. I didn't want harsh, unpronounceable ingredients in the products I was using around the house. By making my own, I kept the ingredients simple and limited to those I felt safe using in my home. This seemed like a good decision for me, the environment, and hopefully someday my baby.
I discovered another benefit along the way. Making my own cleaning products was so much cheaper than buying them at the store. Because most of the ingredients were basic household items such as vinegar, baking soda, lemon, and water, I often didn't even need to make a trip to the store to whip up a batch.
Here is a list of seven very simple, natural household cleaners. Click on the links for full instructions, and read below each recipe for my personal experience using each one. This is my Lazy Woman promise to you: All of these recipes require minimal, no-fuss ingredients and can be mixed and used in a matter of minutes.
Ingredients: distilled white vinegar, water, tea tree oil, essential oil
Equipment: glass spray bottle, measuring cup
For the kitchen you want to make sure any stray microbes are killed to keep you and your family healthy. Distilled white vinegar contains at least 5 percent acetic acid—even a low concentration of 3 percent acetic acid has been scientifically proven to be an effective bactericidal. Tea tree oil was also proven to have effective antiseptic and antifungal properties. In this case, I consider essential oil to be an optional ingredient—some essential oils also have antibacterial and antiseptic properties and smell great, but they're not cheap and not something I'm likely to have on hand. Sometimes I think they're nice to use, but if I'm having a particularly lazy and/or cheap day, I'll skip them altogether.
Ingredients: baking soda, lemon juice
Equipment: small dish, measuring cup, optional lemon juicer, spoon, sponge
Neither baking soda nor lemon are proven as effective bactericides, but when the two are combined, a bubbly reaction occurs that comes in handy for cleaning tough stains. If you ask me, there's nothing more magical than a recipe that only requires two ingredients (two!). Don't let its simplicity fool you, though. I let this concoction sit in my bathtub for ten minutes and was rewarded with a bright white gleam I previously thought was only possible from using abrasive bleach with an equally abrasive odor. Rather, this baking soda and lemon mixture is easy on the nose and fresh on the eyes.
Ingredients: baking soda, distilled white vinegar, tea tree oil
Equipment: measuring cups, glass spray bottle, toilet brush
The antibacterial properties of vinegar and tea tree oil combined with the bubbly reaction from adding baking soda makes this recipe an effective cleanser for germy toilet bowls. It's important to follow the instructions to a T on this one. I got so excited the first time I saw the simple list of ingredients that I mixed them together willy-nilly in a glass measuring cup and promptly watched them explode like a volcano all over my kitchen counter. If I had taken a few extra seconds to read the directions, I would have seen that I was supposed to spray the vinegar into the toilet, let it sit, and then sprinkle the baking soda on it a few minutes later. Lesson learned. When I did it correctly the second time, my toilet sparkled, and my bank account beamed.
Ingredients: water, white or cider vinegar, rubbing alcohol, essential oil
Equipment: measuring cups, glass spray bottle
Glass cleaner is one of those things I never ever imagined making on my own; buying the blue bottle at the store was such an ingrained part of my housekeeping routine. Yet, as with so many of these recipes, it was amazing to discover how easy it is to make my own safer, cheaper version without sacrificing on the effectiveness of store-bought versions. We know that vinegar is a potent cleanser, but the addition of alcohol is what makes this recipe great for glass. Alcohol is a proven disinfectant, and it quickly evaporates, leaving a streak-free shine.
Ingredients: olive oil, white vinegar
Equipment: spray bottle
According to DIY Network, the oil will nourish wood, while the white vinegar cleans it. Avoid using this on unfinished, unpolished wood, as it will stain. I often double this recipe and use one batch as wood polish and one batch as salad dressing. When a wood polish recipe is safe enough to eat, I definitely feel good about using it in my house.
Ingredients: warm water, liquid castile soap, essential oil
Equipment: old T-shirt, scissors, glass jar or other lidded container
I used to buy store-bought kitchen wipes without giving a second thought to potentially toxic ingredients. I also didn't think about the impact of disposable wipes on the environment: consumption of natural materials and waste production. This homemade version is so much milder and safer for your home and the environment but still gets simple cleanup jobs done. Liquid castile soap, the main ingredient in this recipe, is so gentle that you can use it as a body wash, on pets, and even on fruits and vegetables. Scientific studies have proven that castile soap is as effective as a bacitracin solution in cleansing. And becausse these T-shirt wipes are made of old clothes and are reusable, it's a lot more affordable, too. Imagine never having to buy kitchen wipes at the store again!
Ingredients: hot water, liquid castile soap, essential oil
Equipment: bucket, spoon, mop
It really is possible to clean your house or apartment from top to bottom using only a handful of ingredients you likely already have in your kitchen. With the same ingredients as the faux cleaning wipes, you can also make a great elixir for floors. Make sure to spot test first. This is a good tip not just for floor cleaners but all cleaners, whether store-bought or natural.
We hope this list helps you feel more confident about trying homemade, natural versions of cleaning products yourself. I was skeptical and intimidated in the beginning until I realized that DIY cleaning is a cinch. When researching cleanser recipes for more specific jobs (e.g. a soiled carpet or dress stain), look for recipes with simple ingredient lists that require a minimal amount of preparation. I promise that even on the laziest days, making natural cleaning products is doable. Beyond that, it's fun, affordable, safe, and eco-conscious!
Illustration: Emi Ito