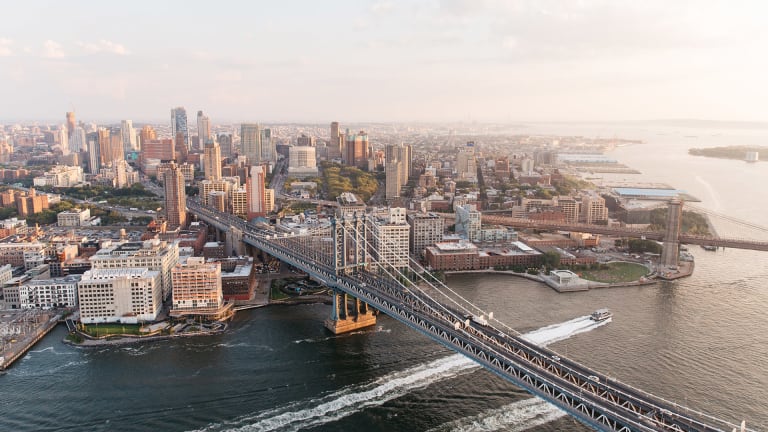 Yes, Moving is Stressful, But It Taught Me To Change My Outlook
Change is good—even if it's challenging.
This month marked my fifth move in New York City. I've only lived here for a little more than three years. Moving is never a fun experience, but moving apartments in NYC is enough to make one run away and give up everything to live in a hut on the beach.
In New York City, apartments come and go every day—usually your best bet for finding one is a mere two weeks out. You can't really plan, and you don't have a lot of control over your options.
I felt sick with the stress of finding my latest place, affording movers, and coordinating the whole moving process. A friend suggested I take a step back; she reminded me that I was not going to be homeless and that I was going to be OK. She was right. 
Just as soon as I quit freaking out, my roommate ended up receiving an email listing for a great spot. She and I saw the place the first day it went on the market, applied that day, and the apartment was ours within forty-eight hours.
Call it luck, call it fate, call it the grace of God—whatever you call it, the situation showed me the value in loosening the white-knuckle grip I had on my life. 
Try as we may, sometimes we just have to let go a little. Moving so often, and under such tenuous city circumstances, taught me to let go of my need to control everything, but in a broader sense it taught me to let go of other things in life that weren't necessary. Moving has been a grand adventure in learning to simplify my life and let go of the rest.
Here's the thing: We live in a world full of stuff. It's tempting to want more and more. On my latest move, my roommate and I discovered we had three SodaStreams. Three! But as the proverb goes, less is best. Moving so often really forced me to think about my approach to life. When something suddenly becomes an extra five pounds that must be boxed, carried up six-plus flights of stairs, and stowed in a 900-square-foot space without closets, you really start to examine what it adds to your life.
So I have to ask myself: "Can I find pleasure in a simple glass of tap water and avoid the clunky, costly presence of a 21st-century bubble infuser?"
Yes, I can. 
It's a lesson in moving, but it's a lesson in life just the same. Our perspective tends to defy us at times. Would I choose sitting by an ocean over binging on Netflix? Yes. Would I find more joy in one high-quality dress than three from Forever 21? Most definitely. While it's true that not everyone has these options, for myself and many I know, we choose those less-desirable options out of habit or as a default. But it's best to chase the simple and timeless pleasures in life rather than the fleeting euphoria of today's latest "must-haves."
Quality over quantity—that simple lesson has helped me redefine my life overall. I don't have time to go to every event or see every friend, colleague, or former classmate who comes into town. I make time for the friends who also make time for me—the people I know will bring me life by being around them. When I'm seeing fewer people overall, I allow the relationships I do have to grow stronger, and our time together becomes that much higher quality.
And those moving woes I have? Definitely #firstworldproblems. I live and work in the most expensive city in the country. I'm grateful to be able to make a living here in the Big Apple. These moves have shown me that I don't need to control and plan out everything in my life. For a planner like me, it's hard to come to grips with the fact that I can't look for an apartment until the month before I need to move. But there's such value in being able to let go and have faith that all will work out. 
Even when I think I'm not going to land an apartment, or not be able to afford moving fees, or not be able to find a roommate, I am pleasantly surprised with ample provision. When I think I can't get rid of something because someday I'll want it, I always find that isn't the case. I'm happy to be free of it, and I can focus more on the things I have that I love. Being intentional about your approach to life and things makes you that much more thankful for it all.
Home is where the heart is. My apartment is my oasis. I rely on good food, good friends, and good music filling the space to make it feel like home. Lots of decorations and knickknacks no longer have a place in my space. They take up room, they're hard to pack and move, and they ultimately end up collecting dust. Buying fresh flowers on the street after work or picking up a candle from the sale section at Marshalls are two indulgences that make my apartment cozy and comfortable. The rest of my focus is on the peace of my home and love of those I have in it.
I would never have chosen to move five times in the past three or so years, but looking back on it, I'm grateful for the changes. I've learned to not sweat the small stuff and to give up the things I don't truly need. To let go of control and go more with the flow. Now I understand that at the end of the day, possessions aren't what makes a house a home. People and experiences are, and my life is so much fuller because of it.
Photo Credit: Death to Stock Photo