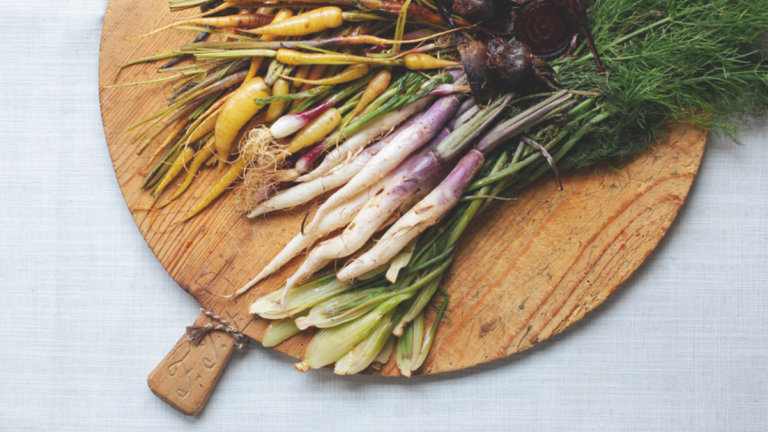 I'm Spending Less Time in My Kitchen and Eating Better Than Ever
Preparation is the key to success.
For as long as I can remember, cooking has been one of my greatest joys and favorite hobbies. When I first started cooking for myself and my husband, I was excited to make detailed meal plans every week and spend hours a week preparing homemade breakfasts, lunches, and dinners from scratch. Unsurprisingly, I found myself worn out and frustrated by our grocery budget at the end of every month.
In an effort to relieve stress and rekindle my love for home cooking, I decided to study my habits, do a little research, and alter my approach. By simplifying and focusing on what I love about cooking, there are five ways I've changed my cooking habits so that I can be more efficient while eating healthily and enjoying the process.
I'm Cooking a Few Recipes I Love Over and Over
Instead of making new and exciting meal plans every week, I took some cues from developing my capsule wardrobe: Find a few quality items you love and that suit your life, wear them often and with confidence, and keep things creative and interesting through small choices. This approach has helped minimize decision fatigue and frustration with my closet. Applying the lessons to meal planning has yielded similar results.
I identified a few favorite meals that work well for my lifestyle, and I keep them in regular rotation for meals. Salmon burgers, quiche, roasted chicken, and tacos are a few of our staples. They are simple to throw together, they're healthy, and we love them. They're also adaptable, which allows me to minimize food waste by creatively using up leftover produce and protein in the fridge.
On afternoons and evenings when I have more flexibility, I try new recipes or prepare some of our more complex favorites.
Cheryl Mendelson explains in her book Home Comforts that "those who are most successful at accommodating the time pressure of the modern home are those who put effort into becoming good intuitive cooks. Good cooks have physical skills that let them work quickly, and they have a good repertoire of thought-out, easy-to-prepare meals and dishes that they can turn to when time is short."
By developing a set of "capsule recipes" and sharpening your intuitive cooking skills, you can create meals for yourself and your family quickly and consistently.
I'm Maximizing My Time in the Kitchen
Whenever I cook, I rarely prepare a single dish or meal. I look for opportunities to prep for the next few meals.
Cambria Bold, former food editor for The Kitchn, notes that when it comes to meal planning, the whole point is not to start from zero every night.
"When I really got this concept, it changed everything," she writes. "I began asking myself: What can I do on Sunday, or in the morning, or in a free five-minute block this afternoon that'll make cooking this week a little easier or faster? Maybe it's washing and drying a pile of salad greens, chopping an onion, or just setting out all the spices I need."
I typically plan an easy dinner on Monday evening so I can set aside time to prep for the rest of the week's meals. Last night, we ate taco bowls using frozen meat I had already prepared and a simple avocado and yellow pepper salad. This freed up time for me to prep salmon burgers (which will be used in two different meals), bake banana bread, prepare a black bean salad, and tidy my kitchen. Being one step ahead on food planning diminishes the temptation to spend money eating out or choose unhealthy quick options.
I'm Stocking My Pantry and Freezer
I've been cultivating a small stockpile of pantry and freezer staples. This allows me to take advantage of grocery store sales.
We eat roasted chicken two to three times a month for dinner. At the end of dinner, I typically debone the chicken, set aside some for lunch the next day, and freeze the rest. Knowing that I have frozen, cooked chicken ready to go makes preparing meals such as white chicken chili, pasta, and Cobb salad a breeze.
I use this principle when making big-batch foods such as cookie dough, tomato sauce, refried beans, and homemade scone mix. When a meeting rolls around, and I realize that I don't have a snack to take, I can quickly bake or heat something up.
I'm Accepting My Limitations
As someone who works from home, I tend to feel pressure to make everything from scratch. After all, I do enjoy making bread, peeling and chopping whole carrots for snacks, and trying things like homemade mayo. But I'm realizing that my time is limited, and I can outsource strategically.
Laura Vanderkam writes about the pressure that women feel to provide an organic, healthy, seasonal diet for themselves and their families, as well as the energy and resources they expend in that endeavor. "Time spent doing one thing is time not spent doing another," she says. "I could spend two hours going to the farmers market every weekend and an hour cooking every night. Indeed, I sometimes enjoy cooking elaborate dinners. But I usually don't do it, for a simple reason: I believe it's more important to spend that time interacting with my family or doing the professional work I love."
I, too, am learning how to balance it all. I've decided not to let perfection be the enemy of good. I'm now using a good mix of homemade and store-bought ingredients to make my meals.
I'm Running My Kitchen Like a Restaurant
For three years in college, I worked at a coffee shop that also served light meals. I came to love working in the kitchen, making crepes, washing dishes, and prepping ingredients. I learned that in a professional kitchen, efficiency and consistency aren't luxuries. Rather, they are necessities that correlate with a shop's success.
I'm learning to manage my time in the kitchen through adopting simple principles that help me be efficient and consistent in my cooking. I start with my sink clear of dishes. Having my recipe ingredients mise en place—French for "set in place"—is becoming second nature. I'm no longer digging through my kitchen cabinets trying to find my loaf pan because I've KonMari-ed my kitchen to easily and quickly access the tools I need.
"Keep it clean. Keep it tasty," was the mantra of the shop's manager (who happened to be a trained chef). And that simple secret echoes through my mind as I now manage my home kitchen.
Through making these small but significant changes in my approach to cooking, I'm able to savor the food I'm preparing and enjoy the time spent in and out of my kitchen. Figuring out how to prepare meals in a way that works for each home cook is vital. As with all areas of life, identifying key strategies may mean the difference between frustration and joy.
Photo Credit: Julia Gartland