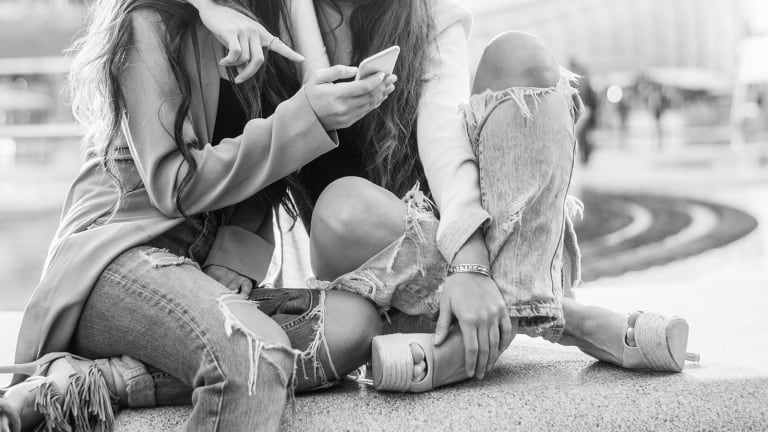 This Research Reveals the Real Side Effects of Our Sexualized Culture
A new book provides eye-opening facts on the sexual landscape that many girls face today.
As we at Verily are quite aware, the mainstream media has a love affair with depicting women in unrealistic and hypersexualized ways. Here and there, advertising campaigns are sprouting up—such as #WomenNotObjects—that show how these narrow beauty standards are insidious. But in pop culture, and in the real lives of many women, there remains a general confusion as to whether posing on a magazine cover or in a selfie half-dressed is exploitative or empowering.
New York Times bestselling author Peggy Orenstein offers some clarity on this matter in her recent book Girls & Sex: Navigating the Complicated New Landscape. Orenstein, whose past book was called Cinderella Ate My Daughter, has taken a critical approach to feminism and female upbringing for a while now. In her latest, she draws on in-depth interviews with more than seventy young women and a wide range of psychologists, academics, and experts, going where "most others fear to tread." In other words, she's exploring how girls ages 15 to 20 are navigating the sexual landscape in America.
While Orenstein may not give a full picture of the landscape—she jumps from extremes between very sexually active teens to purity-ring-wearers (whose behaviors she dismisses as almost as insidious as the former, for tying one's identity to their sexual actions)—she does offer insights into real problems that girls face. Here are some of the most eye-opening, if chilling, findings that Orenstein drew from her research and interviews.
Rape: It's Happening, and It's Worse Than We Thought
If there was still doubt as to the prevalence of sexual assault, the sheer volume of high-profile stories we've heard in just the past six months or so—Kesha, Bill Cosby, Woody Allen, accounts from the documentary Hot Girls Wanted, mass assault in Cologne—should have us thinking hard. And those are just the ones that landed in the headlines. As Julia Hogan, LPC, recently wrote for Verily, the stats about rape are controversial, but "the fact remains that any occurrence of sexual assault is one too many."
Orenstein's book adds more shocking stats to the mix. "I interviewed more than seventy young women between the ages of 15 and 20," Orenstein explains, and later adds, "Fully half of the girls had experienced something along a spectrum of coercion to rape.... Only two had previously told another adult what had happened."
Almost All Girls Experience Harassment
Remember when this young woman's street harassment story went viral in January? She was wearing a totally mundane outfit of pants, tall boots, and a long down jacket and was still catcalled by a stranger saying, "Damn, you have some great legs."
Orenstein notes that this is hardly an isolated incident blown up by a viral video. "Not all boys engage in such behavior, not by a long shot, and many young men are girls' staunchest allies. However, every girl I spoke with, every single girl—regardless of her class, ethnicity, or sexual orientation; regardless of what she wore, regardless of her appearance—had been harassed in middle school, high school, college, or, often, all three."
Sexualized Marketing Is Targeted at Girls
Given how frequently girls receive catcalls and harassment, it would seem to add fuel to the fire that clothing brands market hypersexualized clothing to young girls as they do. "While only girls get catcalled, it's also true that only girls' fashions urge body consciousness at the very youngest ages.... No one is trying to convince 11-year-old boys to wear itty-bitty booty shorts or bare their bellies in the middle of winter."
"As concerned as I am about the policing of girls' sexuality through clothing, I also worry about the incessant drumbeat of self-objectification: the pressure on young women to reduce their worth to their bodies and to see those bodies as a collection of parts that exist for others' pleasure; to continuously monitor their appearance; to perform rather than to feel sensuality."
Sexual Objectification Is Depressing—Literally
Drawing from a range of research, Orenstein found that objectifying influences hold girls back in myriad ways. "Self-objectification has been associated with depression, reduced cognitive function, lower GPA, distorted body image, body monitoring, eating disorders, risky sexual behavior, and reduced sexual pleasure. In one study of eighth-graders, self-objectification accounted for half the difference in girls' reports of depression and more than two-thirds of the variance in their self-esteem."
"A study of twelfth-graders connected self-objectification to more negative attitudes about sexuality, discomfort in talking about sex, and higher rates of sexual regret."
In other words, objectification in media is a pretty big problem if we care about women and girls advancing in the world and being judged for their merits equally to their male peers.
Selfies Aren't Harmless
Given this context, it may not come as a surprise that many photos and selfies kids post to social media are efforts gain bonus points in the pretty and hot departments. "I think it's just to get attention, to get the likes, everything's about the likes," one teen told Nancy Jo Sales in her article "Selfies, Dating, and the American 14-Year-Old," published earlier this year in Vanity Fair.
Orenstein describes her concerns "that selfies can impose another tyranny on girls, another imperative to dish up their bodies for inspection by others and themselves, another way in which their value is reduced to the superficial, flattened, measured by visibility." Perhaps not surprisingly, she says, "There has been a proliferation of 'selfie surgery apps,' which allow a user to shrink her nose, whiten her teeth, broaden her smile." 
As Orenstein notes, "Actual plastic surgery among those under 30 is on the rise, too. In 2011 there was a 71 percent increase in the number of high school girls obtaining chin implants specifically because they wanted to look better in prom selfies. One of every three members surveyed by the American Academy of Facial Plastic and Reconstructive Surgery in 2013 said that their patients sought their services to look better in selfies."
Sexting Is Coerced for Girls, Disturbingly Often
One girl Orenstein spoke with described how in eighth grade, "a male classmate threatened (in a text) to commit suicide if she didn't send him a picture of her breasts. She told her parents, while a friend of hers he also targeted complied. Sometimes the pressure was mixed with girls' own desire to please, to provoke, or to be affirmed as hot." Turns out this is particularly dangerous for girls, as we know from headlines and broadcasts about how sexted photos used against girls can end tragically.
"While equal numbers of boys and girls may sext voluntarily," Orensten found, "girls are twice as likely to be among those who were pressured, coerced, blackmailed, or threatened into it." In fact, "fully half of teens sexting in one large-scale survey fell into those categories. That's disturbing, since coercion into sexting appears to cause more long-term anxiety, depression, and trauma than coercion into real-life sex." 
But What About Those Celebs . . .?
Many girls today think female artists and celebrities who portray sexualized images of themselves "are taking control...of a hypersexualized industry that too often exploits women." But as Orenstein notes, all we know is that they "are being marketed as taking control." 
Yes, a woman can pose nude on a cover of a magazine, and it appears to be her choice alone, but as Orenstein points out, "Those performers still work within a system that, for the most part, demands women look and present their bodies in a particular way in order to be heard, in order to be seen, in order to work." These performers are "spinning commodified sexuality as a choice, one that may be profitable but is no less constraining." 
As for reality stars such as Kim Kardashian who have mastered the "body product" and make lots of money from it, "this can be read as empowerment—if your definition includes perpetuating shopworn stereotypes about women," but more likely, according to Orenstein, her "it's difficult to see how Kardashian's success expands options for anyone but herself."
Porn Sells Sexuality for the Benefit of Men Only
"If, as bell hooks suggested, pop culture portrayals of women beg the question 'Who has access to the female body?' the answer may ultimately be found in the ever-broadening influence of porn... that is the source of women's sexuality as a performance for men." 
It's hard to deny that the $97 billion global porn industry's goal is "to get men off hard and fast for profit." Yet its messaging is being read by the masses. "Over 40 percent of children ages ten to seventeen have been exposed to porn online, many accidentally. By college, according to a survey of more than eight hundred students entitled 'Generation XXX,' 90 percent of men and a third of women had viewed porn during the preceding year....Even if what they watch is utterly vanilla, they're still learning that women's sexuality exists for the benefit of men."
Watching Porn Desensitizes Viewers to Rape IRL
Perhaps more disturbing, "Male and female college students who report recent porn use have been repeatedly found to be more likely than others to believe 'rape myths,'" i.e. untrue assumptions, such as "that only strangers commit sexual assault or that the victim 'asked for it' by drinking too much or wearing 'slutty' clothing or by going to a club alone."
This may sound surprising, but it's less so when you realize the porn industry has found it very profitable to eroticize the degradation of women. As Orenstein notes, "in the study of behaviors in popular porn, nearly 90 percent of 304 random scenes contained physical aggression toward women, while close to half contained verbal humiliation...women would sometimes initially resist abuse, begging their partners to stop; when that didn't happen, they acquiesced and began to enjoy the activity..."
Mainstream Media Isn't Much Better
"You don't need to log in to PornHub to absorb its scripts," Orenstein adds. "They're embedded in mainstream…. The average teenager is exposed to nearly 14,000 references to sex each year on television...College men who play violent sexualized video games are more likely than their peers to see women as sex objects as well as to be more accepting of rape myths, more tolerant of sexual harassment, and to consider women less competent." And here's the kicker: "Young women who consume more objectifying media also report more willingness to engage in sexualized behavior...such as a wet T-shirt contest, and to find those activities empowering."
These insights from Girls & Sex are in some ways just the tip of the iceberg of the issues kids are facing these days, and how these new sexual landscapes will affect relationships for the rest of their lives remains unknown. 
The book isn't perfect. For instance, I did see a rather glaring factual error when Orenstein cited feminist author Christina Hoff Sommers' contributions to the discussion on rape and what role alcohol plays in the equation. Sommers expressed in Who Stole Feminism a concern for connecting all regretted drunken encounters as rape, "[opening] the door wide to regarding as a rape victim anyone who regretted her liaison of the previous night." Orenstein interpreted that to say Sommers "would slam shut the door on 'regarding as a rape victim' anyone who was penetrated while passed out drunk." But in that same paragraph of Sommers' book that Orenstein is referencing, Sommers states, "Certainly, if you pass out and are molested, one would call it rape." Misrepresenting others' views never helps the dialogue.
Further, I'm not sure Orenstein knows the solution to all the problems she raises in the book, and what she does provide as possible solutions involves trying to teach kids that healthy sexual activity "should be a source of pleasure for teenagers"—something that's hard to imagine given the entire book doesn't offer much besides aspiration for what that might be like. Nonetheless, the chapters featuring more straight reporting do a service to a culture that would prefer to consume fantasy and ignore reality. If Orenstein continues to investigate these girls-turned-women's stories, influences, and experiences, I already can't wait to read her next book.
Photo Credit: Adobe Stock