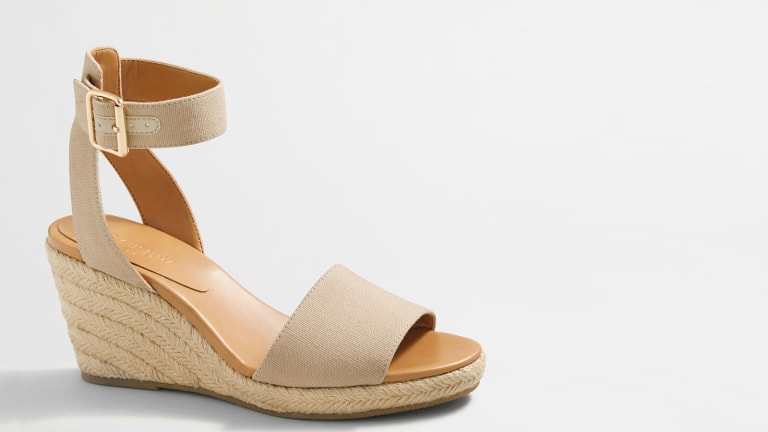 Our Favorite Espadrilles for Every Warm-Weather Occasion
Style meets comfort in the ever-classic summer espadrille.
If you're looking to update your warm-weather footwear, you've met your match with the ever-classic espadrille. A versatile warm-weather shoe we can wear all summer long? We're sold.
Perfect for wearing with dresses, shorts, jeans, and more, the espadrille offers the highly sought-after balance of style and comfort, and it practically oozes summertime vibes. We love every style of espadrille, but which is your favorite?
 The Classic //
The ankle-lace espadrille is the style we all know and want. Desperately. The style gained popularity from Lauren Bacall's 1948 film Key Largo and has been a fashion staple since. The ankle-lace is feminine and fun and can be worn both casually with jeans and shorts or more fancy with a dress or midi skirt.
Ankle-Strap Sandals //
Strappy sandals for the hot months ahead are a must, and ankle straps are everywhere this season (plus, they're more stable on your foot!). We can't wait to add these beauties to our shoe wardrobe—they're perfect for a day out on the town, a picnic in the park, or a leisurely bike ride.
Sneakers //
If you foresee being more active, the sneaker espadrille will give you coverage and flexibility when running errands or playing a spontaneous game of basketball at a barbecue. This cute sneaker style can be worn with your casual sundresses, shorts, and jeans—the opportunities are endless!
Wedges //
We all love a classic wedge from time to time, especially for fancier summer events. The wedge dresses up any look while remaining casual and warm-weather appropriate. These lovely pairs are also a much more comfortable option compared to wearing pumps or stilettos. Say no more.
Slip-Ons //
For the girl who's always on the go, the slip-on espadrille is perfect when running out the door. The smoking slipper style is an easy way to get a fashion pick-me-up when dressing more casually. Throw them on when wearing jeans, a summer dress, or shorts, and you're ready for some serious summer fun.