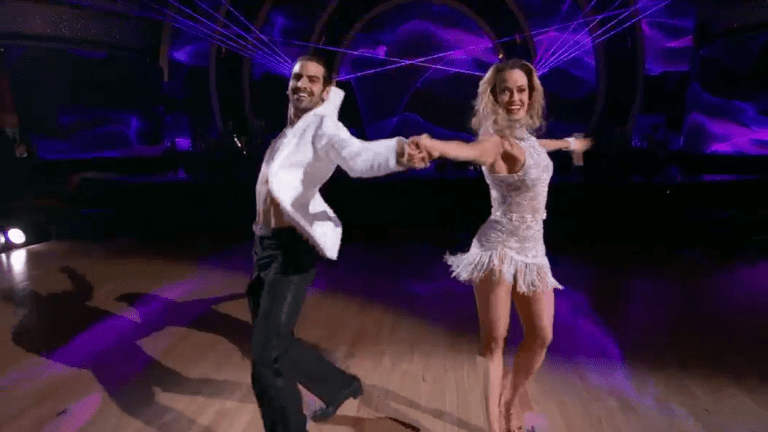 Dancing With the Stars Just Showed the World The Strength In Adversity
This hit show reminds us that physical limitations don't always have to hold us back.
Last night, the champion team of Dancing With the Stars was awarded their mirrorball trophy to model and actor Nyle DiMarco. DiMarco, who was paired with professional Peta Murgatroyd, amazed judges and viewers across America not due to his handsome looks or kind demeanor. Nor was his success just because of his hard work and beautiful dancing—although he earned his place in the finals for those alone. His win was so deserved because he managed achieve perfection on the dance floor without ever hearing a note of music.
DiMarco may be the first deaf contestant to win the dance competition, but this isn't the only time the ABC show has featured contestants challenged by physical limitations. So with DiMarco's win, we'd like to remember some other past contestants on Dancing With the Stars who lived with what society deems physical disabilities. As their grace in both dance and life showed, they were stronger and more accomplished than most able-bodied people. Put another way, where they were weak, they were strong. Here's to celebrating men and women in all range of diverse shapes, sizes, and abilities taking the stage.
Nyle DiMarco 
What qualified DiMarco a "star" to dance on Dancing with the Stars was his 2015 win of the modeling competition show America's Next Top Model. DWTS judges have remarked in past seasons that those in the modeling profession typically struggled with showing emotion and musicality in their dancing—in other words, while they were beautiful, they struggled to break out of looking statuesque. Not so with DiMarco. At one point in the season, a judge remarked that maybe his deafness was to his advantage here. Because he couldn't hear, he spent his life being in tune with following visual and tactile cues of motion. So when it came to dancing with pro dancer Peta Murgatroyd for the show, DiMarco simply watched her motions, and matched them perfectly. DiMarco, whose parents are also deaf, dedicated his contemporary freestyle in the finals to bring greater awareness for deaf people to be able to make their own decisions in how to raise their children, as they often know best. A deaf community spokesman and activist, DiMarco also recently participated in a short film about others' perceptions of people with disabilities.
In the video above, DiMarco was paired on a switch-up week with pro dancer Sharna Burgess, producing a stunning waltz mid-season that revealed to everyone just how much this man was a contender.
Amy Purdy 
Amy Purdy joined Dancing With the Stars for Season 18 and completed the season as runner-up to the champion. At age 19, Purdy contracted a form of bacterial meningitis that caused septic shock and required both legs to be amputated below the knee. While she felt depressed for a couple months, her parents and especially her father helped her to get back on her feet, with new prosthetic legs. Months later she picked up snowboarding and in 2014 won bronze in the Paralympics for snowboarding. It's after this journey that she joined DWTS with pro-dancing partner Derek Hough. Above is one of their most striking dances, a contemporary dance to the song "Human" by Christina Perri, choreographed to tell the story of how her dad helped her get back up again after her life-changing amputation. Have some tissues handy.
J.R. Martinez
J.R. Martinez is an Iraq War veteran who in 2003 sustained severe burns over 37 percent of his body including his face. Martinez was invited to Dancing With the Stars for season 13 and, together with pro-dancer Karina Smirnoff, competed all the way to the championships and won the mirrorball trophy. In this dance above, Martinez and Smirnoff dance an emotional rumba that tells the story of an Army wife who has lost her husband in war. This dance in particular, performed by people who've clearly lived through great pain, manages to go straight to the heart.
Noah Galloway
Also an Iraq War veteran, Noah Galloway joined season 20 paired with Sharna Burgess. In 2005, Galloway was injured in an explosion that caused him to lose his left arm above the elbow and left leg above the knee. But as his dancing proved, his lost limbs didn't keep him from continuing to strengthen the rest of his body and do amazing things. In this contemporary dance above, Noah and Sharna show just how powerful a performance can be when you choose to see challenges more as opportunities than as limitations. It's no wonder they made it all the way to third place.
Here's to women and men who break barriers and forge their own paths in a world that doesn't fully understand their challenges. By showing up and sharing their stories with us, yes even on shows like Dancing With the Stars, these contestants and others are making the world just a little closer to reaching a greater understanding of the diverse ways one can reach human excellence.
Images: ABC