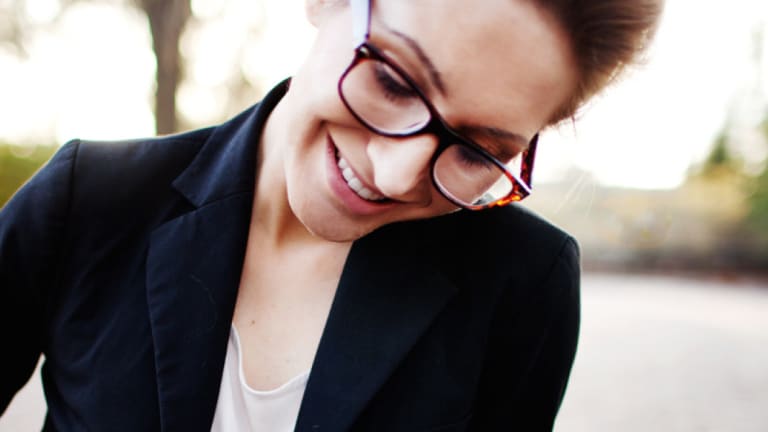 Office-Ready Wardrobe Staples Every College Graduate Needs
It's time for your style to graduate, too.
After eight semesters in university sweats and old clothes from high school, it's finally time to enter into the world of professional attire, college grad. Whether you already have a job lined up or you're still searching, building an office-appropriate wardrobe is a must if you want to be taken seriously at your new job. To help you out, we've compiled the ultimate guide to the post-graduate closet.
Tops //
Surprisingly enough, many women don't have a plain button-up in their wardrobe. This classic piece, however, comes in handy more than you would expect. Versatile in every way, the button-up pairs seamlessly with slacks or a pencil skirt.
For those days you want a softer, more feminine look, make sure you have a blouse in a lightweight fabric. A neutral color will come in handy when you want to dress up with a statement necklace or when wearing a brightly patterned bottom.
Bottoms //
Speaking of bottoms, there are two staple items you should have in your adult wardrobe: tailored pants and a pencil skirt. While you might be cringing at the idea of work slacks, there is a stylish way to wear office-appropriate pants. The cigarette pant's stylish nod to the 1960s makes this the ideal work pant for young grads. An ankle cut, rather than a to-the-floor length, feels fresh and avoids the 1990s boxy look.
You also cannot go wrong with a sleek pencil skirt. It goes with any shoe or top, and it's flattering. Make sure you pick a pencil skirt of high quality—meaning, avoid flimsy jersey fabrics that look and feel cheap. A double-sided serge cotton skirt is affordable, and it will smooth out your lines to flatter your shape.
Dresses //
When it comes to a professional work environment, a classic pencil dress is a staple piece—especially to transition to after-work cocktails. Spice up your work week with a Kate Middleton–worthy pencil dress that will make you feel feminine and ladylike. Avoid flimsy jersey fabrics that look more club-appropriate than cubicle-ready. A higher neckline, fully covered shoulders, and three-quarter sleeves will have you looking professional in no time.
Outerwear //
After mastering your office ensemble in the morning, you can't just throw on any old zip-up hoodie or denim jacket over it. The right jacket or coat can elevate your look, so make sure you have a blazer and a trench coat in your wardrobe. The blazer is an obvious must-have because it is often worn all day and can be dressed up or down. Choose a neutral, versatile color for mixing and matching, and make sure the fit is flattering to your shape (aka, not boxy).
For your commute, keep your look classy and pulled-together with a traditional trench coat. You will be surprised at how many times you wear this wardrobe staple—it goes with any outfit, formal or casual.
Shoes //
Having the right shoes for the office is more important than you think. Shoes often dictate the rest of your outfit because they have to match your clothes and suit the occasion—so no, don't wear sky-high platform heels with your slacks to work. We suggest you go for three versatile shoes for optimal mixing and matching opportunities.
The nude stilettos with a sensible three-inch heel will be comfortable and go with any skirt, dress, or pant you pair them with. But a girl can't wear heels every day, so make sure you also have black ballet flats that are similarly functional with any bottom. Lastly, a pair of lace-up oxfords or brogues will be the most comfortable and perfect for adding a stylish flair to your corporate ensemble.
Accessories //
When wearing neutral tones all week, it's important to incorporate some color into your life every once in a while. A bright and funky statement necklace will give you a boost while also revamping your everyday ensemble.
It's time to ditch the messenger bag and pick up a classic work bag. The work bag should have a sturdy exterior with both handle and shoulder strap options. Pockets, buckles, and zippers always give a bag an upscale and professional appeal, which is perfect for an office environment.